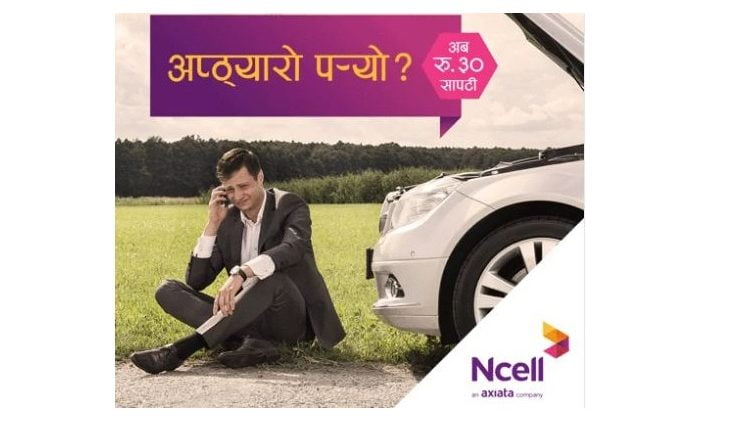 Ncell's new Sapati scheme
Ncell launches new Sapati scheme from Baishak 18, that is May 1st. With the scheme, Ncell prepaid customers can take up loan sapati amount without any service charge. Any prepaid subscriber with balance less than Rs 5 and with a sim card  180 60 days old, can take the Sapati service.
Marking the May day, Ncell has brought this scheme. After taking the loan, the 30 Rs balance add up to the main balance and customer can use it for call/ SMS to any network, data browsing or any Ncell service.
How to get Rs 30 Ncell Sapati?
To get the Rs 30 Ncell Sapati, Ncell customers need to dial *9988#. The sapati loan amount will be deducted from the balance, during the next recharge. If a customer recharges less than Rs 30, whole amount will be deducted and remaining from another recharge. This new sapati scheme has no any service charge, contrary to the previous Ncell sapati.
The Sapati amount can be known from dialing *901#. The sapati scheme can be taken unlimited no of times, unless the previous sapati amount has been cleared.
Ncell has been providing this Sapati service from 2012 which was Rs 20 and they took Rs 2 as a service charge. It is not clear whether the old sapati scheme is also in effect.
This sort of Sapati service comes handy at emergency period specially at night times or in areas where recharge cards or top ups is not available. The service is still popular among low paying students for the continuation of the services in case of insufficient balance.
It is known that Nepal Telecom is also launching Sapati scheme. Ntc is also not going to take up any service charge for their Sapati Loan service. As per the latest information from them, Ntc makes a contract for the Sapati scheme.  Hope it will be launched very soon.
Tell us in the comment section below How do you like Rs 30 Ncell Sapati Scheme?