Nepal Telecom, the state owned telecom company has launched new offer: Ntc ITU offer from Jestha 3 (Wednesday), May 17. That day marks the formation of a union related to telecommunication (then it was telegraph) on 17 May 1865. So, the day is being celebrated as ITU day. The day later became World Telecommunication and Information Society day. Apart from the celebration, the day is also marked to raise awareness in people for the changes to be brought by ICT and help reduce the digital divide.
As Nepal also marks the 100 th year of telecom service, Ntc provides such exciting offers on this special day. The Ntc ITU offers include 4G offer for GSM subscribers, New data packs in CDMA and Facebook, Instagram data packs. They also term all of the offers including 4G packs, small data packs and Fb, Instagram pack as NT Mega offer.
4G data packs
The 4G data packs are 4G only data volume packages for GSM subscribers. As the Ntc 4G network is available in Kathmandu and Pokhara city, this pack is valid for only the people in that area. There are data packs from 200 MB to 3600 MB at Rs 50 to Rs 500 respectively. As the phone might even go to 3G, 2G, Ntc has made available some buffering data in it. More about the offer here.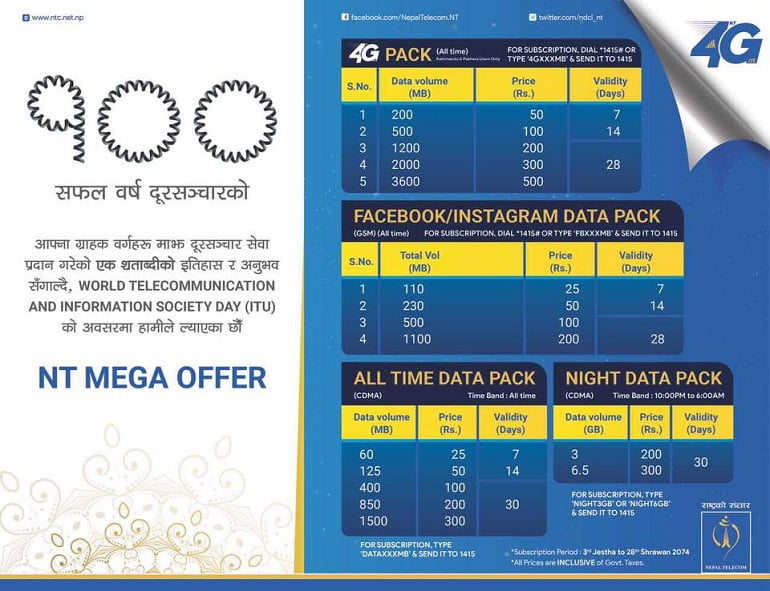 New CDMA data packs.
Ntc adds new data packs to its CDMA service. All of the new GSM data packs are now also brought to CDMA. Read here for more.
Facebook and Instagram pack
Though Ntc already had a Facebook pack of 100 MB at Rs 22.60 for 5 days, there were demands for higher volume and validity dates. So, Ntc now provides Facebook, Instagram pack from 110 MB to 1100 MB at Rs 25 to Rs 200 respectively. Read here for more.
All of the above offers in GSM are now available from *1415#. This is the most easiest way to subscribe offers in GSM. The Facebook and Instagram packs are available in No. 2 whereas New 4G packs are available in No.6. Please select accordingly. The volume query is also available at No. 7. You can go to main menu by dialing *.
Last year's ITU offer in Ntc was more famous due to their unlimited night internet offer.
Tell us how do you feel about this years Ntc ITU day offer.