Smart Telecom, the third largest telecom operator of Nepal has provided a special offer to its customers. The unlimited talk offer is available to smart cell subscribers. As a part of their initiative to grow more customers, they have launched the offer for this new year 2074. The post includes two smart cell offer including the unlimited talk and the latest doublincha offer.
The unlimited offer enables customers to get unlimited voice and SMS for 15 days, within their network. For that, customers need to recharge Rs 100 new talk unlimited recharge. The unlimited offer will not include calling, SMS to other numbers than Smart cell's. But the same recharge also includes main balance of Rs 25 through which they can make call, SMS to other networks.
For the promotion of this unlimited smart cell offer, we can see famed footballer Mr. Rohit Chand in the picture.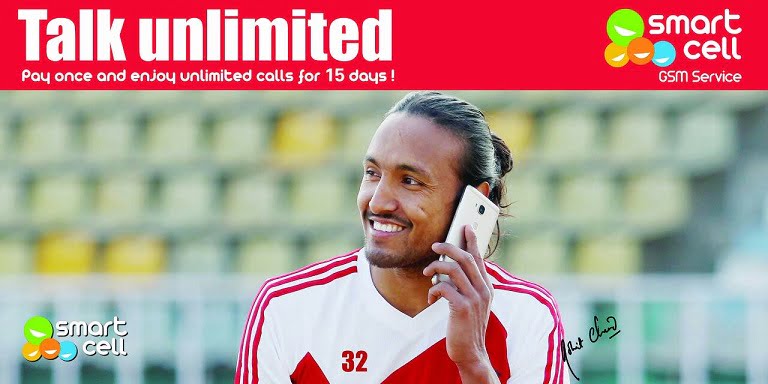 Smart Doublincha offer
Apart from the unlimited talk offer, Smart cell has recently provided doublincha offer. With the offer, subscribers will get the bonus amount as the same recharge amount. The validity of bonus amount is made as:
Rs. 50- Bonus Rs. 50(valid for 7 days)

Rs. 100- Bonus Rs. 100(valid for 15 days)

Rs. 200- Bonus Rs. 200(valid for 30 days)

Rs. 500- Bonus Rs. 500 (valid for 30 days)
The specialty of this doublincha offer, is that the bonus amount can be used for all networks. This is quite different than other operator's bonus scheme.
Smart Telecom Coverage
Smart Telecom has also got third largest customer base in the country. The company has already provided its service to major cities of the country like Palpa, Syangja, Pokhara, Bhairahwa, Butwal and Kathmandu. Whereas the network expansion is being carried out in Kathmandu, Nepalgunj, Chitwan, Birgunj. Read here for their plan to upgrade their network to 4G.
Please feedback about the smart cells offer. Tell us about their service if you are a smart cell user.