HMD Global, which is currently running Nokia Mobile business, launches their first flagship phone since the revival, at an event in London. The flagship smartphone, Nokia 8 is announced with the highest-end Snapdragon 835 processor and vertical dual rear camera. Previously Nokia 3, 5 and 3310 reboot was launched in Mobile World Congress, this year and Nokia 6 a little earlier.
Nokia 8 is one of the anticipated smartphones for this mobile launching season. It is released at a time when Samsung and Apple are gearing to launch the highest-end phones namely Samsung Note 8 and iPhone 8. With this phone, they are trying to revive their position as a major stake in the handset market. Apart from the high-end specs, they have come with some innovations in Nokia 8.
Nokia 8 is an all-metal phone, with 5.3-inch QHD IPS display, and powered by Qualcomm 835 processor. Though the phone runs on purest Android 7.1.1 Nougat, without unnecessary bloat-wares, they have promised for early update on the phone with Android 8 O.
Nokia 8 camera
Nokia has collaborated with its long term partner Carl Zeiss, for the camera which is vertical dual RGB + Monochrome 13 MP f2.0 with PDAF, laser focus, OIS in the rear, and same single camera with display flash in the front. Regarding the innovation in-camera, Nokia 8 is the first phone with the ability to shoot front and rear photos and videos at the same time. The feature is called bothie with dual sight video taking capability in the split screens. The videos can also be live-streamed directly to YouTube and Facebook.
Nokia 8 packs Ozo audio system having 360 degrees fully immersive audio experience and ability to capture 360 audio from Nokia's unique algorithm and multiple microphones. The phone is also splash resistant with IP54 ratings. It comes in four color options: Polished Blue, Glossy copper, tempered blue, and steel.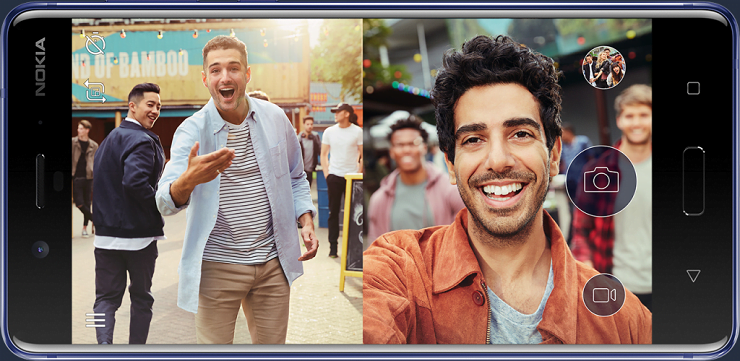 Full specs of Nokia 8
Snapdragon 835 Octa-core processor
Android 7.1.1 ( upgrade to Android O later)
4 GB RAM
64 GB storage
Expandable slot for storage up to 256 GB.
Weight: 160 gm
Dual 13 MP, f2.0, laser and PDAF, OIS, Dual tone flash rear camera
4K video recording
13 MP f2.0 front camera
Fingerprint sensor in the front, with a home button.
Battery: 3090 mAh non-removable
IP54 Splash resistance.
USB type C with fast charging.
Single SIM or dual SIM hybrid version
Presence of 3.5 mm audio jack
Supports 4G LTE in major frequency bands (compatible with Nepal)
Price: 600 Euros (700 USD, 40,000 in Indian rupees and 72000 in Nepali rupees)
Though the phone packs high specs, it lacks the thin or no bezels design, edge screen, and little smaller screen size as compared to other high-end phones. The price of the phone is 700 USD which is a little less than the other high-end flagships from Samsung, Apple. Though there are no official words for the launch of Nokia 8 in Nepal, it is for sure due to the current availability of other Nokia phones like 3, 5, 6, and 3310. It only dependss when it could be launched!!!
Tell us, if you are going to buy the Nokia 8 in Nepal?