After NTC and Ncell, Smart Cell has launched 4G LTE service in Kathmandu valley and Pokhara. As we know technology-wise, the maximum speed of LTE is about 100Mbps download and 20Mbps upload. That is actually for more frequency resources, advanced antenna technologies and more. Nepali telecom providers are not able to meet the great speed due to the frequency and other resources problems. For this post, we have tested newly launched Smart Cell 4Gnetwork. In general, we can say they have been providing good speed but poor signal coverage in many places of Kathmandu Valley.
We tested Smart cell 4G speed using Speedtest app, Signal using G-Net track and our own Nepali telecom app. We have the speed test result in different parts of the Kathmandu city, and also the coverage there.
Here are some screenshots of the network speed and coverage of Smart Cell 4G in different areas of Kathmandu Valley.
Smart Cell 4G speed At Tripureshwor
Smart Cell 4G speed at Tinkune
Let us put a table for the speed test result at all locations of Kathmandu.
Smart Cell 4G speed
S.N
Location
Download
Upload
Signal
1
Tripureshwor
54 Mbps
10.6 Mbps
Poor
2
Koteshwor
23.6 Mbps
7.44 Mbps
Worst
3
Tinkune
37.4 Mbps
12 Mbps
Excellent
4
Baneshwor
52.3 Mbps
21 Mbps
Satisfactory
5
Maitighar
17.74 Mbps
7.87 Mbps
Excellent
6
Thapathali
20 Mbps
1 Mbps
Worst
7
Lokanthali
37 Mbps
12 Mbps
Worst
8
Pulchowk
28 Mbps
8 Mbps
 Satisfactory
Average
33.7 Mbps
10 Mbps
Poor
From the test, we found the maximum download speed of Smart Cell 4G at around 60 Mbps and the maximum upload speed come around 22 Mbps. The speed was fine and above the expectations in most of the places but coverage is weak (see below for more). It took more than 1.5 GB of data for the speed-test in those places. The average download speed of smart cell 4G is found to be around 33 Mbps whereas the uplink speed comes around 10 Mbps.
Coverage of Smart Cell 4G
Though they say their coverage is there in the whole of Kathmandu and Pokhara, it is mostly weak in the outskirts. Smart Cell 4G is also weak in several parts of the city itself. They need to add more towers and expand their network to make better services, reaching out to more people. We also found the average signal of Smart Cell 4G to be poor. We also used our own app to test Smart Cell 4G signal. You can also download the app to test all mobile signal coverage in your place.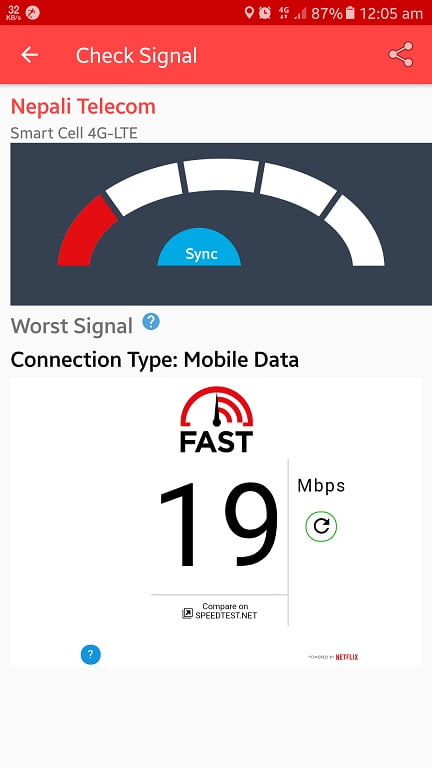 As Smart cell 4G is a newly launched service and only a few users of Smart Cell, the speed was higher compared to other operators. But what is significant is that their claim for highest maximum speed comes true as other operators 4G is comparable to their 3G. The real average speed of Smart cell 4G can be tested once their subscribers grow high. It may not be consistent as it is now. Let's see if Smart cell can maintain the current speed with the addition of more towers and new advanced technologies.
Comparison of Smart cell 4G Vs NTC and Ncell
We already proved the fast speed of Smart Cell 4G relative to NTC and Ncell.  Also in terms of affordability comparison to Ncell and Ncell, Smart Cell's 4G data package is cheap. Please visit Smart Cell 4G offer post for more information on this. As they are providing additional data bonus during the 4G launch, it comes cheaper compared to NTC and Ncell 4G data. If they can provide this cheap data tariff consistent and reach out to more areas of the country, we are sure Smart cell will attract good customers.
Tell us about your experience with Smart Cell 4G speed and your expectation.