Ntc has started an online data volume query from its portal. Before the data volume could be queried from SMS or from their website but it was not that easy. Now, this new portal is very easy for subscribers. Ntc online data query will provide the data volume remaining for the different services. The online data volume query works for GSM CDMA mobile data, ADSL/FTTH volume, and WiMAX.
Check out: How to send voice/data packs as a gift in Ntc?
How to perform online data Volume query in Ntc?
To check or query the data volume, you just need to go to their self-care portal offer portal and select volume query at the bottom. Or go straight to the volume query webpage from here.
Enter the service number. Mobile number in case of GSM CDMA data packs, Phone number in case of ADSL and service number in case of WiMAX/FTTH.
Enter the captcha code, just to make sure you are not a bot.
Then, you will get the package information along with the data volume remaining and the validity of the package. The expiry of the data packs will be given.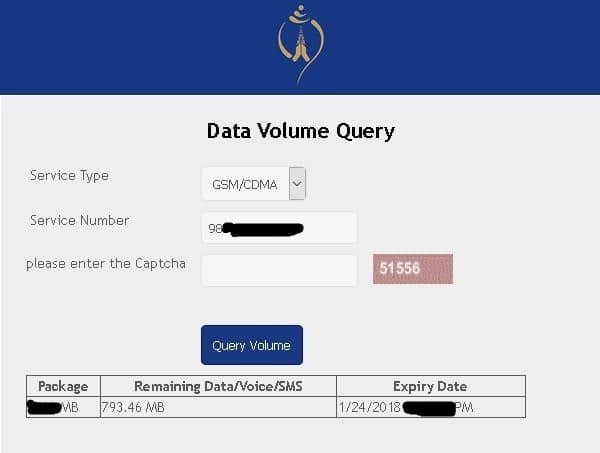 This service comes in handy for all those subscribers who find it difficult to do it through SMS, USSD, and other online means for mobile data queries. It has also become quite popular among subscribers. But there is a catch, you can not only view your subscription package but you can also view those of your friends or family. There is no security or password to control it. As far as the mobile data package query, it should not be an issue for most people to share it with other people.
Read More: How to check/query balance in Ntc Namaste Sky?