Samsung officially ditches the headphone jack from the latest two Note series phones, Note 10 and Note 10+. Samsung Note 10 phones have a very little bezel and a new stylus/pen to make the phone count for Note series. Samsung Note 10  is a phablet that fits easily in your pocket with almost all Note capabilities: a complete powerhouse.  Let's find more of Samsung Note 10 and 10+ along with its price below.
Overview
Samsung Note 10 has a 6.3 inch AMOLED display with Full HD resolution, with HDR 10+ technology and 401 PPI. Whereas the Note 10 plus has a 6.8 inch AMOLED display with QHD display and 498 PPI. The phones have an infinity O edge to edge display, with camera cutout in the top center, intead of top right in S10. It seems the bezels have gone further thin making the device look amazingly attractive. The displays are as always bright and vibrant as with other Samsung flagships.
Note 10 being a smaller size among the duo, brings the power of a Note to people who do not want a gigantic sized difficult to hold and heavy phone.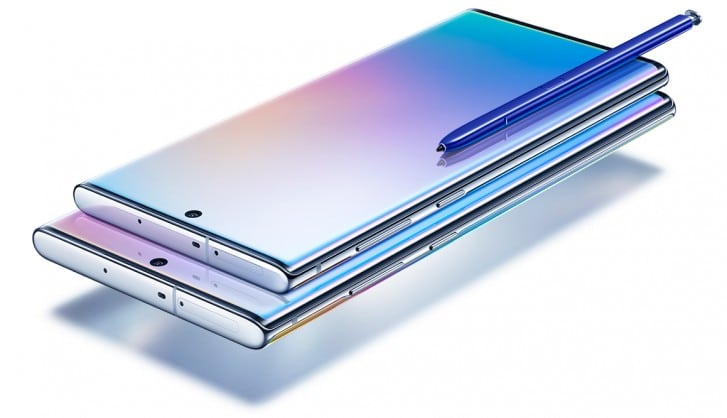 This is the first time, Samsung removed the headphone jack in their flagship phone, which they say will make the device slim. The Note 10 phone is now 7.9 inches thick.
Processor
Samsung Note 10 phones are powered by either recently announced Exynos 9825 chipset or Snapdragon 855 processor. Both processors have 7 nm fabrication, which is available in the Note 10 device as per the market. As known, the processors are built to be made more efficient than its predecessors.
With such a high-end processor on board, you can get smooth performance in every heavy to multitask usage. The phones also support LTE speed up to 2 Gbps for download files, stream multimedia and live gaming. Well, there is another version of Note 10 plus which supports 5G to release a little later. With greater speed and performance comes power dissipation as heat, for which they put the vapor chamber cooling feature.
S Pen on Note 10
Note 10 phones also have an all-new S Pen Stylus that will make the note-taking and picture drawing very easy. You can easily convert the written words to text in Word file which is brought in partnership with Microsoft. With the new S Pen, you also get the gesture control through the Bluetooth connectivity. This allows you to control camera mode, shoot remotely and also do the slideshows.
RAM, storage
Samsung Note 10 only has an 8GB RAM version, with storage of 256 GB option. They also do away with the micro SD slot for Note 10 whereas it is still there in the larger Note 10+. Whereas Samsung Note 10 Plus has 12 GB RAM option along with 512 GB storage option.
Camera.
Regarding Cameras, they are basically the same as that of S10 but vertically aligned Triple lenses in rear and single in front. Three rear sensors are 12 Mp main lens with dual aperture switching from f/1.5 to f/2.4, an ultra-wide lens of 16 MP and a telephoto of 12 MP.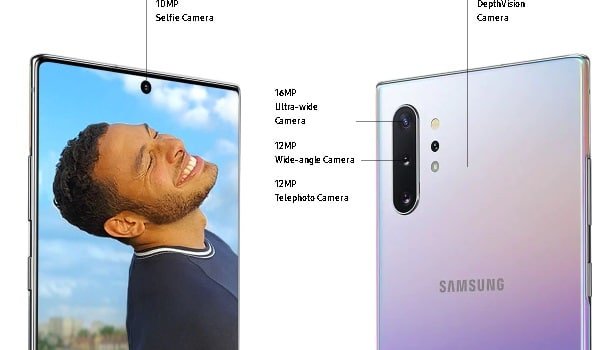 Regarding the added feature of the camera, they have brought live focus video to get the bokeh effect on the video. Earlier this feature was only available with Samsung S10 5G.
For video, there is also a sound zoom-in feature that will capture more sound from the particular subject if you zoom in. This will provide better sound for a video while zooming in.
Samsung Note 10 plus a fourth camera sensor in the rear for 3D depth sensor for the portrait blur in the video along with the AR doodle. Using the stylus, you can create some doodle-like photo tweaks, text on a person or thing. With this feature, the doodle moves along with the object so you can make a creative/funny video. You also get native video editing now with the Note 10 phones.
The selfie camera cut-out is now in the top center, unlike that of the right top corner. So, you will get unobstructed full view experience from the screen. It is the same 10 MP front camera as that of S10 but with less cut-out.
DeX
This is also one of the features that get revamped here according to the first impression so far. The Samsung DeX has become easier like connecting phone to the computer with the cable available in the box. They have also partnered with Microsoft to integrate the connectivity with Computer for easy file sharing, messaging and more. As per their plan, they will introduce the phone calling from PC, with such connection to Samsung phones.
Battery and charging
They have put 3500 mAH battery in Note 10 and 4300 mAH battery in Note 10 plus. Samsung Note 10 supports 25-watt fast charging whereas Note 10 plus supports 45 W with the USB type C port in the bottom center. But you have to buy the 45-watt charger extra as the box only has 25 W charger for both devices. Samsung had been reluctant to increase the charging speed hefty due to the Note 7 mishap. Note 10 and Note 10 plus supports 12 watts and 15-watt wireless charging.
Colors Availability
Regarding the colors of Samsung Note 10, they have a whole new color range for these devices. The colors are quite dynamic and vibrant with the reflection differing on the environment around. They have put the name Aura in all of them. Samsung Note 10 has three different colors namely Aura Glow, Aura white and Aura black. While Samsung Note 10 has four different colors with Aura blue option, which is for unlocked ones.

Price of Samsung Note 10 and Note 10 plus
Samsung Note 10 the one with 8 GB and 256 GB costs USD 950, which is just 50 dollars more than S10's launch price. Considering the storage increment, the price is in line with their previous line-up. The price of the Note plus (8 GB plus 256 GB version) is USD 1100.
Price of Note 10: USD 950 for 8 GB RAM + 256 GB storage
Note 10 plus ( 12 GB + 256 GB) Price: USD 1100
Note 10 plus ( 12 GB + 512 GB) Price: USD 1200
Samsung Note 10 plus 5G ( 12 GB + 256 GB) Price: USD 1300
Samsung Note 10 will be available in several markets like US, UK, Australia from August 23, 2019. As always, Note 10 phones will come to Nepal immediately after. We will update you once we get any news on Note 10 launch in Nepal. Regarding the expected price of Note 10 phones here in Nepal, we can speculate the price of 8GB Note 10 to be Rs 120,000. Similarly the price of 12 GB Note 10 plus can be expected at Rs 145,000. As Samsung announces the pre-order availability, the price seems to be little less than what we expected. Find the price of Samsung Note 10 in Nepal.
Here is a video on Samsung Note 10 and 10 plus by The Verge.
What do you think of Samsung Note 10 and Note 10 plus? Tell us in the comment section below.