Nepal Telecom has reopened its counters even in the lockdown period. With the safety concern of both the customers and employees, Ntc has closed most of the counters in this COVID-19 lockdown period. Whereas few of them were known to be operating continuously in the previous period as well.
Now Ntc has announced to open around dozen of such counters in Kathmandu valley and the vicinity areas. A lot of people were complaining about the inability to pay for the bills and get support for many issues including sim card. We even got various comments, feedback for their failure of payment and mostly sim replacement. So, Ntc convenes such counters to facilitate people for their communication requirements through voice and internet services.
Although the digital payment option is there, it is found that many people do not have any idea how to use the service. So, it is deemed necessary that a proper customer education process is enforced to instruct people for using digital payments.
If you do not want to visit any of the counters, you can find the Ntc customer center numbers.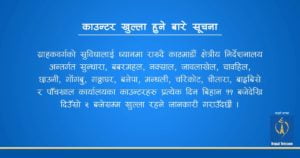 Counters opened
Here are the counters which are opened from today.
Sundhara
Babarmahal
Naxal
Jawalakhel
Chabahil
Chauni
Gongabu
Gatthaghar
Banepa
Manthali
Charikot
Chautara
Bahrabishe
Pachkhaal
Time period
As per the Nepal Telecom notice, the time period of the counter for the lockdown is from 11 am to 2 pm.
Read more: List of important numbers in Ntc >>
Safety measures
Although they have opened the customer centers, they should take every measure to prevent the spread of the COVID-19 through those counters. They have to limit the no of customers to wait in the queue (for maintaining distance) and similarly ask them to use the face mask in all situations.
They also need to provide sanitizer to all customers and employees while entering their premises. If all of the safety measures are followed properly, then the re-opening of counters and even businesses are not a bad option at all. Let' see how do they manage the counters and this will also be a rehearsal of the lockdown exit.
We recommend you to read the Ntc stay connected offer that is meant to provide affordable data and voice to its customers.