Well, we all know the great Realme 7 Series that includes Realme 7i as well as Realme 7 and Realme 7 Pro. Let's keep the Lite version and Pro version aside and focus on the standard version. The mid-range flagship killer had created some serious buzz when it launched. Offering great specifications as well as features is what the company does best. In this article, we will talk about the top 7 Features of Realme 7.
The company's slogan is clear "Dare To Leap". Sky Li Vice President of Oppo and head of Oppo Overseas Department resigned to make the Realme brand independent. His intentions were straight forward. It was to provide people with stylish design and solid performing phones at an affordable price while embracing technology and beauty. To this date, the company goes by the same motive but with high energy.
List Of Top 7 Realme 7 Features
Realme 7 specifications sheet is lunatic and might be the only mid-range phone that comes with all the good stuff needed. 5000mAh battery, 90Hz Display, 8GB RAM, 128GB Storage as well as 64MP Quad camera setup. The list doesn't stop here, let's not forget to mention Mediatek Helio G95 Chipset as well as the overall beautiful design of the design.
Apart from never compromised specification sheet, the device is packed with tons of good features. This is exactly what we will be focusing on. With no furthermore to do, let's get started with the 7 Top Features of Realme 7.
Check Out: Realme C17 Price in Nepal
1. 8GB RAM/128GB Storage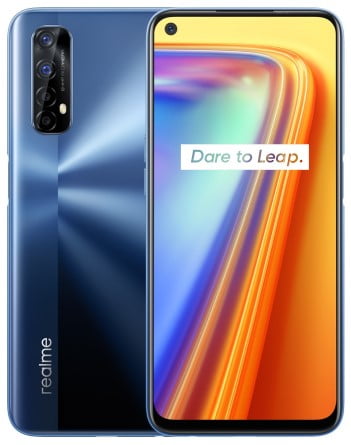 Topping our list is the 8GB RAM and 128GB storage. Every consumer always has one question in mind while purchasing a device. The question is RAM and Storage. Tackling the question, Realme offers 8GB RAM and 128GB Storage.
You can further expand storage via a dedicated MicroSDXC card slot. 8GB RAM can handle all your heavy apps and switch between apps with ease. The performance of this giant capacity RAM is unparalleled. You are destined to have a lag-free and seamless performance experience.
Talking about the storage, 128GB with expanding storage covers you. You can store as many files and data's as you want. 128GB must be more than enough for an average person. If you are a heavy content person then you can easily expand the storage. Plus, Cloud storage is still there in your arsenal.
2. 90Hz Punch Hole Display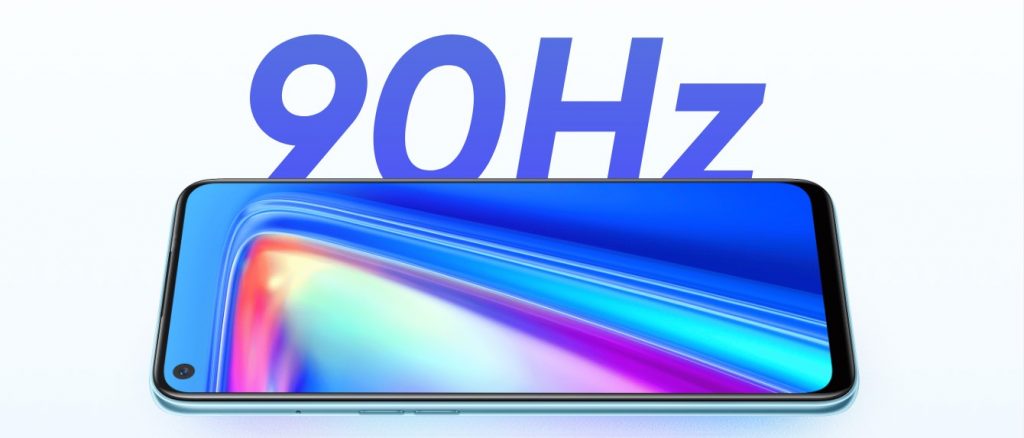 Realme 7 features a top-notch 90Hz Refreshed Rate Display. To make things even more appealing, the company has gone with Punch Hole design. 90Hz Refreshed Rate combined with Punch Hole beauty. Already sounds like a flagship killer.
With this feature in the device, scrolling through content, browsers, apps as well as media's become buttery smooth. This overall enhances the smartphone experience completely.
3. Carbon Fiber Cooling System
Let's talk about performance. MediaTek Helio G95 chipset handles everything very well. The gaming performance of the device is also good. But to make things not good but great, the company has integrated Carbon Fiber Cooling System inside the device.
The cutting-edge superb Carbon Fiber Cooling System cools the device up to 8.6%. This further enhances the performance of the phone. The more the device is cool, the faster it can fly. No need to worry about Gaming on this device.
4. 64MP Quad Camera Setup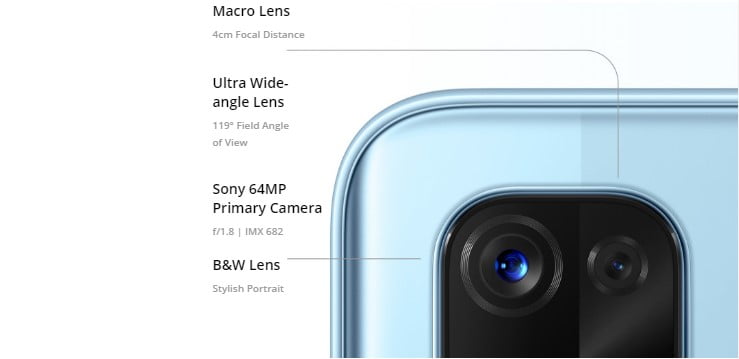 Camera Setup is one of the most important aspects of a smartphone. Especially in mid-range and flagship killer phones, consumers look for badass camera setup. Well, Realme knows this and has gone right for it.
Realme 7 rocks a 64MP Quad Camera Setup. This isn't just a 64MP sensor but is a Sony IMX682 64MP Sensor. The sensors produce Clearer and Sharper photos. The sensor has the incredible light-sensing ability and produces even super bright photos in low light conditions.
Accompanying these sensors are three more sensors which are 8MP Ultra-Wide Sensor, 2MP Macro Sensor as well as another 2MP B&W Portrait Sensor. Plus, you have different features that enhance camera performance furthermore.
5. 30W Dart Charging

Fast Charging support is slowly becoming a necessity for every consumer. No matter how large the battery, it will surely drain sometimes and people don't like to wait too much.
This is where the 30W Dart Charging comes in. Adaptive 30W Dart Charging charges the device at an incredible speed. You can charge Realme 7 up to 50% in just 26 minutes. You can spend more time with your loved one than with a charging cable. It's a great feature to have in your arsenal.
6. Realme Dual Mode Music Share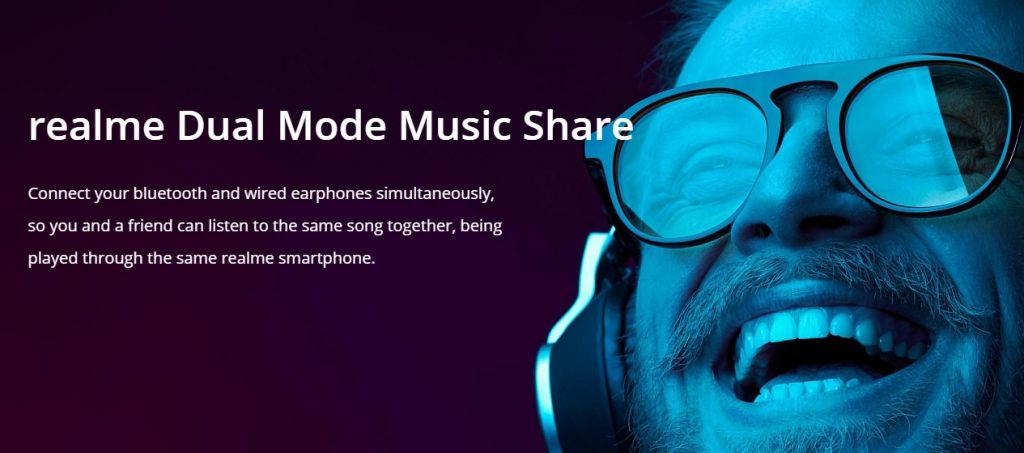 Listening to music and watching your favorite videos or other content is always fun. To enhance the listening experience Realme has come up with the Realme Dual Mode Music Share feature.
With this feature, you can connect your Bluetooth and wired earphones simultaneously. Your friend and you can the same music together at the same time. However, music should be played through the same Realme smartphone.
You can find this feature simply in the Dual-Mode Audio option that resides in Settings. If you still have no idea to use this feature then check out the Official Realme Blog regarding Dual-Mode Audio. There you will find steps to use this feature and answer to why to use this feature.
7. Seamless Feature Packed Realme UI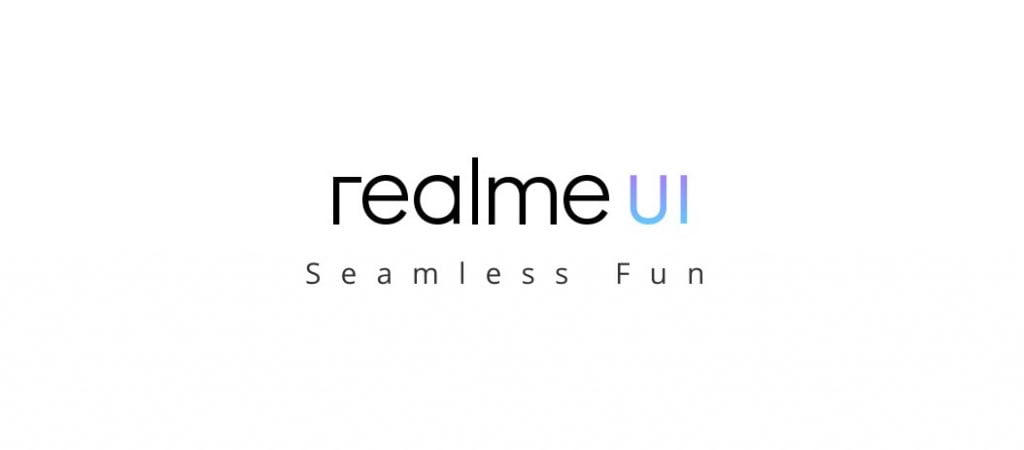 Last but not least, we have Realme UI in our list of 7 Top Features of Realme 7. People don't talk about Realme UI much but let us assure you this. Reale UI is one of that UI, which has tons of features embedded into it. The company even claim their UI to be a Seamless Fun.
Realme UI is inspired by reality and designed for functionality. The color scheme is young and dynamic while consistently enriching. All the icons are designed while keeping the Golden Ratio Perfection in mind. You can customize it with no effort at all.
You get all modes like Dark Mode, Simple Mode, Focus Mode, as well as Ride Mode. Game Space covers all your games while Game Assistant enhances the gaming experience. System themes as well as Screen Light Effects are also great.
Random MAC Adress Generator, Private SPace, Payment Security, Digital Wellbeing as well as Fraud Prevention are some of the extra features packed in the UI. Overall the UI experience is also fun and seamless.
Check Out: Realme 6 Price in Nepal
Conclusion
Looking at the specifications and features that the device offers regarding its budget-friendly price is awesome. You can call this device a budget mid-range flagship killer phone. If you are looking for a feature-packed phone on a budget mid-range price then Realme 7 is the device to go for.
Check Out our list of "Realme Mobile Price in Nepal" to find Realme 7 Price in Nepal along with all Realme phones available in Nepal.