Chinese tech giant Huawei has ranked the world's 9th most valuable brand for 2022. In the same leaderboard released by Brand Finance, US firms dominate as Apple claims the top perch followed by Amazon and Google.
Huawei improved this year's ranking by 9 positions with a total brand value of USD71.2 billion. Previously, it stood 15th in 2021's ranking.
Meanwhile, Apple has continued its top stay as the world's most valuable brand. The American phone maker secured a 35% increase in the brand's total worth taking it to USD355.1 billion. Check out Apple iPhone Price in Nepal.
Apple's current brand value is also the highest ever recorded in the history of Brand Finance Global 500's history.
Meanwhile, US OTT firm Amazon attained its second rank with a total brand value of USD350.3 billion. The 3rd ranked Google's total brand value stood at USD263.4 billion, followed by Microsoft with USD184.2 billion. The fifth-ranked Walmart's total brand value is estimated to be worth USD111.9 billion.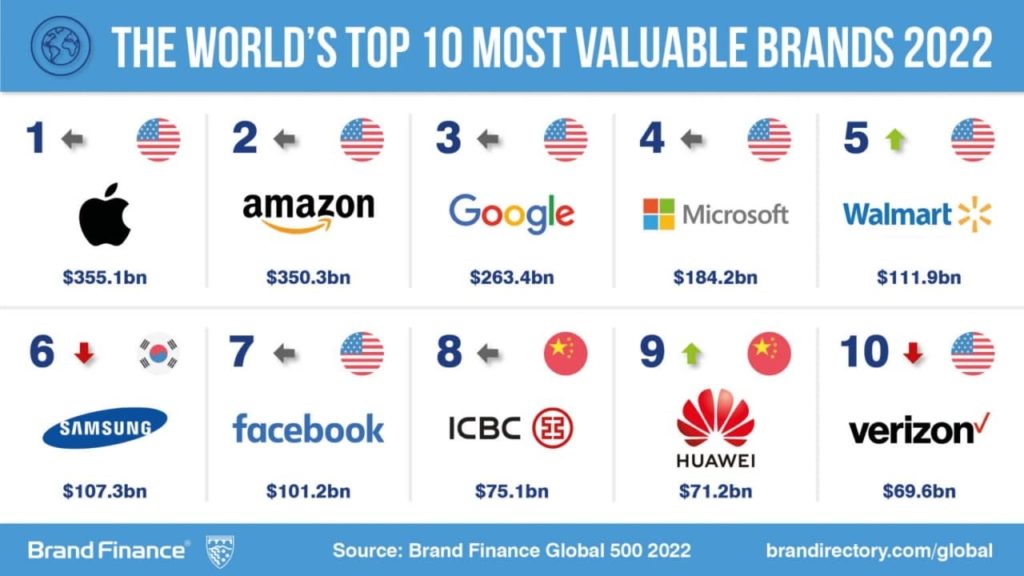 The South Korean tech leader Samsung though dropped to the 6th. Further, Facebook and ICBC ranked 7th and 8th respectively. Verizon, the US telecom operator came 10th with a USD69.6 billion brand value.
Top 10 Brands 2022- Brand Finance Global 500 ranking
| | | |
| --- | --- | --- |
| S.N. | World's Top 10 Most Valuable Brands | Brand Value (in USD) |
| 1 | Apple | 355.1 billion |
| 2 | Amazon | 350.3 billion |
| 3 | Google | 263.4 billion |
| 4 | Microsoft | 184.2 billion |
| 5 | Walmart | 111.9 billion |
| 6 | Samsung | 107.3 billion |
| 7 | Facebook | 101.2 billion |
| 8 | ICBC | 75.1 billion |
| 9 | Huawei | 71.2 billion |
| 10 | Verizon | 69.6 billion |
Huawei's brand value improvement defies the odds amidst the heavy scrutiny it faces from the West. The Chinese brand has witnessed multiple bans in the US and the West for political reasons. This includes the ban on using Android OS on Huawei smartphones.
But in response, it has created a groundbreaking HarmonyOS with cross-platform compatibility. It still maintains a supreme presence as the telco gear vendor in multiple states and continues to dominate the market in Asia.
What is our opinion on Huawei maintaining its strength as one of the world's top valuable brands? Could it gain more prominence with the spread of 5G in the region given it holds a strong market as the gear vendor? Do share your opinion in the comments below.