Ericsson predicts that the global number of 5G users will exceed 1 billion in 2022. The company mainly credited the rise in subscriber numbers to the rapid development in North America and China. Meanwhile, India is predicted to add at least 30 million subscribers in its first year of commercial 5G deployment. The Swedish telco equipment vendor made the assessment in its semi-annual Mobility report.
The report gave an exciting outlook for the future of 5G in the next few years. Meanwhile, it states that due to the global economic slump, and events in Ukraine connection expectations have climbed down by 100 million users. After Russia invaded Ukraine in February, the global flow of service has taken a hit. Ukraine has even faced a partial internet outage. Then Elon Musk started his own Starlink internet service to keep the internet afloat in the embattled areas. 
40 operators to offer SA 5G networks
And coming to the 5G statistics, Ericsson says 5G users have increased by 70 million to 620 million in the first quarter of 2021. At the same time, the number of users of 4G grew by 70 million. Currently, there are 4.9 billion people connected to high-speed 4G broadband.
Besides, over 20 service providers 5G SA networks by 2021. The number is expected to double this year in 2022. Similarly, Ericsson forecasts over 100 million FWA connections during the same period.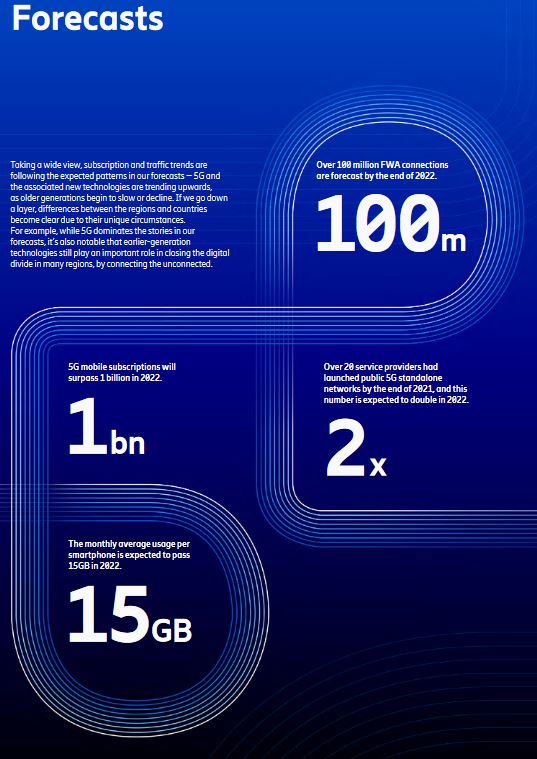 But it is likely that the number of 4G will hit a peak later this year, and then come swinging down as 5G swoops in.
It is obvious that the 5G and its associated technologies are trending up and older ones will gradually decline. Still, in many countries, earlier technologies continue to play important role in connectivity. They are also helping to close the digital divide by "connecting the unconnected," the report states.
See also: Mobile Data Usage Grew by Double in 2 Years – Ericsson Finds
1 Billion 5G Users by 2022
Ericsson predicts that 5G will hit 1 billion users by the end of 2022. It suggests that the development of the fifth-generation mobile network has been much faster than 4G. The 4G network took 10 years to reach 1 billion users globally.
Ericsson attributes the pace of 5G adoption to the development and investment in North America and China. Besides, the budget smartphones supporting 5G bands have also proved fruitful in expanding their subscription numbers.
China, a key telecommunications industry in the world added 270 million 5G users in 2021. North America at the same time added 65 million people. India, the world's third-largest telecommunications industry will be soon launching a commercial 5G network. The government is conducting the 5G spectrum auction in India this July. Ericsson says India will play a significant role in inflating the numbers down the line.
Don't miss: Best 5G Phones In Nepal | Midrange to Flagship | 2022
The company forecasts that about 30 million people will join 5G in 2022 and add another 50 million in 2023 in India.
Ericsson also forecasts that the number of 5G subscribers could hit 4.4 billion in 2027.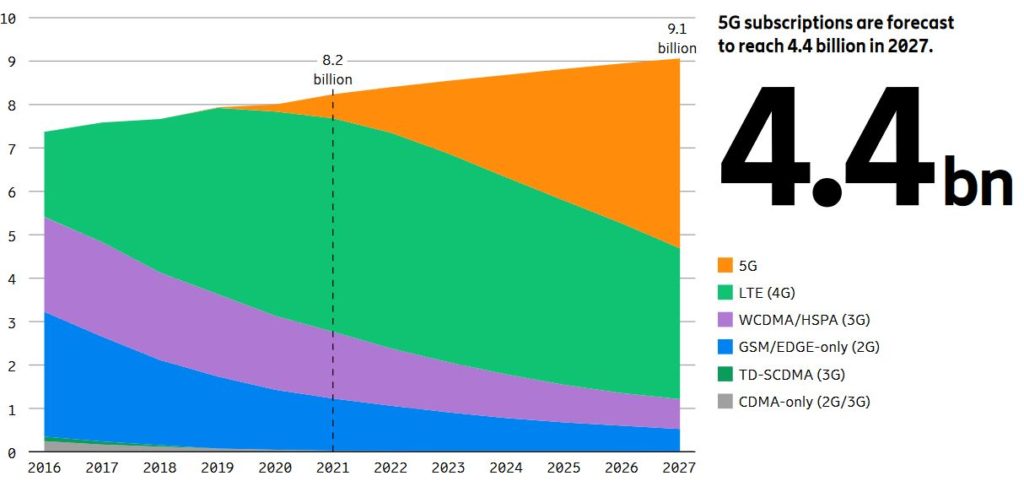 Nepal is also likely to launch 5G for trails somewhere in 2022. Nepal Telecom (NTC) is in advanced preparation for the first 5G trials.
Will 5G be essential or a surplus to your needs? Do share what you think in the comments below.