WorldLink Communication earned a staggering Rs 6 billion in revenue in the first 9 months of the Fiscal Year 2022. The PBILDT has also improved amidst its growing market demand and growth, Rating agency Care Ratings Nepal has reported.
Meanwhile, the company's total operating revenue grew to almost Rs 8 billion in FY21 marking a growth of 21.53% against the previous fiscal year. In FY20, the company registered total operating revenue of 6.54 billion. Care Ratings attribute WorldLink's strong financial showing to its growing subscriber base and internet demands. Till the end of FY21, the company's subscriber base grew by 29.91% to 5 lakh 10 thousand, 7 hundred, and 12. The total users have reached well beyond 6 lakh at the moment.
| | | | |
| --- | --- | --- | --- |
| WorldLink report | FY21 | FY20 | Growth |
| Total operating revenue (million) | Rs 7,954 | Rs 6,545 | 21.53% |
Similarly, PBILDT (Profit before interest, lease rentals, depreciation, and tax) margin also increased by 200 bps to 37.14% in FY21 on the back of the cost advantages arising from economies of scale. PAT (profit after tax) meanwhile, has also improved by 61.09% to Rs 91 crore, 70 lakh with a PAT margin of 11.52% from 8.69% in FY20.
Also see: WorldLink Recognized with ICT Award by Madhesh Province
WorldLink continues revenue growth
WorldLink's revenue growth has continued till the first 9 months of FY22 earning Rs 6 billion, 72 crore, and 40 lakh. The profit margin is likely to improve with increased revenues from subscribers from 140 new infrastructure network locations. But the report says the company could see its ARPU see downward pressure amid increasing competition. The company's ARPU declined nominally to Rs 1,206 in FY21. In FY20, the company's per-user revenue stood slightly higher at Rs 1,210. The report says the fall in ARPU was down to various promotional packages and discounts offered to add more to the subscriber base.
"Going forward, APRU levels are likely to remain muted which might have a bearing on the company's profitability over the near term, however, this is expected to be offset by cost advantage arising from economies of scale over the medium term," the report states.
"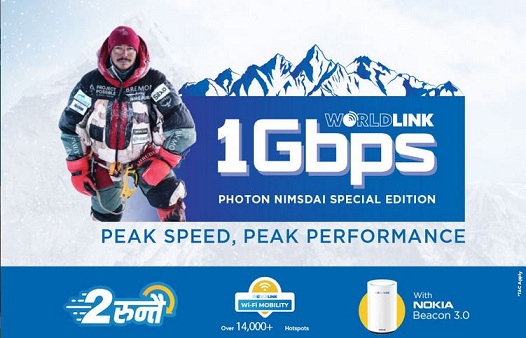 WorldLink has been in service for over 26 years and has climbed the highest charts in success as an internet service provider. The company occupies a 30% market share in the retail segment with over 6.25 lakh subscribers till mid-May, 2022. The ISP accounts for the country's 40% internet bandwidth. At the moment, the company's services are available in over 77 districts and have 1 lakh+ enterprise circuits connected to offices and organizations. Check out: All the internet packages and offers of Worldlink.
How do you rate WorldLink's internet and IPTV services? Do share with us in the comments below.