Telecom regulator Nepal Telecommunication Authority (NTA)'s latest mobile service quality (call) report has reflected a poor glimpse into mobile services in Kathmandu. In what is also called the "drive test" which assessed the Voice service of all the Nepali operators, all failed to meet the desired parameters set by the authority.
The Quality of Service (QoS) conducted from Magh 20 to 24, 2079 tested the voice service of Nepal Telecom (NTC), Ncell, and Smart Cell placing a call for 120 seconds, while moving along.
NTA says it carried out the tests of telecom service providers in Gwarko, Koteshwor, Purano Sinamangal, Naya Basti, Bauddha, Chabahil, Gaushala, Siphal, Maitidevi, Hadigaun, Kapan, Dhumbarahi, Barfedi, Bhangal, Hattigauda, Budhanilkantha, and the adjacent streets of Kathmandu.
Drive Tests are conducted on a mobile vehicle equipped with software installed on a computer that records the network measurement while the vehicle moves along. For this test, NTA used a device in an automatic mode that selects a favorable network from 2G, 3G, or 4G as per availability and the Key Performance Indicators (KPI) of the networks are gathered for voice or data calls. The regulator gathered this test's data by making local voice calls within the telcos' network.
Related: NTA Quality of service bylaw 2079 | Compensation, QoE survey, Restoration time
Mobile Call Quality in Kathmandu | NTA Drive Test for Voice Call
As per the drive test report, Nepal Telecom (Ntc)'s call setup success rate performed poorly at just 88.78% against the preferred range of 99.99%, likewise, other telcos Ncell and Smart Cell also struggled to meet the range. Calls on private telco Ncell came out with a 93.69% call set-up success rate. Smart Cell failed miserably with just 26.39%. If you were not familiar with the phrase, Call Set Up Success Rate refers to the success rate of the total calls with the device. If you hear nothing, it means the call failed to initiate. So, a higher call set success rate is always better.
Telcos didn't meet the parameters for the Call Set Up Time either. The calls took 6.97 seconds to set up for Ntc. Ncell barely touched the preferred range with 5.18 seconds while Smart Cell's calls took 11.93 seconds to set up. In telecommunication, Call Set Up Time represents the duration a network takes before a ringtone or any call announcement starts. So, if there are the lesser seconds, it's better.
You can find the report of the mobile call quality via drive test in Kathmandu.
| | | | | |
| --- | --- | --- | --- | --- |
| Mobile Call quality with NTA Drive Test in Kathmandu | Nepal Telecom | Ncell | Smart Cell | Preferred range |
| Calls Setup Up Success Rate | 88.78 | 93.69 | 26.39 | 99.99% |
| Call Set Up Time | 6.97 | 5.18 | 11.93 | 5 seconds |
| Call Block Rate | 11.21 | 6.3 | 73.6 | 2% |
| Call Drop Rate | 0 | 0 | 0 | 2% |
The statistics presented above represent the network conditions of the operators in the specified places during the period of the Drive Test, the network conditions in other areas are subject to differ.
Telcos performed poorly in Call Block Rate too
Call Block Rate is another mobile service parameter used by NTA. It shows in percentage how many calls were 'blocked' due to congestion or other issues in an operator's network. In this parameter, Ncell fared better ahead of Ntc with just a 6.3% call block rate against the latter's 11.21%. Similarly, Smart Cell had a dismal score of 73.6% for its call block rate data. It must also be understood that the telco doesn't boast good coverage for its mobile services hence poor performance in the test parameters.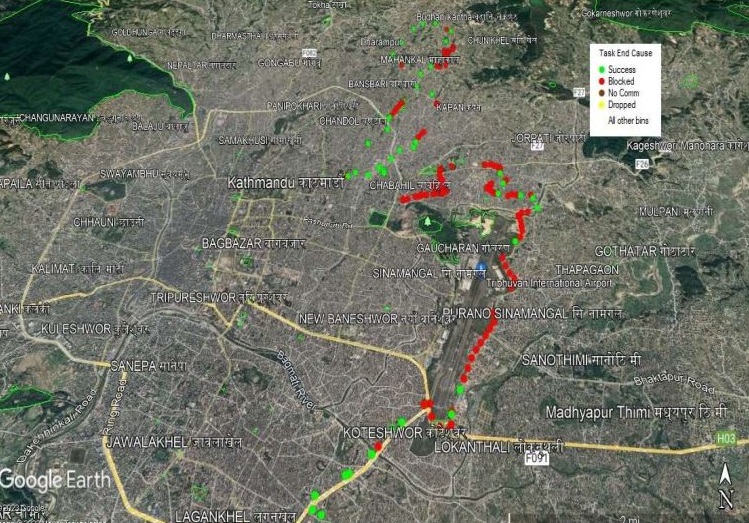 Call Drop Rate refers to the situation where a call cuts off before a conversation is complete. All operators performed better in this parameter, each coming out with 0% against NTA's preferred range of 2%.
The report didn't specify if it employed VoLTE calls. Ntc and Ncell both provide VoLTE calls which offer HD voice service using data that allows the use of both internet and voice service during a cellular phone call.
Check out: NTA passes regulations to allow the merger of telecom companies
The tests indicate the performance of specific areas at a specific time and are subject to differ. How do you feel about the importance of voice call quality on a mobile network? And how does voice service perform on your mobile network? You can share with us below and help us with our telecom survey.