Nepal's leading private telecom operator Ncell Axiata Limited has convened its Annual General Meeting (AGM) on Mangsir 07, 2080 (November 23, 2023). The meeting will pass various proposals as usual however, there won't be a proposal to issue its initial public offering (IPO).
The Axiata-owned telco's AGM 2023 has been scheduled at the company's Lainchaur Corporate Office (Ncell Icon). The meeting will propose the appointment of independent directors at the company. It's Ncell's 4th annual general meeting since converting into a public company.
Proposals at the Ncell Annual General Meeting 2023
The meeting will also approve the appointment of the company's financial records. The AGM will pass the annual report of the board of directors for the financial year FY 2079/80, the auditor's report, the balance sheet for the year 2079/80, the profit and loss account, and the cash flow, including financial statements.
The same meeting will also propose the appointment of an auditor for FY 2080/81 and decide on the remuneration. Similarly, the meeting will pass a resolution to approve the distribution of dividends for FY 2079/80 as per the recommendation of the Board of Directors.
Also read: Ncell posts Rs 9.70 arab revenue in second quarter, 2023
No plan for IPO!
Since going public in 2020, many have been speculating on Ncell's IPO issuance. But this time too, there are apparently no plans to float its shares to the general public. If you were counting on this year to hear about the private telco announcing its plan for the IPO, you may have to wait for another year.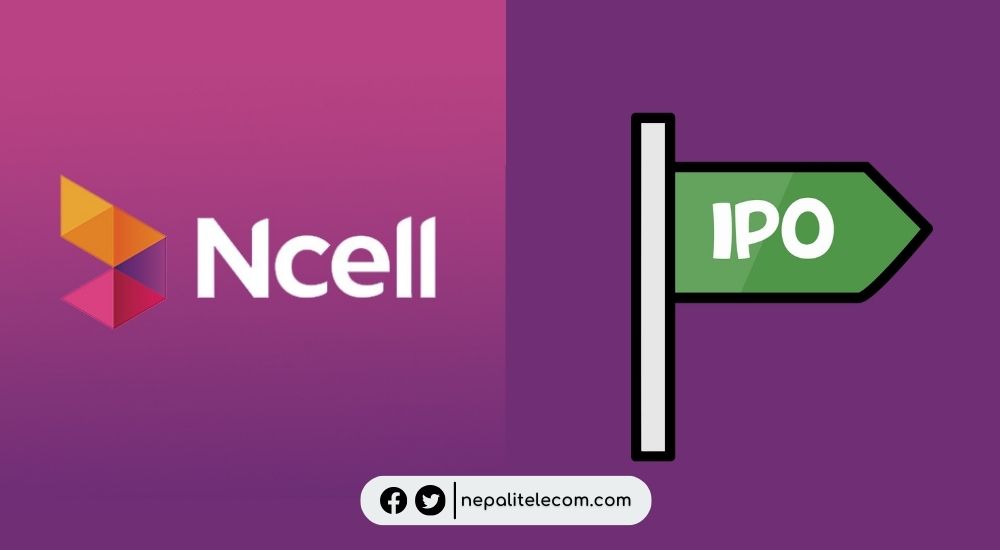 Ncell previously operated as Mero Mobile in 2004 and is Nepal's first private telecom operator. The telco rebranded as Ncell in 2010. On 2016, April 12, the telco became a part of the Axiata Group Berhad, a leading telecommunications group based in Malaysia to become the Next Generation Digital Champion by 2024. Ncell turned into a public company in 2020 August, 03.
The company has played a leading role in expanding communication services with its 2G, 3G, and 4G services across the country. In 2022/23 alone, the private operator deployed 338 cell towers improving voice and 4G broadband services. Ncell also provides eSIM and HD voice service (VoLTE).
Additionally, the telco has also been one of the highest tax contributors to the government and actively lends a hand in various CSR activities promoting education, health, and sustainable development goals initiatives. Read this: Ncell Contributes Rs 144 Billion in Tax to Nepal in 5 Years
Ncell Axiata boasts over 1.32 crore subscribers on its GSM mobile service while over 71 lakh users subscribe to the operator's high-speed 4G mobile broadband service.