Telco equipment vendor Ericson has reported that the global mobile data usage has grown by double in two years' time. The tech giant gave the stats that mobile network traffic grew 10% between the fourth quarter of 2021 and 2022.
In terms of the year-on-year comparison, the growth marked a massive 40% increase.
"In absolute numbers, this means that it has doubled in just two years (since Q1 2020)," the company writes. The report in concern is its new the company's new Mobility Report which came out on Tuesday, June 21st.
"Over the long term, traffic growth is driven by both the rising number of smartphone subscriptions and an increasing average data volume per subscription, fueled primarily by increased viewing of video content," the company adds.
The report is essential to Ericsson and global mobile communications. It is because the mobile data has surged when operators are adding new spectrums to their networks. Meanwhile, they are also launching or upgrading their 5G networks for more speed and coverage.
Also read: Data Consumption to Triple by 2028 and 5G to Expand
Ericsson attributes double mobile data usage growth to investments by operators
For example, the US has accelerated mobile network expansion with the sole focus on 5G. Major telcos have spent around $275 billion to upgrade their mobile network infrastructure including cell sites, spectrum, and 5G. Recently, companies such as Verizon and AT&T have started their mid-band 5G networks. This has brought significant improvements to their 5G coverage and broadband performance.
Ericsson says that mobile phone users are exploiting the benefits of elevated network capacity that came with those major investments. In its report, the company says, an average smartphone user will consume around 15 GB of data volume a month in 2022.
North America to go 5G, South Asia also see intense figures
Meanwhile, it estimates that a mobile subscriber in North America would consume an average of 52 GB of data per month in 2027. Ericsson credits the high data consumption to "higher video resolutions, increased uplink traffic, and more data from devices off-loaded to cloud compute resources."
Besides, the company also predicts that 5G penetration in the region would be the highest of all at 90%.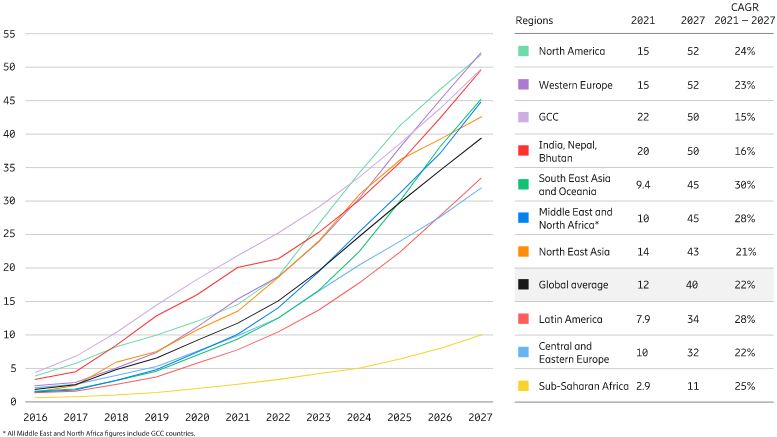 In Nepal, India, and Bhutan, the total mobile data consumption figure was 20 GB in 2021. The same report predicts it will reach 50 GB in 2027, five years from now on. The lockdown waves have inflated data usage in the region. The report says mobile data will continue to play a pivotal role in driving social and economic inclusion.
Meanwhile, the Sub-Saharan region recorded the least mobile data consumption at 2.9 GB in 2021. Ericsson says this will reach 11% in 2027. Check out: Probable 5G Frequency Bands (Spectrum) in Nepal
How much mobile data do you consume in a month, and for what purposes? You can share in the comments section below.