A new OTT app "Kantipur Cinemas" has been inaugurated. Kantipur Film Academy launched the latest OTT platform at a lavish ceremony in Kathmandu on Monday, October 16. It is also claimed to be the first subscription-based OTT platform in Nepal.
The ceremony was inaugurated by former Prime Minister and CPN (UML) Chairman KP Sharma Oli. In the event, Oli wished success for the newly launched OTT platform.
"We don't have a large market like India and China. So, even with many film releases, actors struggle to survive. Even prominent actors have to reconsider their future in the industry due to a small market," Oli quipped.
The former executive head extended his congratulations and wished that Kantipur Cinemas would win over the Nepal audiences scattered worldwide.
Video-streaming apps are a growing trend. While we already have Netflix at affordable costs, prominent apps such as Cinemaghar cater to audiences with an authentic Nepali movie flavor. The list of such apps is growing contributed by the ever-increasing internet access and smartphone use.  
The app has opened with already a host of exciting feature movies and short films. You can already watch the latest movies such as Jackie I Am 21 and Julebi while also checking out some short films such as Mother, Kharani, Miss Secret, etc.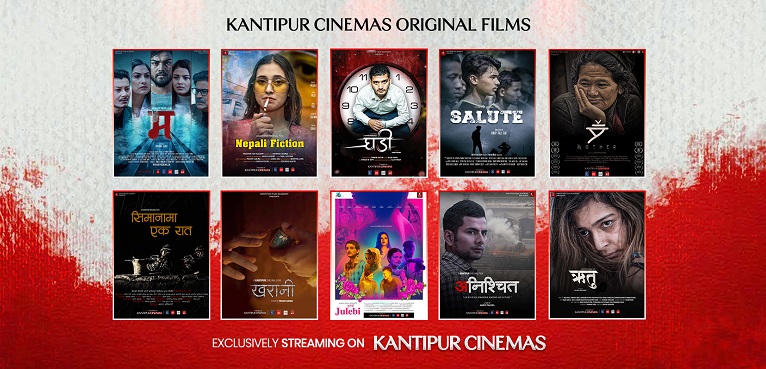 DON'T MISS: Nepali movie "Jaari" Released on Cinemaghar app, Find Cost and Payment Options
Kantipur Cinemas app goes live for Rs 299
Kantipur Film Academy Chief Executive Officer (CEO) Prakash Puri shared that users can enjoy watching all Kantipur Cinemas content for Rs 299 per month. Puri claimed that the platform is the first subscription-based OTT service in Nepal.
He later informed that viewers can watch feature films, short films, and series via the app. "We are trying to establish a kind of an OTT app which is very popular around the world," Puri added. Among the attendees was Film Development Board Chairman Bhuvan KC who highlighted the platform's relevance to the industry. He said, "Kantipur Cinemas can be an effective platform for both filmmakers and viewers. It will be a good medium for Nepalese living worldwide to watch Nepali cinemas." Also read: Indian OTT ALTBalaji Enters Nepal With Telenet
Meanwhile, actor and comedian Deepak Raj Giri said that operating an OTT platform is a challenge. However, he wished the company a success for its future.
Kantipur Cinemas app is available on Android, iOS, web, and Smart TV.