Namaste Pay has launched its Dashain and Tihar Offer 2079. The emerging digital wallet is bringing exciting offers in the festive season. Under the scheme, users can win cashback, 12 months of free utility payment, and more. In this article, let's learn more about Namaste Pay Dashain and Tihar Offer 2079.
Namaste Pay Dashain and Tihar Offer 2079
The Nepal Telecom-backed digital wallet has brought a scheme for Dashain and Tihar. The offer was unveiled in an official press release program on September 13, 2022.
To be eligible, users must have their KYC verified. The offer starts on 23rd Bhadra, 2079, and ends on 19th Kartik, 2079. Here are the prizes one can win under the offer;
100% Cashback:- One lucky user can win 100% cashback on all the expenses and payments done via Namaste Pay Wallet. After the end of the scheme, 7 winners will be announced and they will get the entire balance back that was used for payments.
12 Months Free Utility Payment:- This is another exciting prize that one lucky user can win. The winner will be selected from those making utility bills payment from Namaste Pay. So, one winner is chosen every week and he/she will get a free utility bill payment for one year.
10% Cashback on Recharge:- Users can also avail of 10% cashback on recharge performed via Namaste Pay. The max cashback amount is Rs.10 and top-ups can be done on NTC and Ncell numbers.
Round Flight Ticket to Pokhara:- The offer is also available for the newly launched flight tickets option. For the air ticket purchasers, 2 lucky users can win round tickets to Pokhara every week. Also, there is Rs.1000 cashback for one customer each week.
100% Cashback on Digital Dakshina:- Digital Dakshina is a term for money sent digitally via e-wallets during the festive season of Dashain. Likewise, 20 customers can win 100% of cashback spent on Digital Dakshina. And the users need to use promo code: DAKSHINA to get the cashback.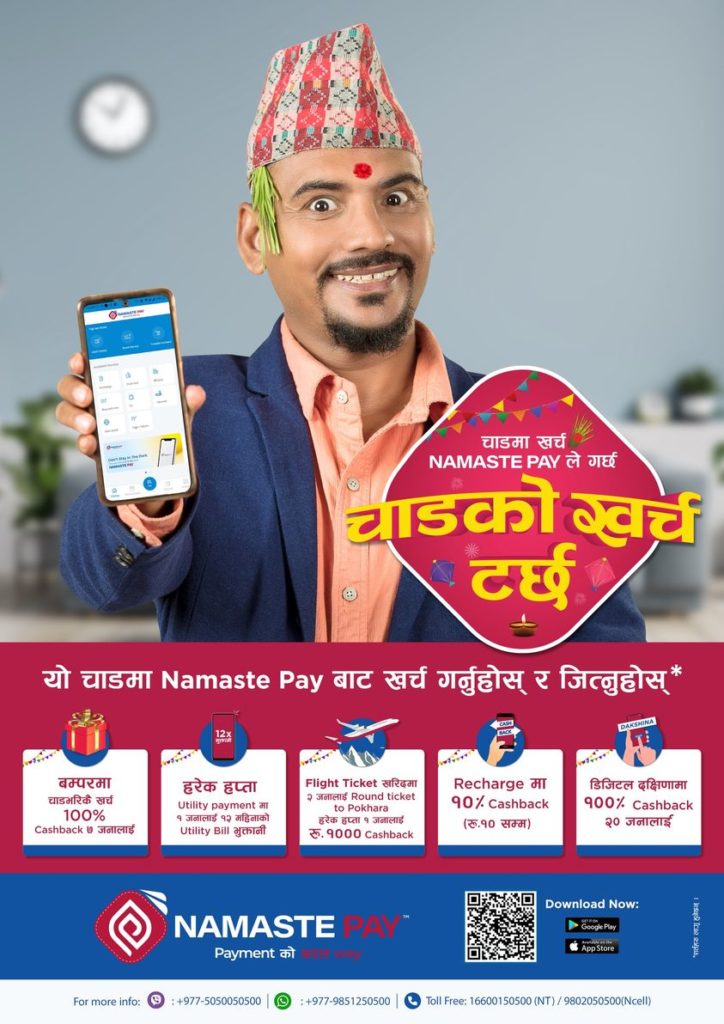 Do Check:- Daraz Dashain Dhamaka 2079: Discounts, Vouchers, and More
About Namaste Pay Digital Wallet
Namaste Pay is a growing digital wallet in the country. It is a PSP having Nepal Telecom and Rastriya Banijya Bank (RBB) as promotional partners. This digital wallet is developed by the Nepal Digital Payments Company (NPDC). Launched in September 2021, it faced a backlash regarding compatibility and bugs issues. Those were solved after some updates and since then, the app has improved. It is adding more services and features. Along with flight tickets, the e-wallet has also added a loyalty points program.
Also Read:- Namaste Pay Begins Loyalty Points System, Coins on Spending
The company is dedicated to forming a cashless society by providing one-stop digital payment solutions. It is not only just for digitally educated users but also for those who are unaware of digital wallets. That's why its unique offline mode with USSD *500# one becomes the USP of this e-wallet. This makes it usable even on feature phones, running on a 2G network.
Namaste Pay has joined the network of National Payment Switch. This allows the digital wallet to further enhance its services for its customers. Meanwhile, this partnership also makes it the first mobile wallet to join the Switch network. And the app is available on both Android and iOS platforms. Till now, National Payment Switch has 38 banks and financial institutions, and 6 payment service providers totaling 44 companies facilitating mobile payment.    
Do Check:-Xiaomi Dashain Offer 2079, Win Mi TV 4S 64″, and More
So what do you think of Namaste Pay Dashain and Tihar Offer? Are you going to participate? Do write us your thoughts, views, and opinions in the comment section below.