Apple officially launched iOS 17.1 on Wednesday, October 25, bringing some improvements to the user experience with some new features and settings, and bug fixes also importantly, the latest build comes with a fix for the infamous iPhone 12 radiation concerns. The update is available on compatible handsets and here, you can find all that you are getting with this latest iOS version.
Top iOS 17.1 features
Apple issued the iOS 17.1 update over a month after releasing the latest-generation platform iOS 17. Although a minor update, the latest version does bring some features that enhance user experience. The update introduces new StandBy settings, an option to find favorite music on the Apple Music app, and a new Flashlight option. The iOS 17.1 also fixes radiation concerns on the iPhone 12 handsets. Let's get into the details.
1.    iOS 17.1 fixes iPhone 12 radiation concerns
Apple came under hot waters in France after the country's National Frequency Agency on September 12 declared that the iPhone 12 had a radiation issue. While Apple maintained that the model was safe for use and caused no harm, other European countries also scrutinized it. But now, the US phone maker has addressed the issue with its iOS 17.1 update.
"iOS 17.1 includes an update for iPhone 12 for users in France to accommodate this specific test protocol that requires reduced power when off-body on a static surface," Apple said. "iPhone 12 will no longer increase the allowed power when the off-body state is detected, such as while it is sitting on a table." The fix should dissipate the health concerns that were raised across a few markets in Europe.
Find the latest price of : <<<iPhone 15 Pro and iPhone 15 Pro Max>>>
2.     New StandBy mode settings
The iOS 17.1 gives the hugely popular StandBy mode its new setting options. You can now deactivate the StandBy mode after 20 seconds, never at all or automatically. If chosen "Automatically", the phone's display turns off when it's not in use and the room is dark. There are reports suggesting though that this feature could be available when the device is set to "always-on display."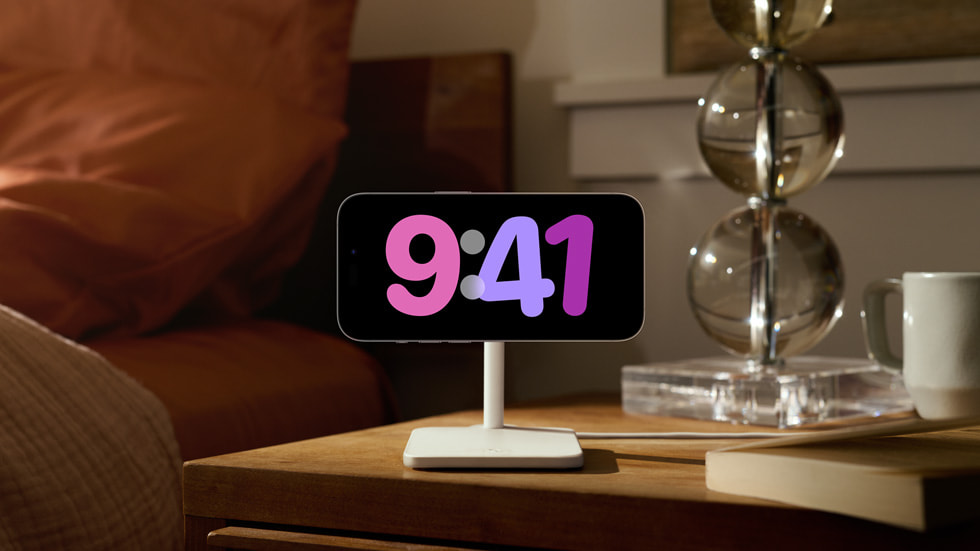 3.     Apple Music gets exciting enhancements
With iOS 17.1, finding your favorite music becomes easier. Apple has introduced a new button in Apple Music which allows users to find their favorite songs quickly. When music is playing, you will notice a star outline just around the song's title. You can tap the star to add the music to your Favorites list.  When a song is playing and you're looking at its card on your iPhone, there's a star
Likewise, Apple Music also displays song suggestions. Just go to the playlist and find the playlist section called Song Suggestions. These are the music the app automatically suggests on the basis of your musical taste.
4.     Use AirDrop with cellular data
In another major enhancement, Apple has upgraded AirDrop with NameDrop. This allows two devices to tap and exchange contact information. With iOS 17.1, users can also use cellular data to exchange information over AirDrop. If two devices are distant from each other, using data is your option.
Check out: Apple iPhone Price in Nepal | Latest 2023 Update
5.      Flashlight symbol that helps you out 
Having an iPhone's flashlight turned on and not being aware could be a common experience many share. This leads to battery drain and heating the devices a bit. IOS 17.1 lets you rid of this possible situation.
When the flashlight is turned on, a flashlight symbol appears in the Live Activities feed on top of the device's screen making you aware of it. This feature, just like the StandBy settings, could be available in a specific situation- when Live Activity is enabled. Presumably, you can enjoy the feature on iPhone 14 Pro and iPhone 14 Pro Max, and the entire iPhone 15 series.
Which devices support iOS 17.1?
iOS 17.1 is available for iPhone XS and later iPhone models. You can get the latest OS to build easily on your own. You can find the steps below.
How can I download iOS 17.1?
To download and install the iOS 17.1, go to Settings > General > Software Update, and tap "Update Now" and follow the instructions.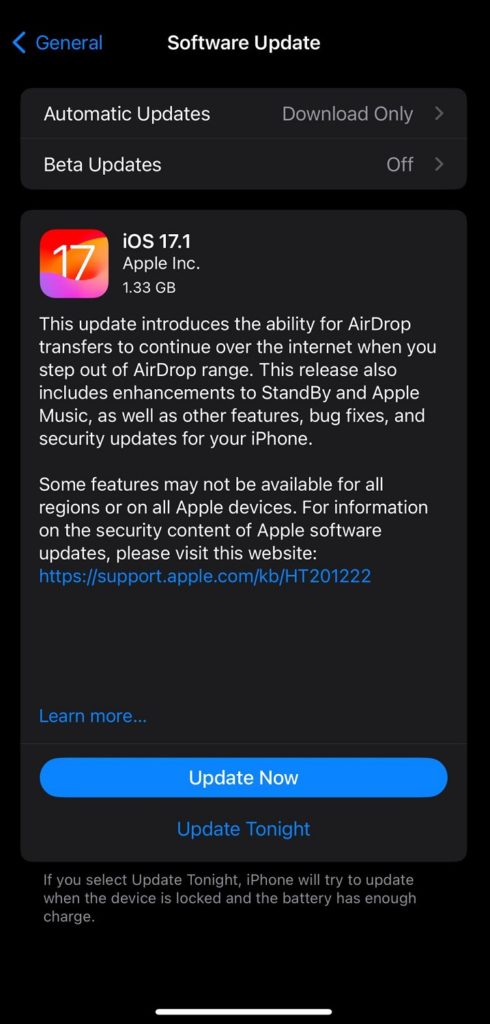 You can download and install iOS 17.1 in Nepal
Do note that OS 17.1 is also available in Nepal on compatible handsets. You can download and install the update from the Settings on your iPhone or via iTunes. Also, don't forget to backup your data just in case before you install the latest OS build on your precious iPhone.
For more on tech, telecom, and the latest gadget reviews, keep reading Nepalitelecom.com.