Sastodeal and Salesberry have struck a groundbreaking partnership that brings a new dynamism to Nepal's eCommerce domain. Amun Thapa, the visionary founder of the company unveiled the exclusive partnership with the retail powerhouse which boasts an exceptionally large inventory of over 100,000 stock-keeping units (SKUs). The collaboration heralds a transformative clout in the way Nepali consumers engage in online shopping. Let's explore this partnership which has taken place right ahead of the Dashain festivities.
A monumental match
The collaboration between Sastodeal and Salesberry, the two industry leaders in their respective fields is marking a new dawn in Nepal's eCommerce landscape. Their combination, seeking to redefine Nepal's online shopping will combine Sastodeal's unwavering commitment to eCommerce excellence with Salesberry's huge inventory and the retail experience of over 30 years. The deal will grow on the promises of an "extraordinary online shopping experience that sets new benchmarks."
The news of the two's partnership has already set the market abuzz with profound excitement.
Amun Thapa, Founder and CEO of Sastodeal, radiated enthusiasm as he shared his perspective: "We are embarking on an exceptional journey, partnering with an iconic brand that has dominantly graced the retail industry for three illustrious decades. With Salesberry's extensive inventory, an exceptional assortment of quality brands and products, and unmatched pricing, we are steadfast in our mission to establish a pioneering standard for online shopping in Nepal."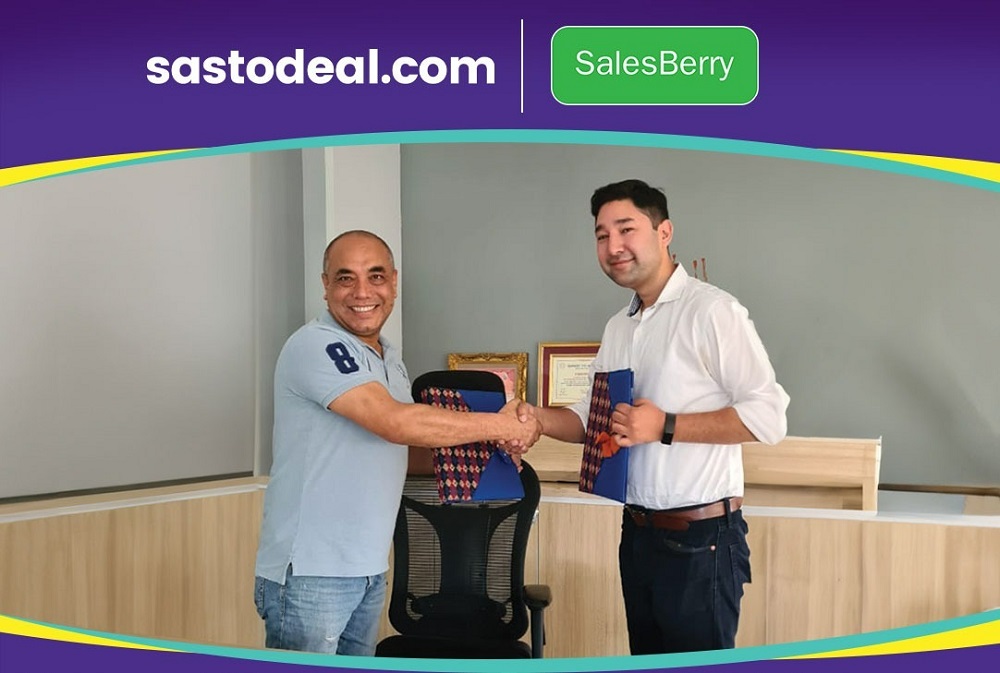 Sushil Man Pradhananga, Founder and Chairman of Salesberry, expressed his optimism stating, "As the Founder and Chairman of Salesberry, I am genuinely excited about our exclusive partnership with Sastodeal. This strategic alliance with a pioneering e-commerce giant such as Sastodeal exemplifies our unwavering commitment to innovation. We eagerly anticipate harnessing our expansive inventory and technological prowess to reshape the e-commerce landscape in Nepal, promising customers an unparalleled online shopping experience."
Check out: Top 5 Online Marketplaces in Nepal
Key Highlights of Sastodeal and Salesberry Partnership:
It's not an overestimate to say that the deal is groundbreaking and consists of huge perks. Below are the major accomplishments the Sastodeal and Salesberry partnership bring to Nepal's eCommerce scene:
Unmatched Inventory: Salesberry's huge inventory encompassing over 1 lakh SKUs provides an unmatched range of products further strengthening Sastodeal's presence as the one-stop destination for the online shopping experience.
Technological Marvel: The merging of Salesberry's cutting-edge eCommerce technology will bring forth a revolutionary era for Sastodeal's operations. The deal will guarantee customers faster deliveries and an unmatched level of customer service.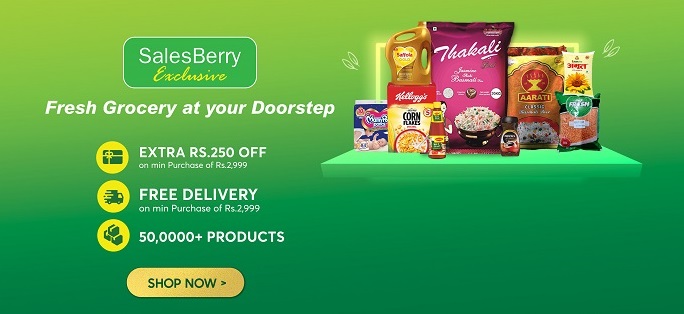 Exclusive Offers: And whatnot? With this huge collaboration, Sastodeal customers can expect an array of exclusive benefits. This includes FREE delivery on purchases exceeding NPR 3,000, and an enticing assortment of discounts, vouchers, bundles, gifts, and exclusive offers.
Elevated User Experience: This collaboration brings an intuitively designed and user-friendly interface, further improving the convenience and delight of online shoppers on the Sastodeal platform.
Strategic Growth: Backed by ambitious expansion plans, Sastodeal is certain to cement its status as Nepal's leading e-commerce platform.
Sastodeal has also partnered with Flipkart and Myntra to bring the best-in-class international shopping experience to Nepal. Do share with us how you find the SalesBerry shopping on Sastodeal.com in our comments below.