Xiaomi has launched its new mid-range king Redmi Note 12 Pro 5G in the Nepali smartphone market. Part of the latest Redmi Note 12 Series, the device is the direct successor to the Redmi Note 11 Pro 5G launched in 2022. It comes with a familiar design profile except for the noticeably distinct camera module, however, there is some key behind the scene optimizations and some highlights that will delight tech-savvy buyers.
Redmi Note 12 Pro 5G is an upper-tier sibling in the latest Redmi Note 12 Series. The model has been a major hit among smartphone lovers due to its balance of features and affordability. Xiaomi has also shared that it sold over 320 million units of Redmi Note devices till March 2023. It's obvious that the latest lineups will contribute to the further growth of its global sales milestone. In this post, we explore the top 6 features of the affordable mid-range king.
Top Six Features of Redmi Note 12 Pro 5G
We have found the specs below to be the top features of the Redmi Note 12 Pro 5G.
MediaTek Dimensity 1080 Processor
50 MP Sony IMX766 Sensor
AMOLED display with adaptive 120Hz refresh rate
67W battery charging
VoLTE and VoWifi
5G bands with support for band 41 (2600MHz)
1. MediaTek Dimensity 1080 Chipset
One of the best things Xiaomi has done with its Redmi Note 12 Pro 5G is that it comes with MediaTek Dimensity 1080 SoC (System on a Chip) which should delight many Redmi Note series loyal. Its direct predecessor Redmi Note 11 Pro 5G had an underwhelming Snapdragon 695. The lack of the more expected and powerful chipset meant it lacked a number of more demanded features such as a 4K video recording. However, with the efficient Dimensity 1080 chipset, the device unlocks the performance that it deserves in its price-sensitive segment.
The Dimensity 1080 chipset is built using a 6nm process which delivers energy-efficient performance as well as more optical capabilities. It has 2x Cortex-A78 cores clocking at 2.6 GHz and 6x Cortext-A 55 cores that clock 2.0 GHz which offers balanced performance for both power-heavy and casual apps. Meanwhile, the ARM Mali-G68 MC4 which is able to perform its maximum of 950 MHz handles gaming and graphics-heavy apps to moderately high performance. It also supports 4K recording whose lack of it frustrated many last years.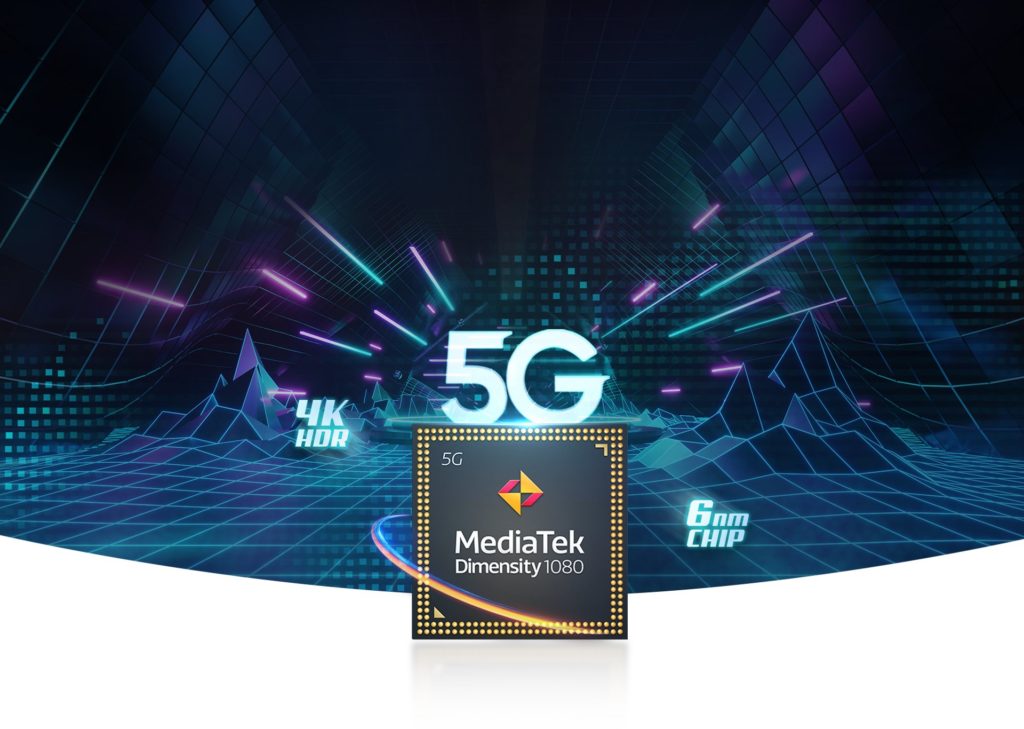 In a nutshell, you will be delighted with the device being backed by a robust mid-range chipset that delivers what buyers expect for their money spent. Many owners of Redmi Note 10 have seemingly opted to stay with the device instead of buying the RN11 due to the processor of lack of it. So, if you are one of those, then your concerns have been addressed so it could as well be the time you upgraded to the powerful Redmi Note device.
Check out: Xiaomi & Redmi Mobile Price in Nepal 2023 | Latest Update
2. 50 MP Triple Camera with Sony IMX766 Sensor
In another signature feature, the budget beast comes with the 50 MP Sony IMX766 Sensor which unleashes better photography and higher capabilities which is why we have listed it as one of the top 6 features of the Redmi Note 12 Pro 5G. The device gets a triple rear camera module boasting the main 50 MP camera with Optical Image Stabilization (OIS). Another camera, an 8 MP ultra-wide-one lets you take snaps of a 120° field of view.
Likewise, the 2 MP macro camera adds another enhancement letting you take close-up shots with rich detail. Last year's sibling carried an ISOCELL HM2 sensor and although it had a 108 MP camera, it didn't translate to 'better' photography for many. This year, including the acclaimed Sony sensor even with the 50 MP sensor has already pleased the Redmi Note legion. The sensor also supports a 4K record at 30 fps, a major highlight for the photogenic. Other features such as night mode, portrait, pro, and others bring further enhancements to the photography department.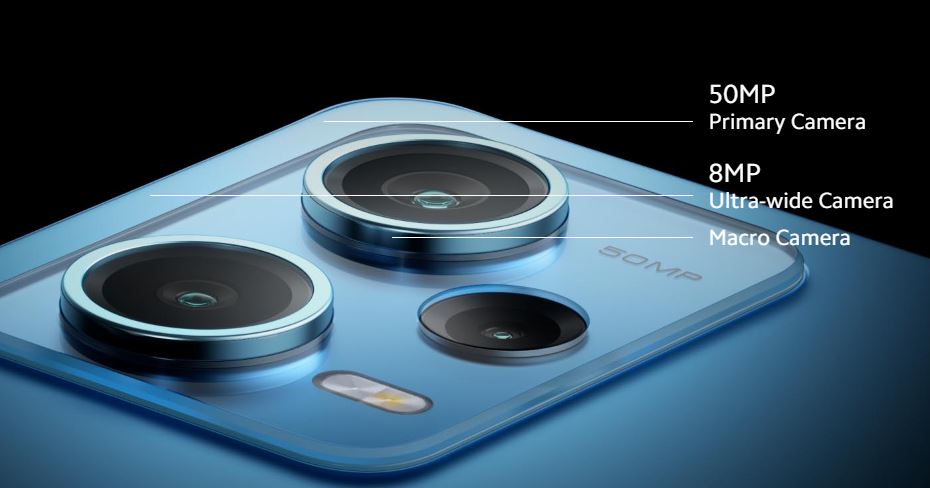 The phone has a 16 MP sensor on the front with portrait, night mode, and others. It supports 1080p (Full HD) video recording at 30 fps and 60 fps. For moderate vlogging and photography, Xiaomi has backed the device well with its optics system.
Do read: Redmi Note 12 5G price in Nepal
3. AMOLED with adaptive 120Hz refresh rate Display
Redmi Note 12 Pro 5G comes with an AMOLED display which is arguably the best display technology. The result is a vibrant and bright display forever. Moreover, the device gets an adaptive refresh rate of 30/60/90/120 Hz which switches according to the screen needs.
On its large 6.67-inch screen with Full HD+ resolution, the entire display panel looks supremely decent. Additionally, HDR10+ and Dolby Vision offer an incredible depth of colors. As obvious, the result is crisp, sharp, and lively which won't allow you to complain about the price it costs. It's also the slimmest phone in the Redmi Note Pro family with 7.98mm thickness.
Check out: Redmi Note 12 4G Price in Nepal
4. 67W battery charging
Having a fast-charging battery is a wonderful hallmark of current days smartphones and the 67W one easily makes it one of the top 6 features of the Redmi Note 12 Pro 5G device. The device comes with a 5000 mAh battery which sails through a day easily and to amplify its usage here, Xiaomi used the massive wired charger. It should take just around 46 minutes to charge the phone 100%. And not always charge or recommend doing it to its maximum. So, half an hour charge will get your device 70-80% charged. The combination of the fast-charging and large-size battery capacity is a lifesaver. It's one of the best reasons of buying the Redmi Note 12 Pro 5G.
5. VoLTE and VoWiFi
If you want modern and improved ways of talking over a mobile network, then the device is perfect for you too. RN 12 Pro supports VoLTE and VoWiFi which provide HD voice features better than regular cellular calls. If you have devices that are 3 years or older, chances are that you may not get VoLTE or VoWiFi by default unless a software patch is rolled out. However, newer devices get these advanced Voice technologies by default. Likewise, the RN 12 Pro 5G has both these features by default from the manufacturer. But you need to enable it on your SIM card to use it. If you don't find the VoWiFi or WiFi Calling feature on your device, just dial ##869434## on a Xiaomi Device. Find more here: Top Android secret codes: USSD, MMI codes, and their function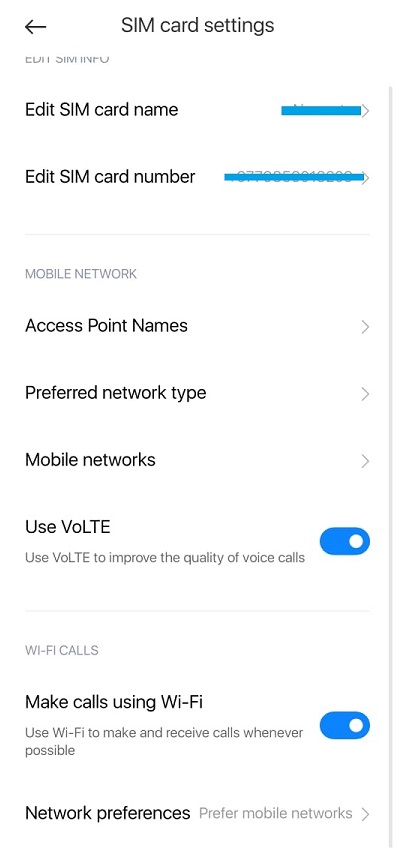 6. Support for band n41 (2600 MHz for 5G)
The reason many would be compelled to buy the 5G variant is of course the option of 5G connectivity. Nepal is right on the cusp of the 5G trial to the public and its gradual launch across main cities. So, the discourse of next-generation mobile technology has already begun. And buyers would buy it to ensure that they can connect to the latest mobile network possible when it's available and the best part is its support for the widely popular 2600 MHz or n41 band.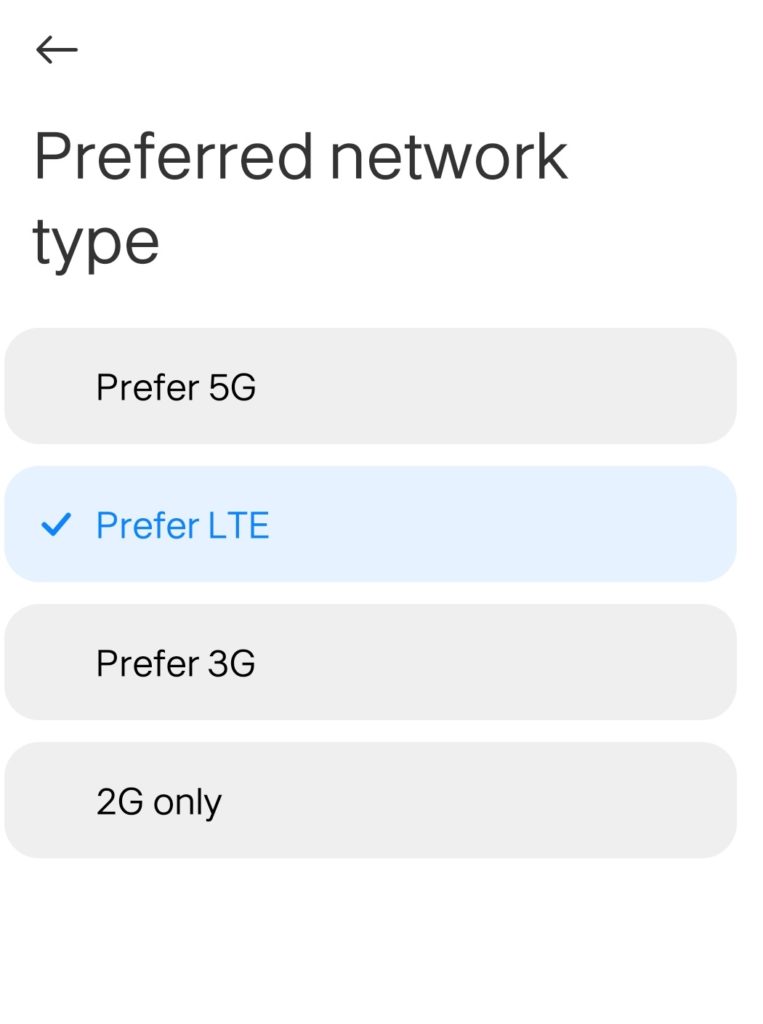 Nepal Telecom (NTC), the government-backed telco which has been testing its 5G network says the lack of compatible devices has delayed its public access. The telco uses 2600 MHz frequency for the network. Judging by the operator's claim, there are not many devices that would support the band it uses however, that's not the concert with Redmi Note 12 Pro 5G. It supports the n41 band and when the network becomes available, the device can connect to it. We have reports from early testers that Ntc's 5G has delivered over 1 Gbps download speed. We recommend that before the network comes to the public, the 5G network option should be ignored or it will only lead to faster battery drain.
Is Redmi Note 12 Pro 5G Your Best Budget Pick Of 2023?
Redmi Note 12 Pro 5G ticks all the right boxes for being the best budget phone of 2023. The device comes with a slim and appealing design and has n41 band support for 5G connectivity in Nepal. For multimedia, you get a dual-stereo speaker powered by Dolby Atmos. You also get decent photography features with its highly popular Sony IMX766 sensor and more importantly, there is the powerful Dimensity 1080 chipset powering the device. You also get the latest MIUI 14 based on Android 12 out of the box. It's the best value for your money device possible at the moment. So, if you were looking for a new budget phone with rich specs, the Redmi Note 12 Pro 5G will be your best pick.
Redmi Note 12 Pro 5G is available in the Nepali market in two variants- 6/128 GB and 8/256 GB for Rs 38,999 and Rs 41,999 respectively.
Above, we picked and detailed the top 6 features of the Redmi Note 12 Pro 5G. Do the specs befit your expectation to buy it? Do share in the comments below.