Microsft is adding an important feature known as Privacy Auditing on Windows 11. With the global vulnerability of privacy access, the American tech giant is introducing this feature to let users know about the apps accessing a PC's camera, microphone, and other hardware components. The ever-growing digital world has seen privacy features on Android and iOS. And now, it moves to the computer OS as well. Let's know more about Windows 11 Privacy Auditing Feature below.
Windows 11 Privacy Auditing Feature
Microsoft has not specified the exact date of release for normal users. The feature is available for app developers right now. It will be available to normal users after some time of testing. Microsoft Vice President for Enterprise and OS Security, Dave Weston on Twitter announced this on Twitter. The executive posted a screenshot showcasing the history of apps using the microphone.
Do Read:-Windows 11 Launched: Learn The Steps to Upgrade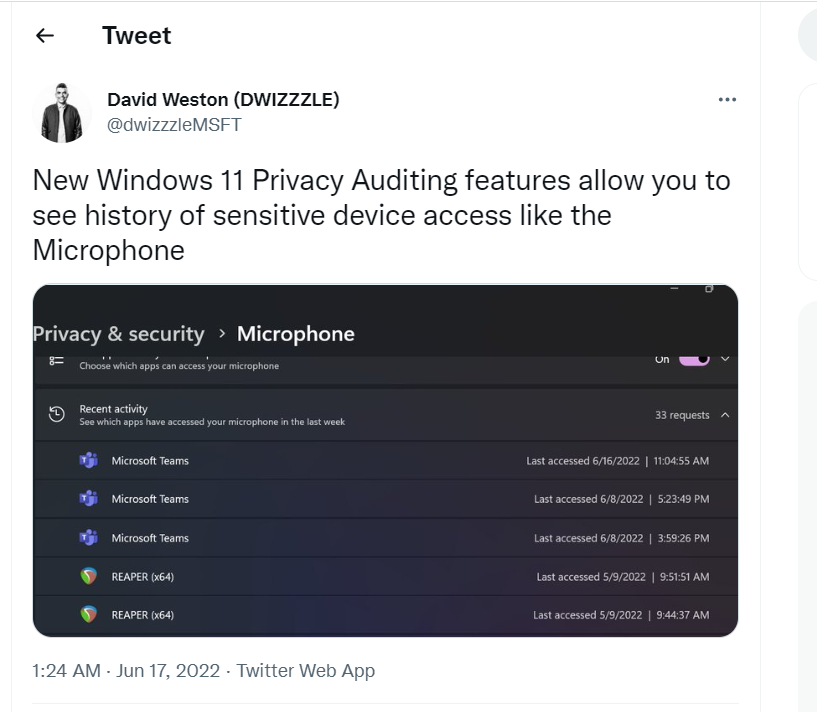 The current version of Privacy Auditing is tipped to enable users to view logs of sensitive data access of the past week. As per leaks, it lists the apps accessing sensitive user information, including their location and screenshots. So this surely assists in protecting the user's valuable privacy. Likewise, the developers can test this feature under Settings > Privacy & security > App permissions on the preview build of Windows 11.
Also, Read:-Google Launches Switch to Android App, From iOS
Privacy Feature on Android and iOS
Apple did introduce its App Privacy Report via its iOS 15.2 updates in December. It enables the users to see the various apps accessing their location, contacts, camera, and microphone. And this feature also went into iPad OS 15.2 soon after. Also, Android OS improved privacy functions via green dot (light) notifications from Android 12 when an app is accessing the mic, location, or camera. Further, it also has a privacy dashboard.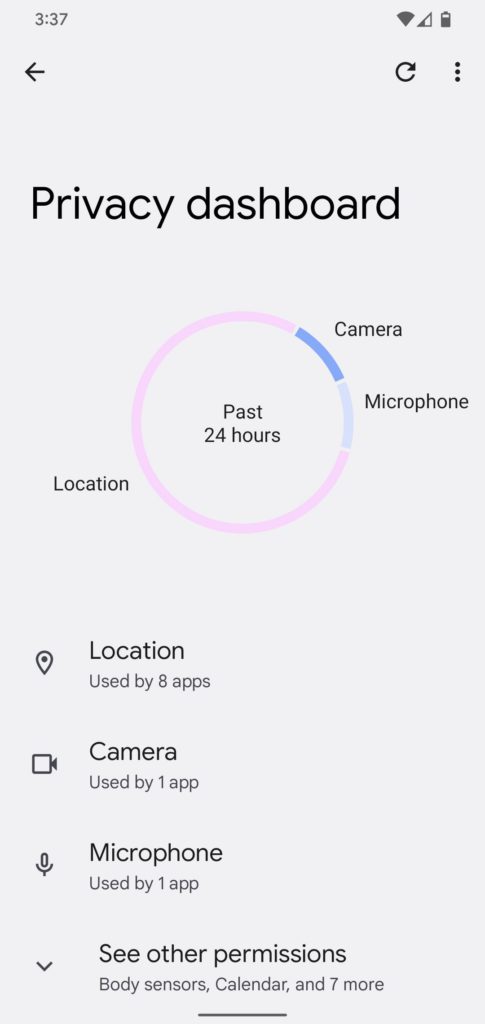 Privacy has been vulnerable and misused in the present world. Also, the mass development of the digital world has created more chances for breaches, hacking, and attacks. Privacy control is indeed more important now than ever. Likewise, there is frequent news about big companies compromising on users' personal data. Hence, Windows 11 Privacy Auditing Feature would assist with more control as it still remains the top computer/PC OS in the world.
Do Check:-Demand for USB-C iPhones in the US After Europe Ruling
So, what do you think about this new feature? Isn't it important for users to have such a feature? Do write us about what you feel in the comment section below.