Samsung, the Korean tech giant has unveiled its latest flagship chipset dubbed as Samsung Exynos 2100. The chipset was announced through a virtual event. It is the company's first-ever premium 5G-integrated mobile processor. Earlier Exynos 1080 was not a flagship chipset though it was called the premium. Samsung Exynos 2100 is a 5nm processor with significant upgrades in all aspects such as GPU, CPU, AI performance along with the built-in 5G modem. Now, let us know more in detail about the Samsung Exynos 2100 Processor below along with a comparison to Qualcomm Snapdragon 888 SoC.
"Our Exynos team has been committed to creating premium mobile computing experiences by bringing innovations to processors that are at the heart of today's smart devices," said Inyup Kang, President of System LSI Business at Samsung Electronics. "Today we are delighted to introduce the Exynos 2100, our most advanced mobile processor yet. Armed with powerful processing technologies and an advanced 5G modem on a power-efficient 5nm process node, Exynos 2100 will set a new standard for tomorrow's flagship mobile devices."
Samsung Exynos 2100 Processor Specifications
Flagship 5nm SoC Integrated With 5G Modem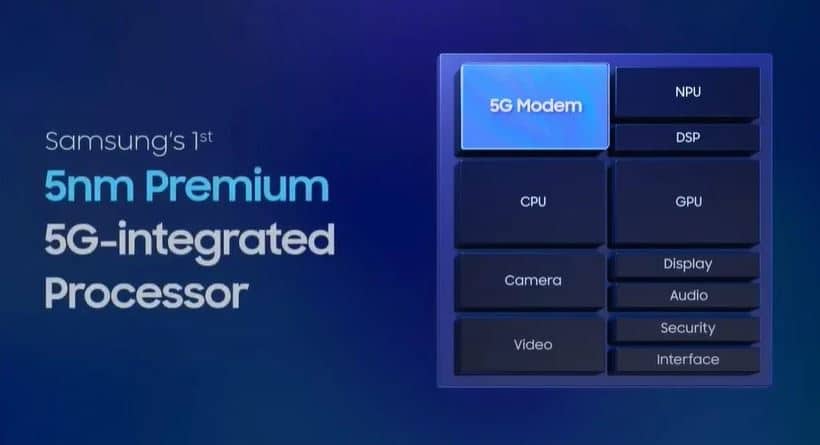 Samsung Exynos 2100 chipset is built on the most advanced 5-nanometer (nm) extreme ultraviolet (EUV) process node technology. It allows up to 20% lower power consumption and 10 % higher overall performance than the 7nm predecessor. 
The chipset is integrated with 5G modem that supports both the sub-6GHz and mmWave spectrums from 2G GSM/CDMA, 3G WCDMA and 4G LTE. It offers a maximum downlink speed of up to 5.1-gigabits per second in sub-6GHz and 7.35Gbps in mmWave, or up to 3.0Gbps in 4G networks with 1024 Quadrature Amplitude Modulation (QAM) support.
CPU And GPU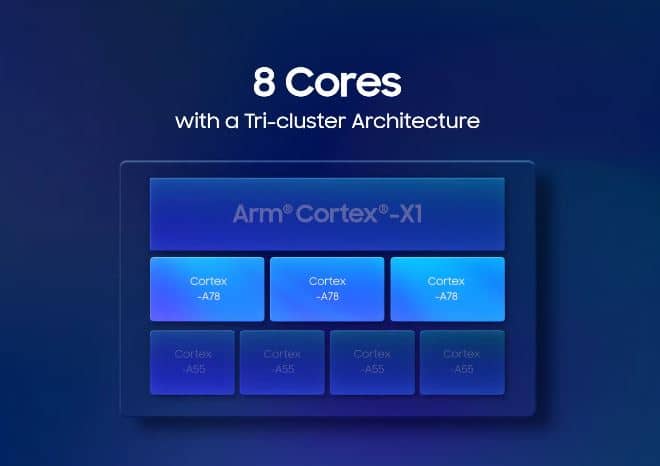 Exynos 2100 is an octa-core chipset based on an improved tri-cluster structure built up of a single powerful Arm Cortex-X1 core running at up to 2.9GHz, three high-performing Cortex-A78 cores that are clocked up to 2.8GHz, and four power-efficient Cortex-A55 cores that clocks up to  2.2GHz. As per samsung, the CPU brings a 30-percent enhancement in multi-core performance  and 19-percent performance increase compared to its predecessor.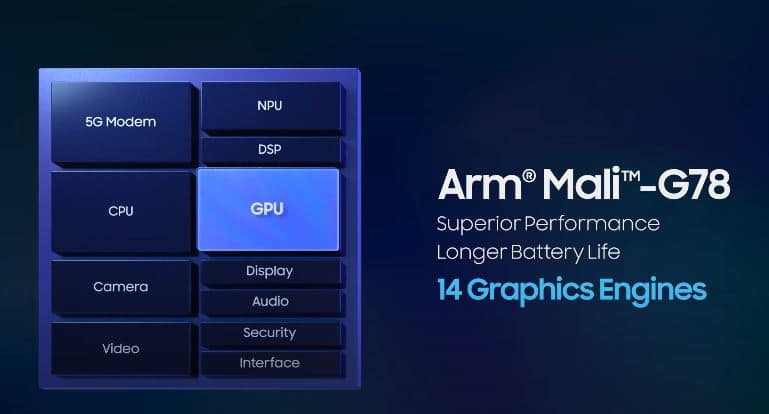 Samsung Exynos 2100 houses the Arm Mali-G78 GPU that supports the latest APIs such as Vulkan and OpenCL. As per samsung's claims the GPU boasts more than 40-percent improvement on the graphic performance. The chipset also integrates advanced multi-IP governor (AMIGO) technology.
NPU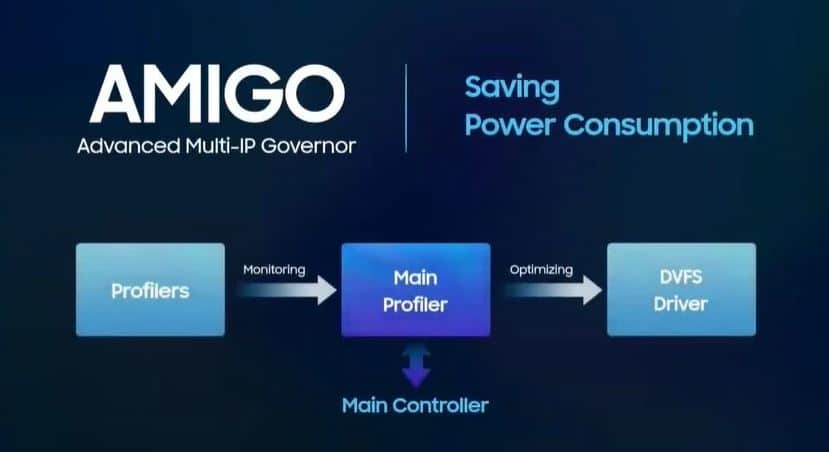 The newly designed NPU has three cores inside the chipset. Exynos 2100 can perform up to 26-trillion-operations-per-second (TOPS) with more than twice power efficiency in comparison to its predecessor.NPU has architectural enhancements to minimize unnecessary operations for high effective utilization and has feature-map and weight compression. NPU will also make significant enhancements in computational photography.
Camera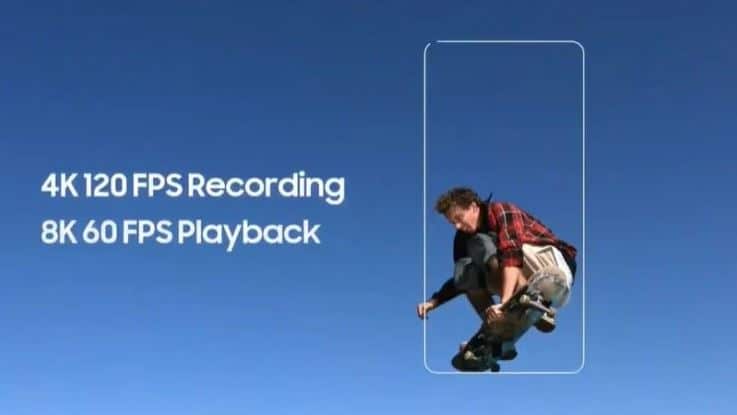 The optics of the chipset can be said as the highlight of the processor. Exynos 2100  features a new advanced image signal processor (ISP) that supports up to 200 MP of camera resolutions. The chipset supports up to 6 camera sensors and is capable of processing data from four sensors concurrently. With a multi-camera and frame processor (MCFP), the ISP can combine feeds from multiple cameras to improve zoom performance, enhance image quality for ultra-wide shots and more. 
The processor captures video recording up to 4K at 120FPS and 8K at 60 FPS playback. It is the first chipset offering an AV1 decoder for 8K video.
Samsung Exynos 2100 Vs Qualcomm Snapdragon 888
The comparison of both the flagship chipsets was inevitable. For several years, Samsung's Exynos Chipset was falling behind Qualcomm's SOC but this time around it seems like tables will turn in favor of Samsung. Both the chipset are based on a tri-cluster structure and built on 5nm Process technology. Samsung Exynos 2100 and Qualcomm Snapdragon 888 have the same CPU core setups of one Arm Cortex-X1 core, three Cortex-A78 CPU cores, and four Cortex-A55 cores. But Exynos 2100 comes on top as it has higher core frequencies. Snapdragon 888 features an Adreno 660 graphics chip, and Samsung's Exynos uses the Mali-G78 GPU. 
Both the chipsets can perform up to 26-trillion operations per second (TOPS). On the camera department, Exynos 2100 offers up to 200 MP of camera resolutions, can connect up to 6 sensors and can process up to 4 sensors at the same time. While snapdragon 888 is only capable of running only 3 sensors simultaneously. So, looking at the specs on the paper Exynos 2100 seems to have little edge over SD 888. It will be interesting to see which out of the two flagship chipset will come on top. 
Checkout: Best Smartphones of 2020 In Nepal
The Samsung Exynos 2100 Processor is now in mass production and the first device to be powered by SoC is not announced yet. However, we think the Samsung Galaxy S21 Series will be the first to house the Exynos 2100 Processor. Galaxy S21, S21 plus and S21 Ultra are scheduled to launch on January 14, 2021. So, what are your thoughts about the Flagship Chipset Exynos 2100? Let us know in the comment section below.