Nepal Telecom (NTC) has been providing recharge card to top-up or pay the bill for services like landline, GSM, CDMA mobile, ADSL, FTTH, etc. Now you can use single recharge card for all of Ntc services. NTC has also made a new pin recovery portal, which you can use for recharge even if some number of the pin is erased or confused. Here is the easy way to recharge Ntc mobile phones, landline phones, and ADSL with both online/offline methods and also recover your damaged recharge card's Pin/serial number.
Ntc has been providing different ways to recharge its Ntc mobile (Prepaid/Postpaid) and more services. Among them, the most traditional way of recharge is through the recharge card.
Still many prefer this recharge card method as they are left out of other options due to many reasons. While others are smart enough to use efficient means to recharge Ntc services. Now you can also recharge your mobile using a debit (ATM) or credit card while you reside in Nepal or abroad, find the information below.
How to Recharge Ntc Using a Recharge Card Pin Number?
Here are the steps that you need to follow to recharge using the traditional recharge card method in each Ntc service.
Ntc recharge cards have a shaded area where you need to scratch to get a PIN. A PIN is a 16-digit number that is printed in the recharge card but hidden with a shade. It also has a serial number along with the expiry date.
There are chances that some digits of the Pin number might get erased due to the scratch. Read below for information on how to tackle this situation. Earlier you need to visit the Ntc office and ask them to replace the recharge card with a checkup. Now they have a very easy process where you can do recharge from the damaged card without paying a visit to Nepal Telecom's office.
Check out: How to transfer balance in Ntc?
IVR
First, let's discuss recharge in Ntc services using IVR call code.
You need to dial 1412, select 1 for the Nepali language, 2 for the English language
Select the service that you want to recharge by dialing 1 for GSM mobile, 2 for CDMA phone, 3 for landline bill, 4 for internet services, 5 for SIP phone.
Choose Prepaid or postpaid or other services like ADSL, FTTH customer number
Select 1 if its right or 2 to correct it.
Then dial the PIN of the recharge card.
Follow the voice instruction to confirm the recharge.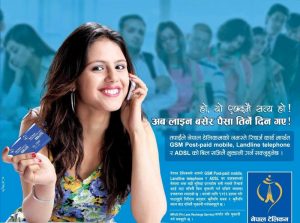 USSD code
Secondly, Ntc also has another process to recharge using USSD codes.
To recharge using USSD codes in your prepaid phone, you need to
Dial *412*recharge card pin#.
There is also a method to recharge all of Ntc services from your GSM mobile. To recharge any Nepal Telecom services from a recharge card,
You need to dial *412#
Select any of the Nepal Telecom services there.
Enter the number that you want to recharge.
Finally, enter the pin code of the recharge card that you want to use for this payment.
Confirm the balance or payment for that service.
Remember, you cannot recharge CDMA phones with this USSD code.
Mobile app
Third, you can also recharge Ntc services either on your own or others using the Nepal Telecom mobile app.
Login to your Ntc mobile app.
Go to the Recharge Now tab, and select Self or Others. Self means the number with which you are logged in and others for the number of other people.
You can also scan the recharge card or enter the pin. You need to allow the app to take pictures and record videos to make the scanning feature work.
For others, enter the GSM prepaid/postpaid phone and the Pin number to recharge.
Learn how to get a loan in Ntc?
Webrecharge/Online recharge
Lastly, Ntc also has a separate portal for the web/online recharge option where you can recharge all of your Ntc services from it.
Go to the recharge portal of Ntc.
You need to select the Subscriber number (for GSM/CDMA prepaid/ postpaid, Landline, SIP, landline, FTTH).
You also need to enter the recharge pin in the box.
Click the recharge button.
Wait for some time until the response appears for confirmation.
READ: NTC 4G data packs at as low as 8 paisa per MB.
NTC Recharge Pin Recovery for Damaged card
NTC has recently unveiled a new support system for recharge card pin recovery for damaged card. Before people needed to visit the Ntc office to get a new card if any of the digits in Pin get erased. You needed to have the serial number intact for this purpose. Now with this pin recovery portal, you do not need to visit the Ntc office just to replace the damaged recharge card.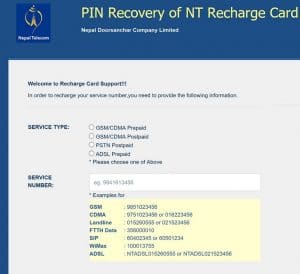 Even if 6 out of 16 digits in PIN numbers are visible, you can get the recharge done from a new support portal.
Here is the process to recover your Pin number if some of the PIN digits are erased/damaged.
Enter the portal for pin recovery portal pinrecovery.ntc.net.np.
Then in the form, select the service type, where GSM, CDMA prepaid, postpaid, ADSL, PSTN landline phone is available for now.
Enter the service number for which you need the recharge.
Then enter the serial number of the recharge card and PIN code with the cross in the PIN digit which is erased or difficult to read. Here is the format of the 16-digit Pin code, 12X45XX8X012345X.
Finally, put the captcha code as seen in the picture below to verify the recharge.
READ How to recharge your phone through online means?
Nepal Telecom solves one of its most inefficient services for its customers as they needed to travel a long distance to replace the damaged recharge card. As people want to solve all of their issues without visiting their office, this new process makes it convenient for the customer. You need to be careful in putting the information as you can retry 5 times in this portal. After 5 times, if you are not successful, you are bound to visit Nepal Telecom's customer counter.
NTC has also planned to introduce the recharge pin recovery from a shortcode and their mobile apps.
How to Make Recharge in Ntc Number From Abroad?
Now if you are not in Nepal, then also you can make a recharge for your Ntc number. Once a customer asked us how to recharge the Ntc number from Australia. We came to know that Nepal Telecom customers can recharge with the same process as that in their home country when they are roaming.
To recharge your Ntc mobile while roaming, you need to
Dial *412*Pin no# for prepaid and *412*Pin NO*10# for postpaid number. Either you can take the physical recharge card with you or ask someone in Nepal to send the Pin number.
However, if you are not in roaming, you can recharge a Nepali number from many services including hamro recharge.
Card pay recharge
Now that Nepal Telecom has launched recharge from card payment, you don't need to ask anyone for the recharge card pin number. You can simply use your debit/credit/ATM card or PayPal account to recharge your own or family or friends' number online. Read about Ntc recharge using a debit/credit card.
Similarly, you can use all the recharge methods through online payment means like eSewa, Khalti, and more digital payment methods.
Tell us what do you think of the recharge process in Ntc and easy PIN recovery, in the comment box below.