How to recharge Ntc Ncell Smart mobile balance online.
People mostly recharge their mobile phones with the recharge cards. For this, customers need to buy recharge cards available in the shops. The problem of missing some numbers with scratch is also troubling the customers. The pin less (MPOS: Mobile point of sale) recharge is also available with Ntc where you do not need to buy and scratch the recharge card for Pin no. These days, people prefer recharge online rather than that from recharge cards. It is not only for the mobile balance top-up, but also for utility like electricity, water supply payments, landline bill payment, TV entertainment, movie tickets, Airline tickets and more.
People can recharge online either from online payment portal of their bank or some third party. The mostly used third party payment platforms are eSewa, iPay, Paybill, HelloPaisa and more.
Also read: How to pay electricity bills online?
How to recharge online from apps or third party payment portals?
The commercial banks in Nepal either provide either a m-banking or e-banking service to the bank accounts. There are official apps in Android or iOS for the m-banking or e-banking. Banks like Nabil, NMB, Prime, Laxmi, standard chartered, Nepal Investment, SBI, Kailash bikash bank provide mobile banking or online banking account with some subscription. Some banks even charge minimal fees for the yearly subscription of the mobile banking or online banking. Customers are provided of the MPIN for m banking associated their mobile phone or online banking account username and password. The transaction may even need a transaction password.
Similar is the case for the third party payment apps or portals. You will also get a MPIN or user account for the payment from portal. In case of third party portal, you need to send some balance to your account either from your bank accounts or from your friends.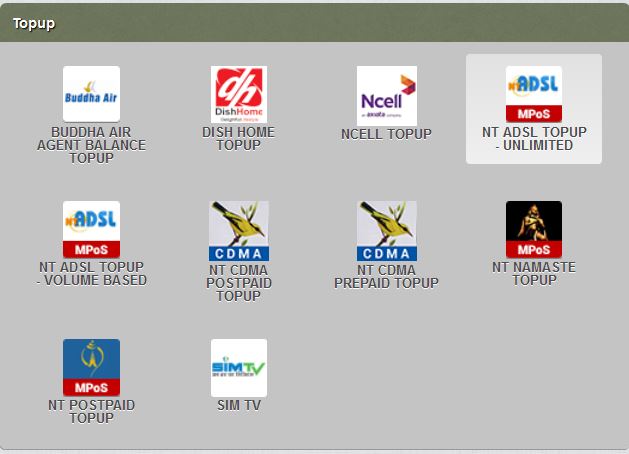 Recharge from bank or payment portals.
Here is the process for the recharge online from payment portals either from bank or third party ?
First need to login into the payment portal of the bank or the third party.
Then go to the mobile recharge/ top-up section, select the operator, Ntc/ Ncell/ Smart cell or prepaid/ postpaid.
Enter the amount you want to recharge.
Then after sometime, you will get the message for the successful recharge.
Recharge from mobile apps.
Here is the process to recharge online from mobile apps using SMS banking or mobile banking or login.
First you need the MPIN or login details in case of smart apps.
Go to the apps of respective banks or third party applications.
Select the mobile top up or the operator recharge tab.
Enter your mobile number and the balance you want to recharge.
You will be asked to provide the MPIN number in case of Mobile banking or SMS or m banking.
After some time, the successful recharge is notified through SMS.
You can confirm the balance by checking it with the respective process.
Also read: Details about recharging ADSL and landline from recharge cards.
If you have already bought or asked someone to get the Pin no of recharge cards (can be done online), then in case of Ntc, you can use this portal for the recharge.
Please comment for the process to recharge online for your mobile.