Hamro Patro, one of the popular Nepali apps, has introduced a recharge service for NTC, Ncell, and SmartCell users. Though Hamro Patro started as a simple calendar app to track dates and events, it kept on updating its feature and recently the app has added one more feature to it.
In its 10 years long run, Hamro Patro has garnered a huge number of users across the country. Their user-friendly features and constant updates have people more attracted to it. Their service was limited to Nepalese in Nepal but now their service is available for Nepalese living abroad too.
Read more: Hamro Market, a community portal from Hamro Patro.
Hamro Patro Introduces Hamro Recharge
Hamro Patro introduced a service on Saturday with the name 'Hamro Recharge'. Hamro Recharge is useful for NTC, Ncell, and Smart sim users. Nepalese in abroad can now easily top-up a phone in Nepal via Hamro Recharge.
This service has been started especially targeting Nepalese living abroad. Hamro Recharge will be using international payment gateways for transactions. This service of Hamro Patro will allow those currently in the US to send recharges to Nepali telephone and mobile numbers through debit and credit cards such as MasterCard, Visa, American Express, and UnionPay.
As for now, the service is available only in the US. Nepalese residing in the US can send top-ups to their friends and relatives in Nepal. They intend to extend this service to more countries like Australia and Japan soon.
The cost of sending recharge in Nepal will be determined by the international gateway. The same gateway can be utilized for both top-up and payment purposes. It means Hamropatro has not directly collaborated with card service providers abroad and telecom companies in Nepal for this service. Hamro Patro sees the possibility of a payment in Nepal via Paypal in the future.
How to use Hamro Recharge?
Hamro Recharge is a simple website that is yet to be introduced as an app. To use this service, you have to follow the following steps:
Open a browser either in your laptop or phone then type recharge.hamropatro.com or visit the Hamro recharge page.
On the top-right corner, press the login button.
A box will pop-up that asks you to log in either from Facebook or Gmail. Press on one of them to continue.
Enter the phone number of NTC, Ncell, or SmartCell that you want to recharge.
Choose an amount from the available six options. Click any one of them and enter your email id. After that, press the continue with the card button.
Carefully revise the review order and see if you want any changes. If you think all the information in that review order is fine then, continue with the payment details.
Enter your payment details and press the Pay button. Then your recharge should be complete.
How much amount can be recharged using Hamro Patro?
For now, they have four options to recharge separate accounts which will be selected on their own as Ntc, Ncell, Smart Cell, and Ntc postpaid.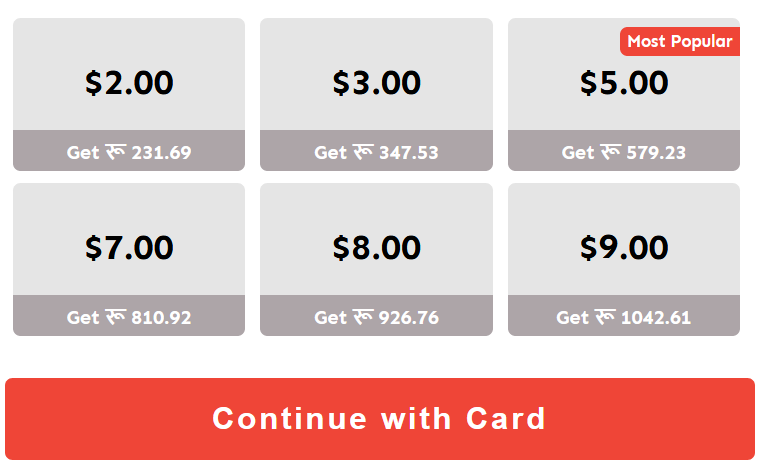 The amount of recharge that can be done with Hamro Patro also differs on the accounts whether its NTC or Ncell. Ntc has the options of $2, $3, $5, $7, $8, and $9 which will recharge as below.
$2 = Rs 231.69
$3 = Rs 347.53
$5 = Rs 579.23
$7 = Rs 810.92
$8 = Rs 926.76
$9 = Rs 1042.61
Similarly, Ncell has a recharge option of 2, 3, 5, 10, 20, 40 USD which adds a balance of Rs 230, Rs 345, Rs 575, Rs 1150, Rs 2300, and Rs 4600 respectively. If we compare the 2 dollar recharge among Ntc and Ncell, you will get more Nepali amounts in Ntc.
We suppose the recharge amount varies as per the exchange rate.
Our view
Hamro Recharge appears to be a useful service. The service experience will be better if they introduce it as an app as well but their initiation is quite commendable. It can be useful to recharge the phone of old age people and digitally illiterate people. Instructing them on recharging phones can be time-consuming so, at that time, this service can come in handy. The Nepalese abroad can quickly recharge the phone of their families and friends and continue their communication.
Read more methods for recharging Nepali phones online.
The service charges processing charges too. The processing charge seems to vary with the recharging amount. The service is looking at making Paypal its payment partner. That would be great. Overall, the concept and service are appreciable. There is always room for updates and Hamro Patro has been excelling in that since its inception.