Namaste WiFi is the service name of Nepal Telecom (Ntc) for its 4 G-based wireless internet solution. It now offers unlimited internet and unlimited Internet & voice packages. Also, the package now comes with a brand new 4G wireless router (CPE device) for free. The 4G router service was not available for some time due to unavailable stock but the service has been restocked now. Find out the packages and prices in detail below.
The company launched the wireless 4G-based WiFi service in early 2022 for areas where its FTTH (fiber) service is not available. It is popular in remote or unchartered areas in Nepal where fixed-line internet is not available. To make it more accessible, the government-backed telco has brought unlimited packages and started offering its own router. Before this, subscribers would have had to buy a router from the market. With the package, you get a free SIM card and a dual-band router with battery backup.
After the revision, the wireless internet service based on 4G became very popular due to its wide availability and better 4G speed. Soon, the service got stocked out with such popularity. After some time, the Ntc's 4G wireless internet (Namaste Wifi) service is restocked. Select the package that suits you, as described below, and get it for your home.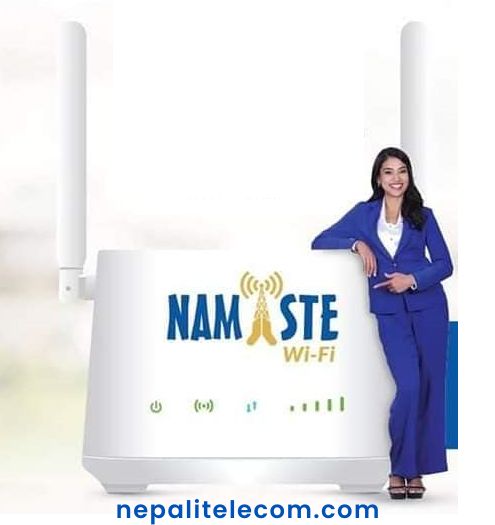 Namaste WiFi brings high-speed unlimited internet and voice service. If you need internet plus phone service in your home/office where there is no other means of fixed telephone, you can get unlimited internet with a voice package. Otherwise, you can just buy the unlimited internet-only pack.
Check out: Latest NTC Data Pack with Price, Code, Volume, & Validity
Features of Namaste WiFi
Here are the features of Namaste WiFi 4G internet device.
Free 4G router (CPE) with band 20 and band 3 4G support for Ntc 4G
Dual-band Wifi support in the router
Unlimited internet with 4G SIM card
Telephone included package
4 Ethernet ports and 1 RJ11 port in the router
Battery backup includes router
Add on Pack for better speed
Namaste WiFi Packages (4G LTE)
As said, the operator has brought new packages for its Namaste WiFi service. Below you can check out the new packs for the service which include unlimited internet-only, and an internet+voice package.
Unlimited Internet-Only Package
As per the new plans, the Namaste WiFi package comes in two different deals- Unlimited Basic and Unlimited Premium. The unlimited basic package of 5 Mbps costs Rs 5,999 for a half-yearly tariff for a new connection and Rs 10,499 for an annual connection. For subscription charges, the package costs Rs 4,999 and Rs 9,499 for half-yearly and yearly charges respectively. As you can see, the package becomes cheaper if you subscribe for a year.
Ntc has also implemented a Fair Usage Policy (FUP) for the package as per which, the daily data volume with 5Mbps speed is kept at 10 GB while the speed will be throttled down to 1.5 Mbps beyond 10GB usage.
Likewise, the unlimited Premium package of 10 Mbps costs Rs 8,999 for a half-yearly package and Rs 16,499 for a yearly package for a new connection. While the renewal package costs Rs 7,999 and Rs 15,499 for half-yearly and yearly subscriptions. Likewise, the Unlimited Premium costs Rs 8,999 for a half-yearly package and Rs 16,499 for a yearly package for a new connection. The package costs Rs 7,999 and Rs 15,499 for half-yearly, and yearly renewals. For this package, per day FUP bandwidth is set for 15 GB at up to 10 Mbps a day. The throttling speed will come down to 2 Mbps after the per-day volume is consumed.
| | | | | |
| --- | --- | --- | --- | --- |
| Namaste WiFi Unlimited Packages (Unlimited Data Only) | New connection half-yearly Cost | New connection yearly Cost | Renew Half-yearly Cost | Renew yearly Cost |
| Unlimited Basic (5Mbps) | 5,999 | 10,499 | 4,999 | 9,499 |
| Unlimited Premium (10Mbps) | 8,999 | 16,499 | 7,999 | 15,499 |
Check out: NTC Voice Packs for Day, Night, Unlimited, And All-Time
Unlimited internet with voice Package
Here too, there are two different packages for the combo unlimited internet with voice package, namely Unlimited Basic with Voice and Unlimited Premium with Voice. The unlimited basic with Voice package costs Rs 7,499 and Rs 14,499 for half-yearly, and yearly packages respectively. The renewal charges are set at Rs 6,499 and Rs 13,499 for half-yearly, and yearly plans respectively. The package also includes FUP restriction which applies for 10 GB data a day, up to 5 Mbps speed, after which you get 1.5 Mbps. In sum, you get up to 1800 GB of total data for Rs 7499. It also includes 400 minutes of on-net talk time and 100 minutes of off-net talk time per month.
The unlimited premium package with voice costs Rs 10,499 for a half-yearly package and Rs 19,499 for a yearly package. Likewise, the subscription charges are set for Rs 9.499 and Rs 18,499 for half-yearly and yearly renewals. The FUP is set for 15 GB of data a day up to 10 Mbps speed with 2 Mbps throttling speed. Similarly, you get the same 400 minutes on-net and 100 minutes off-net calls per month. Find out: On-net Calls and Off-net Calls Explained >>
| | | | | |
| --- | --- | --- | --- | --- |
| Namaste WiFi Unlimited Packages (Unlimited Data with voice) | New connection half yearly Cost | New connection yearly Cost | Renew Half-yearly Cost | Renew yearly Cost |
| Unlimited basic with Voice | 7,499 | 14,499 | 6,499 | 13,499 |
| Unlimited Premium with Voice | 10,499 | 19,499 | 9,499 | 18,499 |
Further, you get an add-on pack of 10GB which will increase the data speed to the subscribed speed of 5/10Mbps, after the 10/15GB FUP volume is exhausted. The pack costs Rs 50 to get the said speed for 24 hours.
Usage and Availability
Nepal Telecom has brought the Namaste WiFi service for areas where there is no fiber or other means of internet connectivity. So, to access the 4G router internet, you need to make of getting an adequate 4G signal at your place. You can even check with your current phone for a consistent 4G signal and speed, do ensure that your phone supports band 20 spectrum in 4G, which is mostly available in such locations. The 4G router provided by Nepal Telecom supports that frequency band and provides much better speed performance with it.
Here are the use cases of Namaste Wifi for your internet connectivity.
Home Internet
Bus Wifi
Mobile Workplace
Trekking in mountainous areas
How to get Ntc Namaste Wifi Service in your place?
To get Namaste Wifi service in your place, you need to follow the following steps.
First, you need to make sure that the area you live in has a decent 4G signal with consistent performance.
Then visit the Nearest Ntc office and request the service.
As the device has both 2.4 GHz and 5 GHz WiFi, you can ask Ntc personnel to configure it as per your requirement with your customized SSID (WiFi Hotspot name) and Password.
If your package includes a phone line, connect the RJ11 port on the 4G router to the phone.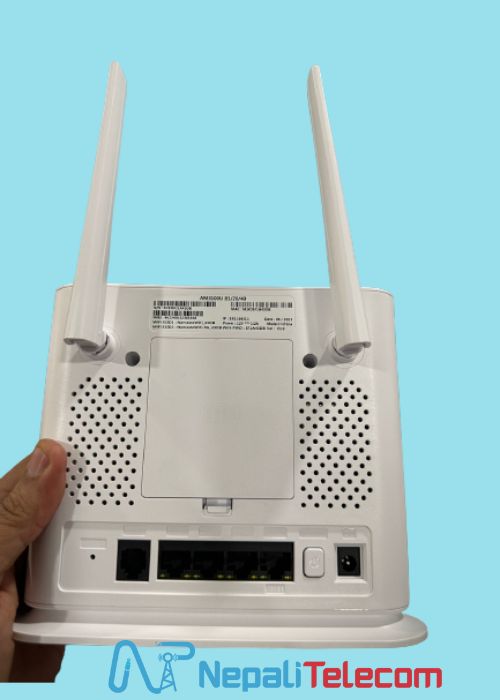 Making use of Ntc's wide 4G coverage
Ntc 4G coverage has expanded to the majority of areas in Nepal, to 98% local levels already. This has led to an increase in the number of households, offices, and travelers seeking high-speed broadband has also increased. NTC says that its 4G LTE Namaste WiFi is for those who want broadband performance on multiple devices where Fiber service is not an option. And now the free router and voice option based on VoLTE is icing on the cake, perfect for rural areas with no other internet & calling services.
Check out: Ntc Fiber Internet Speed, Packages, and Offer
What is your take on NTC's Namaste WiFi service with a 4G router? Can it be an answer to those out of NT Fiber service? Do share your thoughts in the comments below.