The US phone maker Apple dominated the global smartphone sales in the second quarter (Q2) of 2023. In the latest Counterpoint Research report, the Cupertino giant took the first four positions in global smartphone sales followed by Samsung's six in the top 10 ranking.
The smartphone industry is going through a rough phase with fewer shipments recorded than in previous years. However, that has not stopped some prominent manufacturers from stirring the market. Apple and Samsung have overwhelmingly outperformed the global smartphone sales department in Q2, 2023. Apple's four iPhone models clinched the first four rankings in the Counterpoint list while Samsung Galaxy smartphones took the remaining six positions.
Apple and Samsung dominate global smartphone sales in Q2 2023
Counterpoint report shows Apple iPhone 14 topping the chart at 1st with the highest sales accumulation in Q2, 2023. The superlative variant iPhone 14 Pro Max followed at 2nd while the iPhone 14 Pro and iPhone 13 came at 3rd and 4th positions respectively. The previous-generation model iPhone 13 is still going strong taking the fourth position. Check out: iPhone 15 Pro Max Price in Nepal
Despite the top ranking, Apple's share in the list decreased slightly in Q2 2023. Apple iPhones outsold all the other smartphones in Asia and Europe gaining new users during the three-month period.
From thereafter, Samsung Galaxy smartphones claimed all the remaining six positions. But it's not the premium device you would expect to be on the top of the company. It's because of the models' stronger sales in price-sensitive regions. The mid-range device Samsung Galaxy A14 claimed the 5th position in the global smartphone sales ranking. This is followed by A series smartphones Galaxy A54 and Galaxy A14 5G in 6th and 7th positions. The iconic Samsung Galaxy S23 Ultra secured the eighth rank. Likewise, Samsung's Galaxy A04e and Galaxy A34 came in 9th and 10th on the leaderboard.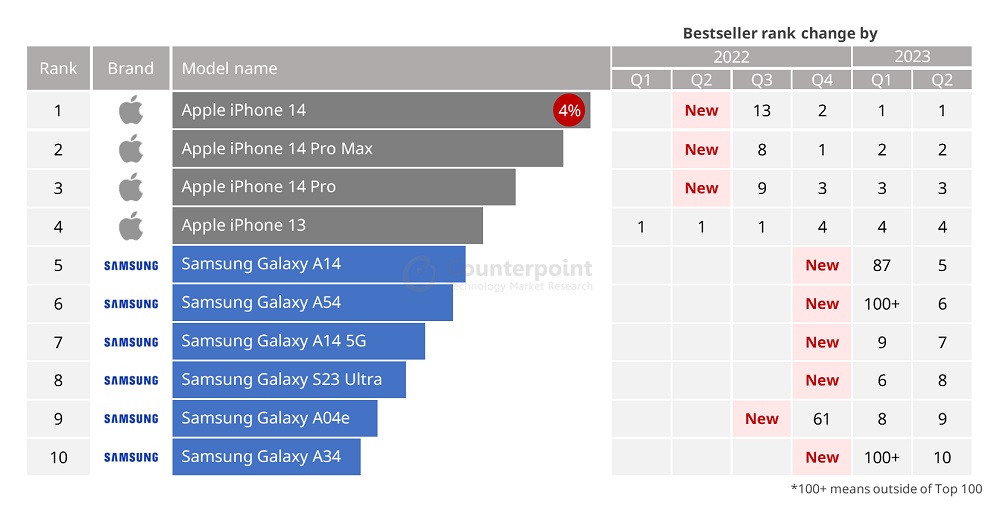 Samsung's affordable A-series models drew lucrative sales in Asia and Latin America accounting for 60% of sales in the regions. The premium Galaxy S23 was popular in the North American and Western European markets. These two regions represented two-thirds of the global Galaxy S23 Ultra sales globally.
With Apple and Samsung outselling all the other smartphone brands globally, the onus is on other brands to present their clout better in their regions. As the smartphone industry starts recovery, the stakes would be high for other brands such as Xiaomi, vivo, realme, etc. to perform commendably and become more competitive globally.