In 2015 we had posted top ten Nepali applications which was quite a hit then. That time, the most popular applications in Nepal was the Nepal load shedding schedule. As the country was hit with up to 18 hours of a power cut to the max, people used the android app to follow it and apply their schedule accordingly.
Now that "Kulman Ghising" is here, everything has changed. No one wants to remember those black days. People have also forgotten the load shedding applications. So, the change is also there in the list of popular Nepali applications in 2017.
The Patro and keyboards still dominate the applications list. We will have a separate list for the list of popular Nepali games in android, with another post. Now, let's go to the list.
Top Five popular Nepali applications.
Nepali developers have developed all these popular applications and meant for the Nepalese context. Although there are thousands of developers in the store, the popularity applications remain similar, except for the load shedding. The list does not mean they are must have applications.
You decide which one do you need in your mobile.  Now the list is only for the android platform.
Here is the list of popular Nepali applications.
Hamro Keyboard is a Nepali keyboard for all who love Nepali language. People can use this keyboard to write Nepali text in any app.  You do not need to copy and paste from outside.  With Hamro Nepali Keyboard, people can type Nepali directly to any app.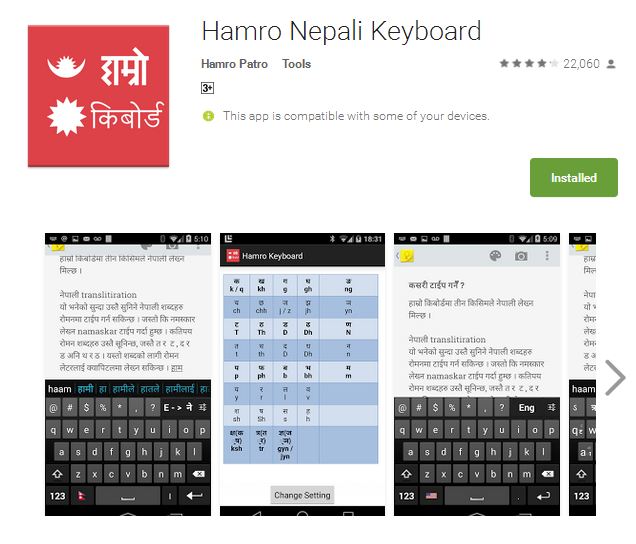 Total No of Installs: 1 million to 5 million. (10 Lakh to 50 Lakh)
NTC Ncell Scan to Recharge App: 
With the app, you can use the services of Ncell and NTC (Nepal Telecom) with ease. People need not remember the keywords * and #. Easy to recharge using scan to recharge feature. You also do not have to worry about any wrong typing of the number and multiple entries.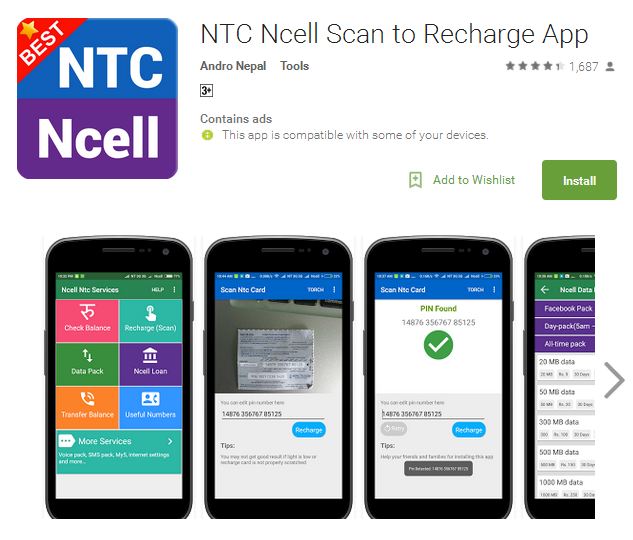 Basic features (Nepal Telecom + Ncell): Balance, Recharge card scanner, Transfer,
Total No of Installs: 1 Million to 5 million
Nepali Patro:  Nepali Patro/ Nepali Calendar connects people with Nepali dates, events and festivals.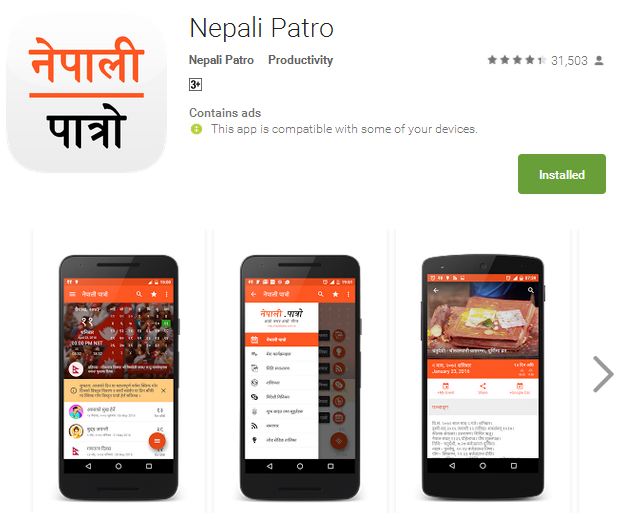 Features: Calendar in both B.S. and A.D., Panchanga, Suva saits, Festivals, celebrations, News from Nepal.
Total No of Installs: 1 Million to 5 millions
Hamro Patro: Hamro Patro is a Digital Nepali Patro which includes all important Nepali current affairs, Festivals, Rituals, and many more. The applications provide all information of our geography, society and integrate all Nepalese. Features: All festivals, Nepali Patro (calendar), Nepali FM radios, Breaking News, Forex, Horoscope, and more.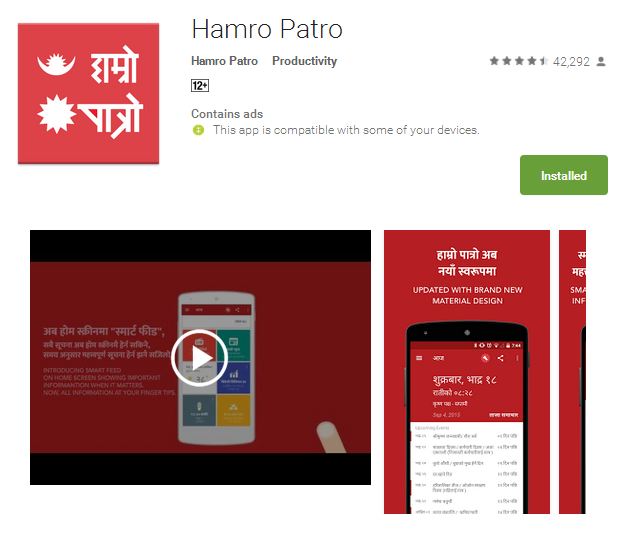 Total No of Installs: 1 Million to 5 millions
Speak Nepali to English Easily: This application lets you learn English by using an easy, simple yet comprehensive Nepali to English Speaking Course. This language learning application can also be used by those Nepali speaking participants who are preparing for BPO, Call Center, English Discussions and Debates as well as an English job interview. The tutorials can be used text-based or voice-based. You can even take a quiz test on the English language in each chapter.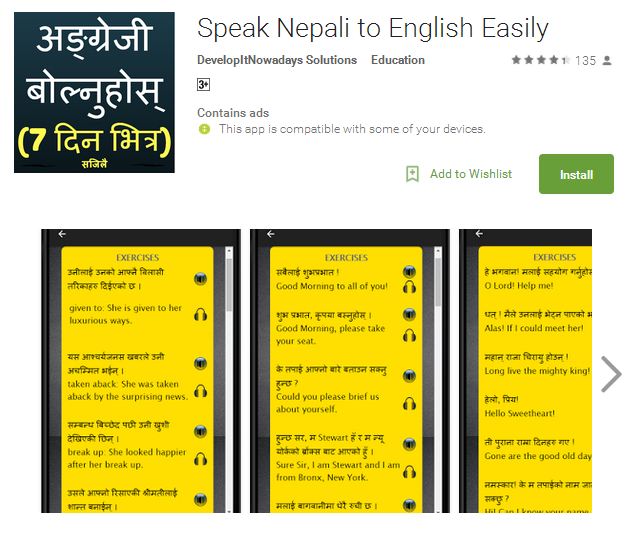 Total No of Installs: 50 thousand to 1 Million.
Read the latest update on Top ten Nepali mobile apps.
Please let us know about the above applications. And your list too.