Sagoon, the social media from Nepal is launched today in a program in New Delhi, India. Actor Shraddha Kapoor was present as a special guest in the program. They call it a revolution from south Asia and the Android app is now available in 220 countries. Sagoon is a FREE social media app that helps you build a rewarding life through the innovative social path: Connect. Share. Earn. With nice features like My day, story sharing, Mood talk and more, they claim Sagoon app from south Asia will change the way we use Social media.
Sagoon App having a base in three countries, Nepal, India, and US, have already got the attention of Nepali communities throughout the world. But they have built it to be a more global feature full social media than limited just to Nepal or India or South Asia. Sharing some of the history and the development, one of the owners mentions it to be a great source of innovation and it will solve global problem by creating more job.
They have already publicized the company and asked people to invest for this revolution. As stated in the program, they are also providing equity share to all of their employees even to Driver and Kitchen boy. They have asked the internet-connected communities like 11 million Nepalese and 340 million Indians to use the app, feedback with suggestions to help them improve.
Features of Sagoon App
The free social media app is available to download from the Android play store. Sagoon is a multi-application platform available on Android smartphones, can be used using a connection from 4G/3G/EDGE or Wi-Fi.
Sagoon now introduces a comprehensive suite of products (apps) – MyDay, Story sharing, and MoodTalk – Each product has some unique features and a different customer presentation strategy; the purpose of each application is to strengthen true connections and be productive. Here are some of the features of Sagoon App in detail.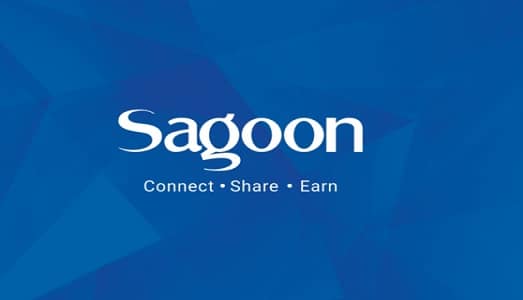 Myday
It is the fastest way to create and share schedules, build to-do lists and set reminders. It not only simplifies your daily professional and personal lives but also improves productivity to a great extent.
Using this tool would mirror your daily activities with your loved ones that give you a peace of mind and saves time and money as well.
Story Sharing
Sagoon's story sharing is an information, experience, confession or incidence which you've never disclosed publicly in words. But, if disclosed, it can make people learn something significant. It uses the idea of building a transparent society and improving the quality of a personal life. Sharing a story might become a bonding agent and a gift to others.
You are allowed to use 220 characters and up to three images to post a story. As a user, you can post your story (photos and video) under the "Open" category, allowing all of your contacts to view, like, dislike or comment on it. While posting you can choose to hide your identity. You can also send one-on-one story messages which will vanish after they are read.
The most interesting and unique aspect of sharing a story is "tracking," which means you can see the number and the names of locations your story has traveled to.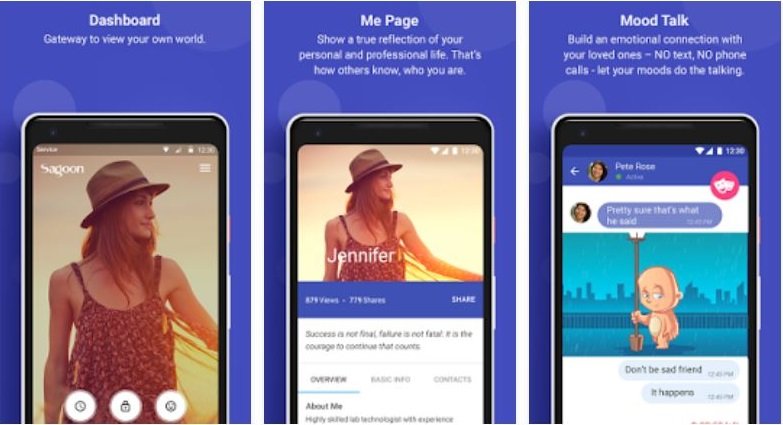 Share Secrets
Secrets that you are hiding or never disclosed might be a life-changing information to others. Share it and make other users more informed and learned.
Mood Talk
MoodTalk is a simple chatting tool which lets your mood do the talking. You simply switch your mood happy, sad, sick, etc to express what you feel. As in real life where we do not record all things we say, in MoodTalk your chats also vanish automatically after 24 hours.
Apart from the above features, Sagoon lets you create a "Me page" for your profile. It includes a mix of personal and professional information helping you network with others based on your mutual interests and needs. You can put a profile picture, description, location and interest to describe you. It is just like any other social media apps.
You can also experience Sagoon from the web both in desktop and mobile from the browsers. This is one of the upcoming features of the Social media.
They are also providing a unique ID to each member to integrate your phone number and email to sync. They will use the ID to share their revenue with the upcoming social smart card.
Similarly, you can share your meetings, to-do list, and reminders, organize your contacts into categories of family, friend, and co-worker, share your Me page for job findings.
Upcoming features of Sagoon App
Sagoon app is now only available in Android but they also need to make it available in iOS. It would also be nice for all the big-screen computers or laptops to use the app in the web. They may even come with another platform for payment, integrating it to the social media.
In the last post, we have pointed a gap in the Nepalese IT sector for an Instant messaging or OTT app. Sagoon is not really an OTT app. But if we take it more generally, it can become OTT like the way Facebook did. Can it fill the Gap for a very own Nepalese Social media or Instant messaging? OR it will be able to grow itself to be an OTT as well? The answer to the questions will be how people find the app and get used to it.
So, what you are looking for, try this social media app yourself (link above) and provide feedback.