Nepal Telecom has been awarded the Best Telecommunication Brand in Nepal for the year 2021. The British magazine Global Business Outlook declared Nepal Telecom (NTC) as the top telco in Nepal among other int'l companies.
The magazine's telecommunications category represented telcos from 8 countries that grabbed the honors under different headings. The magazine chose Nepal Telecom as the Best Telecommunication brand for 2021 among the competing companies.
Meanwhile, Nepal's private sector telco Ncell Axiata was awarded the "Most Socially Responsible Telecom Company" for 2021.
Similarly, in the leadership category, Ncell CEO Mr. Andy Chong won Telecom CEO of the year for 2021.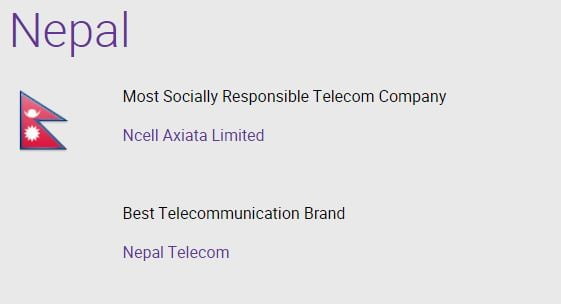 NTC is Nepal's largest telecom company since its birth in 2004 AD. In its latest reports, the company has more than 2 crores of active mobile internet subscribers. The company has nearly completed its 4G expansion and now focuses on launching 5G trials by this year 2078 BS.
Meanwhile, Ncell is Nepal's private sector telecom company with a sound customer base. It is popular in Nepal for reliable voice and broadband service.
The magazine annually honors companies from sectors such as banking, telecom, start-ups, real estate, etc in various categories. The companies can retain their title for a year. This means both NTC and Ncell can hold their respective accolades for 12 months.
How do you rate both telcos' performance in your area? Do share with us in the comments below.