Leading smartphone brand Vivo has topped the Chinese smartphone market in Q1 2022. The brand achieved the feat after it occupied a milestone of 20 percent market share in China, Counterpoint reports.
And while it has not been an encouraging figure for Chinese smartphone brands, major brands such as Vivo maintained their good run with some seeing drastic changes in fortune.
Talking about the reign supreme Vivo, it boasted a 21.5 percent market share in the same period last year (Q1, 2021). This year, it made a slight decrease at 19.7 percent domestically. But in spite of the slow downturn, Vivo maintains its top profile on the back of the strong sales performance of its V and Y series of smartphones.
Besides, Vivo's new mid-range S12 series with a focus on self-portraits and design has aided its market dominance. The Y76s and Y31s also performed strongly in sales in the first quarter of 2022.
As an innovative smartphone OEM, Vivo has always focused on intelligent services at the core. While the brand catapulted to the top in Q2 2021, with 22 percent, it has shuffled its market strategy a bit. This time, Vivo has branched out its sales network in more than 60 countries. This has helped it reach over 400 million users globally.
For you: Vivo V23 5G Price in Nepal | Detailed Specs
Vivo Rules Chinese Smartphone Market with affordable line ups
Research Analyst Ivan Lam said, "During the quarter, Vivo regained its market-leading position from Apple (in Q4 2021) with a share of 20%. The newly launched mid-end S12 series focuses on self-portraits and sports a lightweight and fashionable design. These phones have received positive market feedback, especially among younger customers. vivo's affordable Y series phones, such as the Y76s and Y31s, were also strong performers during the quarter."
Also read: Vivo V23e Price in Nepal | Find Price And Details
OPPO, Honor, and others
OPPO, another domestic competitor sits second with a market share of 18 percent in Q1 2022. While in the same period last year, it occupied an enthralling 22.4 percent market dominance. Meanwhile, Apple sits third with an 18 percent market share which is over 3 percent market growth in comparison to the same duration from last year.
Most astoundingly, Honor has had a most enthralling rebound in the first quarter of this year. The Huawei subsidiary has reserved its spot at 4th with a 17 percent market share. In Q1 2021, the company boasted below 6 percent market share marking a massive 166.8 percent year-on-year growth.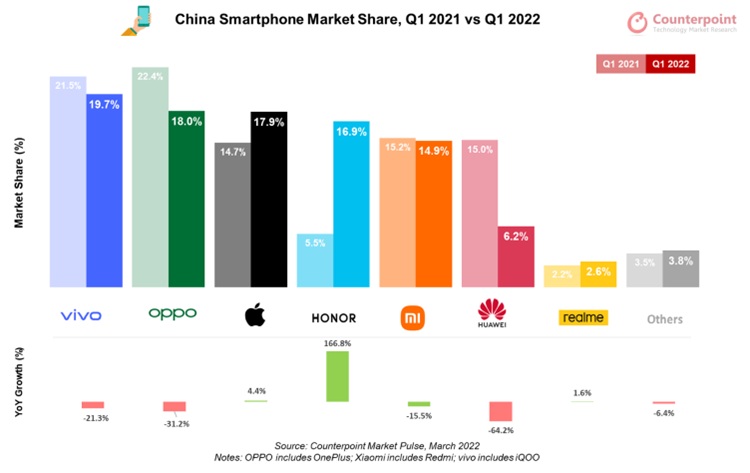 Likewise, the no-so encouraging smartphone performance was evident in Xiaomi's showing too. The global smartphone giant had a 14.9 percent market share in Q2 2022. The brand saw a slight decrease from 15.2 percent in Q1 2021. Plausibly, Huawei has had a steep fall in its market presence with a dismal 6.2 percent. Last year, once the ruler of the domestic market enjoyed 15 percent dominance last year.
Check out: Vivo Mobiles Price in Nepal | Specs
Ever since the US sanctions, Huawei has not been able to expand its smartphone business, and it's falling from the grace even domestically this time around. However, realme has had a positive outlook in the first four months of 2022. The brand claimed a 2.6 market share with a year-on-year growth of 1.6 percent.
Which smartphone do you carry? Are you satisfied with its performance or are you looking for a new one? Do let us know in the comments below.