Nepal Telecom (NTC) network has come back online after a short-lived issue. On Tuesday around 12:00 pm, users noticed voice, calls, and data not working on their Ntc network. The company has apologized for the network disruption in a statement.
As per reports, the Ntc network issue was minor and only persisted for a few minutes. However, the operator has suggested users some tricks to solve the issue in case they are still noticing problems. More on that is below on the page.
NTC spokesman Shobhan Adhikari said that during the network issue/outage, users couldn't call, browse data, or send SMS on their mobile. Similarly, the landline phone service was not working either.
Also read: Causes of Mobile & Internet Network Outage And What You Should Do?
Nepal Telecom apologizes for the network issue and commits to continued improvement
Nepal Telecom said the network issue users faced around 12 pm on Tuesday, January 17 was due to technical problems in its telecom equipment. The telco solved the issue shortly after 15 minutes. However, users still complained about failed calls, data, and SMS on their devices. In its notice, the company said that users continued to struggle with making calls, using data, and SMS because of the network congestion as the number of calls suddenly spiked following the network restoration.
Likewise, the company has vowed to continue system-wide improvement to avoid such mishaps in the future. The company is committed to providing uninterrupted, consistent service. In addition, it has requested users to contact 1498 and 198 for solutions to any issue they find on the company's mobile, telephone, and other services.  
Earlier, Mr. Adhikari also added, "The technical issue lasted 15 minutes and was immediately addressed. Now, the company's network traffic has exceptionally surged up."
The company called on its users to turn on/off Flight Mode on their phones or restart them to get the Ntc network to work on their smartphones. The network has come to full restoration and is working now.
Do read: How To Solve Mobile Data Not Working Problem?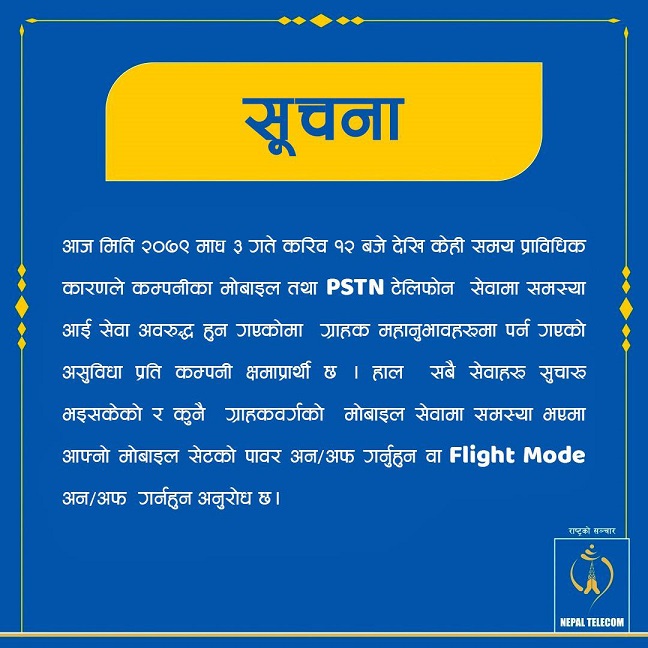 New MoCIT Minister spoke on the issue
In what was a mere coincidence, Ntc's network issue took place on the same day Maoist leader/MP Rekha Sharma was appointed as the country's new MoCIT minister. Addressing the network issue, she said, "On the same day I took the office, the network issue was seen on Ntc. She shared that her first decision is to establish towers at remote places to start and enhance mobile services.
A week ago, the company grappled with a wide network outage in Province 1 due to fiber breakage. The network came to full functioning after hours. But this time around, it was likely a minor technical issue that caused the network to struggle. Thankfully, it hasn't affected users on a large scale.
Do you get a consistent network from Ntc in your area? Do share in the comments below.