ICT Strategy Marketing President of Huawei Peng Song highlighted the company's drive for its tech and innovation to drive towards an intelligent world through continuous innovation. Mr. Song stressed that the digital economy now is the key engine of economic growth.
Mr. Song said, "Digital technology is now deeply integrated into the production scenarios across a wide range of industries, making data a new factor in production that is driving a significant leap in economic productivity."
A recent report commissioned by Huawei and the GSMA estimates that by 2025, about 55% of global growth will be driven by the digital economy. Presently, 170 countries and regions are developing digital strategies and by 2026, Huawei expects the global digital transformation expenditure to reach US$3.4 trillion.
And Huawei is eager to only contribute to it. It is dedicated to cooperating for the development of transmission, computing, and storage to improve digital productivity and boost the digital economy.
Do read: Nepal Has Great Potential for Digital Transformation: Huawei Nepal CEO
Digital Infrastructure is the new highway
ICT infrastructure that enables industry digitalization is going to drive the "fourth industrial revolution", Mr. Song says. He opined that the global states are ever moving closer to a fully intelligent world. It's similar to how steam power and mechanization drove the first industrial revolution three centuries ago, he opines.
New technologies in connectivity, cloud, AI, computing, and industrial applications are converging to support comprehensive intelligent connections between people, things, and information at multiple levels.
Growingly, these new technologies are built on a robust digital infrastructure. They facilitate the fast transmission of information between intelligent connections. In his keynote speech, Mr. Song called the digital infrastructure the "highway" of the digital economy era.
The path toward 5.5G will further enhance the goal of the intelligent world Huawei wants to build
Low latency and high bandwidth of 5G are the catalysts for today's digital transformation. The emerging 2C and 2B applications are testing the limits of what is technically possible. Likewise, they are also forcing further advancements in 5G capabilities.
The evolution to 5.5G will reflect the improvements in enhanced Mobile Broadband (eMBB), ultra-reliable low-latency communication (URLLC), and Massive Machine-Type Communications (MMTC), as well as new capabilities for sensing, passive IoT, positioning, and intelligence.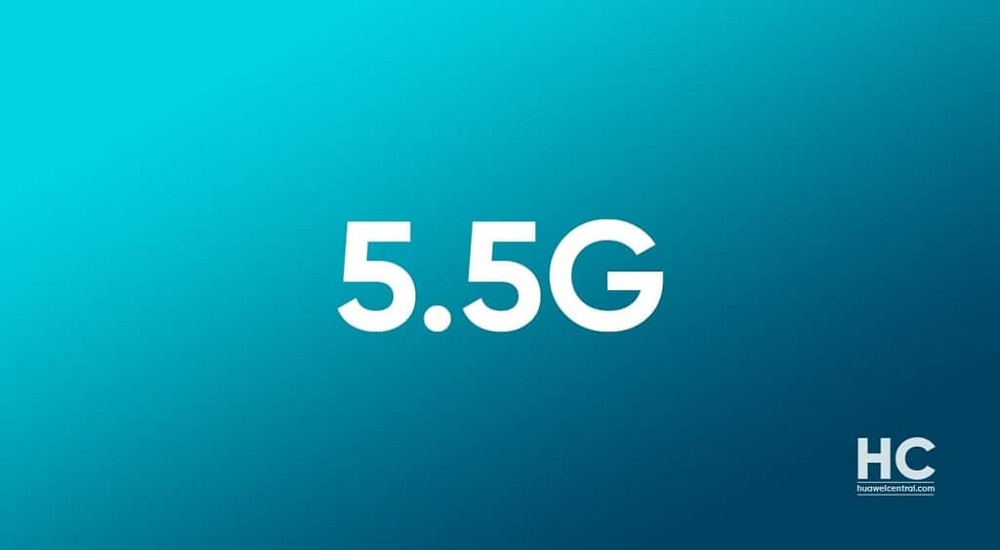 Huawei is leading the development of next-generation 5.5G infrastructure. The ultra-high-speed network will support over 100 billion connections and deliver a 10-gigabit user experience. Besides, it will enable a 10-fold improvement in latency and positioning accuracy which will be crucial in the next revolution in digital transformation.
Peng Song said "Huawei is developing digital infrastructure by first building leading transmission facilities operated on 5.5G, F5.5G, and Net5.5G, and using more advanced technologies to build 100 billion IoT and 10-gigabit experience network capabilities. These advanced technologies can support IoT services that connect hundreds of billions of things and deliver a 10 Gbps user experience.
"Second, Huawei continues to develop a solid computing infrastructure to facilitate breakthroughs in diverse computing fields. General-purpose computing and AI computing are some of its prime examples. Third, Huawei is actively developing cloud-native applications and building reliable storage facilities to ensure more data can be stored, quickly transmitted, and efficiently used," he added.
New Business Frontiers
Adopting modern digital technologies can unlock new opportunities for businesses willing to invest in them. These include differentiation from competitors, higher efficiency and productivity, and better customer experiences.
Likewise, technological innovation in the 5.5G era will bring operators a 10-fold increase in network performance over the current-generation 5G. Huawei says that this will help operators open up five new business frontiers and drive a 100-fold increase in new business opportunities. These are:
Explosion in services with immersive and interactive experiences
Augmented reality (AR) and glasses-free 3D video will become mainstream. In the 5.5G era, services with both immersive and interactive experiences will become more common. The continuous breakthroughs in device technologies and a boom in content, and 10 Gbit/s and millisecond-level latency will enable real-time interactive services, such as XR Pro and future Metaverse.
Further growth in the digital transformation of the industry
In the smart manufacturing field, URLLC (ultra-reliable low latency connections) capabilities in the 5.5G era will allow autonomous processes to move from auxiliary production to core production processes. The 5.5 GHz positioning capability has become better from meters in the 5G era to centimeters. It has enabled high-precision positioning applications such as AGVs.
Also read: Nepal Telecom to provide 1.5 lakh eSIM to NEA for Smart Meters
Cloud Applications are entering a new era, creating new opportunities for connectivity
Cloud-based and multi-cloud enterprise applications are becoming a new trend. Wide-area large uplink capabilities will allow massive data upload to the cloud. It will facilitate self-driving technologies, intelligent robots, and holographic interaction experiences.
Cellular networks will cover all IoT applications and passive IoT will enable 100bn connections
Passive IoT tags can transmit data, and can also be crucial for positioning and temperature sensors. Such tags can have applications in a wide variety of scenarios. For example in automated inventory of warehouse items, agriculture and livestock development, and positioning of personal items.
5.5G will facilitate new services, from communication to integrated services
5.5G networks with sensing capability will be helpful in various applications. It can help in smart city road traffic services and perimeter sensing, making urban infrastructure more efficient and intelligent. Also, it can contribute to a safer transport service. For instance, during rainy or foggy weather, 5.5G networks can automatically detect obstacles on the road and notify drivers to take evasive action, making transportation safer.
Huawei is leading the path to an intelligent world through its tech and innovation such as its 5G, 5.5G, AI, etc. How much do you rely on digital technologies for your daily life? Do share your experiences of its benefits and challenges below in the comments.