Samsung is one of the biggest smartphone brands in the World. There's no one that has not heard the name Samsung in the tech field. The smartphone brand has been the leading brand for many years. It has claimed the top spot for the 1st quarter of 2022. Samsung dominates the global phone market in the 1st quarter of 2022. 
Read: Samsung Officially Unveils the New ISOCELL HP3 200MP Sensor
Top Smartphone Brands for the 1st quarter of 2022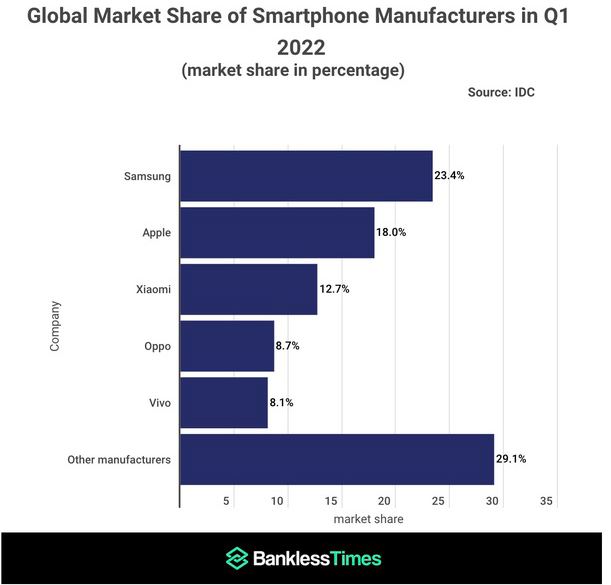 As per the latest report by the Bankless Times, Samsung was the prime smartphone manufacturer & supplier in the world. The brand has reached a 23.4 percent market share globally and shipped more than 73.6 million of its smartphones in the first quarter of 2022. 
Another smartphone brand that is near to Samsung is none other than Apple. An American multinational technology company, Apple has clinched the second spot in the first quarter of this year. It has an 18 percent market share and has sold a total of 56.6 million iPhones. 
Taking the third position is Xiaomi with a market share of 12.7 percent and has shipped 39.9 million shipments of smartphones. Likewise, Oppo, and Vivo come in at fourth, and fifth positions respectively. Oppo & Vivo had an 8.7 percent market share & 8.1 percent. Oppo shipped 27.4 million units while Vivo shipped 25.3 million units.
Decline in Shipment Of Phones
Apple is the only brand that has shown a year-on-year jump growth of 2.2 percent this quarter. All other smartphone brands including Samsung, Xiaomi Oppo & Vivo have seen a decline in shipments. According to the statistics shared by Bankless Times from IDC, the total smartphone shipped in the global market fell by nearly 8.9% year-on-year in the first quarter of 2022.
According to Nabila Popal research director of IDC, the reason for the drop in global shipments is due to scarcity of essential components. She also pointed out that global inflation and current economic condition are the cause of reduced demand for smartphones. 
Checkout: How to Read Phone Specs; The Ultimate Smartphone Specification Guide
So, what do you think about the dominance of Samsung? Do share your thoughts in the comment section below.