Huawei had launched FreeBuds 3 to compete with the likes of Galaxy Buds and Apple Airpods. There are other mid-range earbuds also such as Redmi Airdots and Mi AirDots which it will have to compete with. Huawei FreeBuds 3 price in Nepal is Rs. 20,900. I was lucky enough to get my hands into one of these and used it as my daily listening driver for a couple of weeks. Let me share my experience with this wireless buds; Huawei FreeBuds 3 Hands-on review here.
Design, Fit And Build
It is basically on-ear designed buds and has an elongated stem. We all know that this means it's Apple AirPods inspired. The company calls it as Dolphin Bionic Design. The buds fit nicely in your ears, feel comfortable, and is very stable while wearing. These Open-fit designed buds will be surely loved by those who don't like earbuds that go into ear and jams ear canal. If you are one, you will love these buds fit.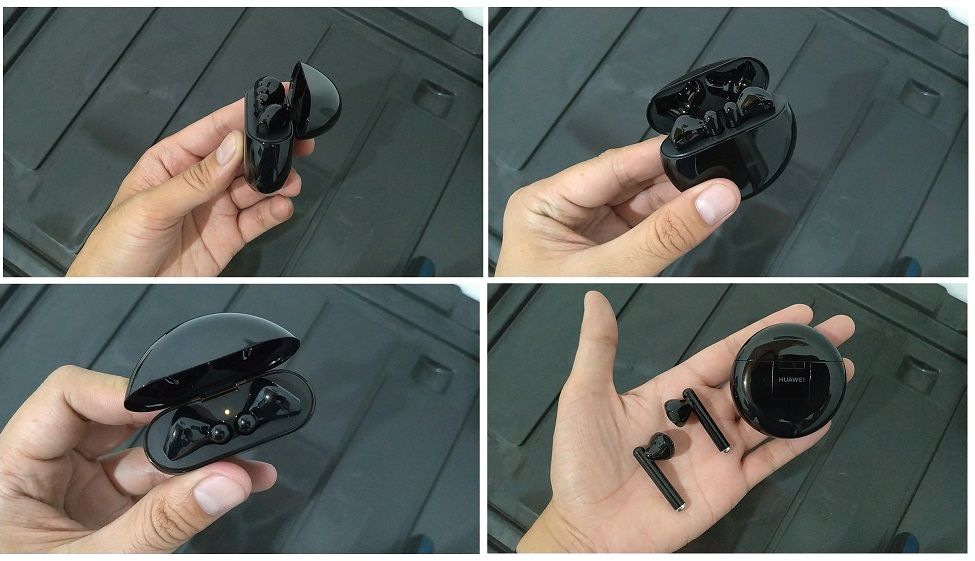 It has IPX5 water resistance and is ergonomically engineered. The buds are safe from water, sweat, and dust. I took it while running in the morning and while working out in the evening. I found no problem with these buds during then and I am sure it will be the same while taking it to the gym.
As for the case, the case is symmetrically round in shape. It has curved edges which makes it comfortable to hold. These curved edges are also the reason why the case goes smoothly into your pocket. The case is nature-inspired and is great to just look at it. In the middle, there is a company logo and at the bottom edge, there's' a USB Type-C port for charging. The case itself is very glossy and shiny.
Sound Quality and Features
A 14mm Dynamic driver and a 356MHz built-in audio processor are placed inside the buds to deliver a better sound quality experience. The clarity is good and the audio also feels quite high. The company also has fitted complex bass tubes in each earpiece's powers. This made the audio louder, stronger while increasing the bass and overall sound experience.
The other thing I liked about the buds is its Active Noise Cancellation (ANC) feature. The ANC works well even though the buds are open-fit designed. But I prefer in-ear because it jams the ear canal giving richer ANC experience. The ANC in these are adjustable but you will have to download the AI Life App. I had no problem with the ANC while I went to noisy traffic places and crowded places.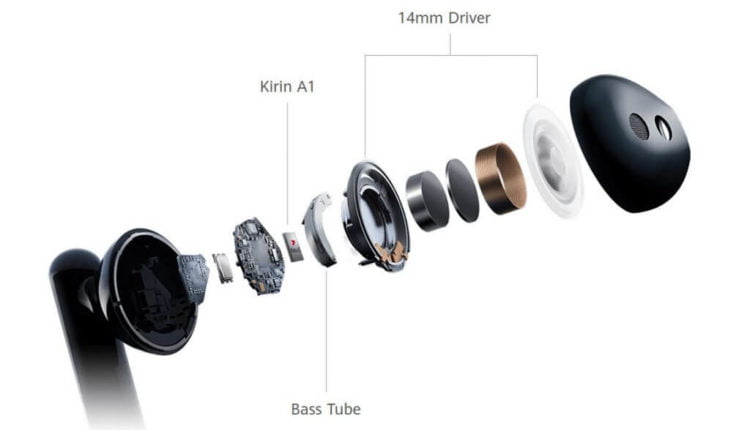 The FreeBuds also equips powerful Kirin A1 chip and a built-in bone voice sensor. The built-in bone sensor helps the buds to pick up the voice and enhances accordingly while making the whole call experience better. The sound from the speaker and the sound that went from the mic while calling was crystal clear. Combining these with ANC that eliminated background noise, the call experience in these buds were good.
The touch controls in these buds are pretty simple and easy to get with. You can double-tap the right bud to play or switch music, or double-tap the left bud to turn on/off the ANC feature. With the help of built-in sensors, the buds paused music while I took it off and resumed after it put in the ear. I found the controls easy yet great to go with.
Check-Out: Redmi Earbuds S Launched; Find Specs And Price In Nepal
Connectivity and Battery
The Huawei FreeBuds 3 is equipped with the world's first certified BT/BLE dual-mode Bluetooth 5.1 SoC and Huawei Isochronous Dual Channel transmission technology. This technology transfer audio information to right and left channels to right and left buds synchronously and separately.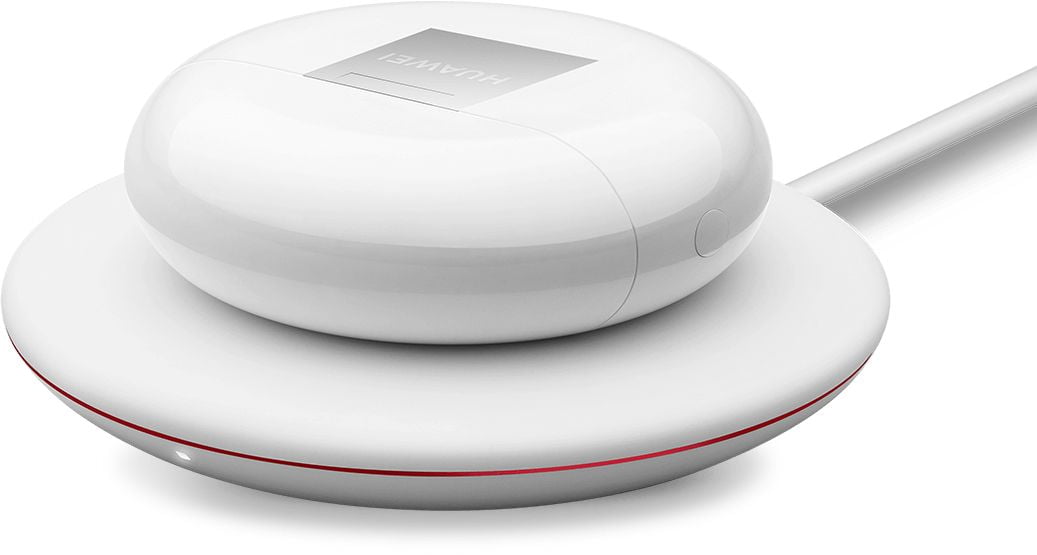 This hardware delivered a fast and stable connection and accurate synchronization. Even while playing PUBG, watching videos on YouTube or Facebook, I found no problem at all. The buds also support Instant Pairing where you will have to just click on the pop-up window for automatic pairing.
Now coming to the battery, each bud packs 30mAh battery and the charging case packs a 410mAh battery. The buds provided almost up to 4 hours of continuous music playback. The company claims that you can get up to 20 hours of playback with the charging case. The 2W Wireless charging came in handy and would fully charge the buds and case in 1 hour. The speed was the same while charging it with a USB Type-C reversible connector. The case also supports Reverse Charging.
Read: Huawei Band 4 Review.
Huawei FreeBuds 3 Specification
Weight: Buds (4.5g), Case (48g)
Design: Open-Fit
Processor: Kirin A1
Driver: 14mm Dynamic with Complex Bass Tube
Audio Technologies: Active Noise Cancellation, Call Noise Cancellation
Sensors: Bone Sensor, 356MHz built-in Audio processor, Wearing Detection Sensor
Connectivity: Bluetooth 5.0, Pop-up And Instant Pair, Huawei Isochronous Dual Channel transmission technology
Battery: 30mAh (Buds), 410mAh (Charging Case)
Battery Backup: 4 hours on 1 charge, 20 hours with Charging case
Charging: Reverse Charging, 2W Wireless Charging, USB Type-C Reversible Connector
Charging Time: 1 Hour to full charge both buds and case on Wireless Charging
1hr to full charge both buds and case on Type-C Reversible Connector
Colors: Ceramic Black, Red, and Ceramic White
Huawei FreeBuds 3 Price in Nepal: Rs. 20,900
Check-Out: Samsung Galaxy Buds Live Launched With ANC And Unique Design
Huawei FreeBuds 3 Price in Nepal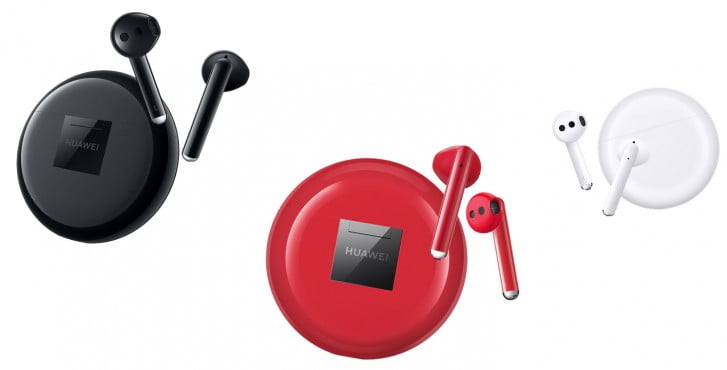 These buds had launched in the Nepali market a little earlier and are available to purchase. Huawei FreeBuds 3 price in Nepal is set at Rs. 20,900 and can be found in Official Huawei Showrooms and Retail Stores. It is still not available in online shopping sites. It comes in three different colors; Red, Ceramic Black, and Ceramic White.
| | | |
| --- | --- | --- |
| Huawei FreeBuds 3 Colors | Price in Nepal | Availability |
| Ceramic White, Ceramic Black, Red | Rs. 20,900 | Official Huawei Showrooms and Retail Stores |
Conclusion
People may feel Rs. 20,900 to be a bit expensive. But at the same time, the Huawei FreeBuds 3 is a good value wireless buds. The sound quality, IPX5, ANC, drivers, bone sensor, wearing detection, wireless charging all makes it worth the money. Even if it has ANC it feels as if something is missing for the above price range.
If the company had inserted a bit more touch control gestures than it would have been great. TheoOpen-fit design also results in better comfortability so there's nothing to complain about its design.
To me, personally, I think, the Huawei FreeBuds 3 Price in Nepal is fair and worthy. We hope this Huawei FreeBuds review has been helpful to you make a decision whether to buy it or not.