Huawei Releases AR White Paper and calls for collective effort to enlarge the 5G + AR ecosystem.
At a recent event of Huawei titled, Better World Summit for 5G + AR, Huawei Carrier BG CMO Bob Cai delivered a keynote speech titled 5G + AR, Turning Dreams into Reality. In this speech, Cai said that 5G will switch on AR, and AR will light up 5G. He also announced the release of the AR (Augmented Reality) Insight and Application Practice White Paper. The document offers insights into the AR industry in terms of devices, applications, and networking. at the event, Cai called on the entire industry to build together a prosperous 5G + AR ecosystem.
The ceremony was marked for Huawei's pitch for AR applications and the need for a collective effort to build a bigger and better AR ecosystem.
AR: A New Frontier
Huawei believes AR is headed for a monumental rise in adoption in the near future with applications from households to industries. It projects that AR market value will rise to worth US $300 billion by 2025.
Huawei and the third-party data estimate that AR will see massive adoption in five different industries: education, social networking, shopping, traveling & navigation, and gaming. "AR can truly enable the convergence of the physical and digital worlds, making dreams a reality," said Cai.
AR For Efficient Communication
Highlighting the utility of AR, Cai displayed the case studies of Huawei employing AR communication. Due to the COVID-19 pandemic, customers have not been able to meet with Huawei representatives. Cai showed how AR was demonstrating its premium products and solutions online, making communications much better and efficient. In addition, Huawei also mobilizes AR to achieve the quick delivery of 5G base stations, boosting the delivery capability.
Check out: Huawei Launches HarmonyOS 2 With A Range Of Products
Huawei's Simplified AR
Cai also demonstrated how Huawei achieves a more efficient AR using its resources. Huawei 'produces' its own AR with its Air Photo which uses unique algorithms converting a 2D photo into a digital 3D model. It leads to a very simplified AR 3D character modeling which gives it a distinct profile. Later, Cai also introduced Huawei's AR Engine, which is Huawei's AR development platform which for mobile devices.
Huawei's AR Engine is very economic with time too. Developers need to write only 10 lines of code to create AR effects. This significantly increases the efficiency of AR application development.
Read: Huawei Establishes Global Cybersecurity and Privacy Protection Transparency Center
Calls To Build A 5G + AR Ecosystem
Many high-profile figures had participated in the event and delivered their keynotes. Among the attendees were: He Chengjian, Director of Shenzhen Communication Management Bureau, David MacQueen, Executive Director of Strategy Analytics, Huang He, Chief Producer of Shenzhen TV Station, Wei Rongjie, RealMax CEO, Hiroshi Fukuda, meleap CEO, Liang Jinhao, representative of HADO China Region, and Fu Jie, Executive Director of Shenzhen AR Association. They all shared the latest AR use cases and shared their opinions on AR's future potentials.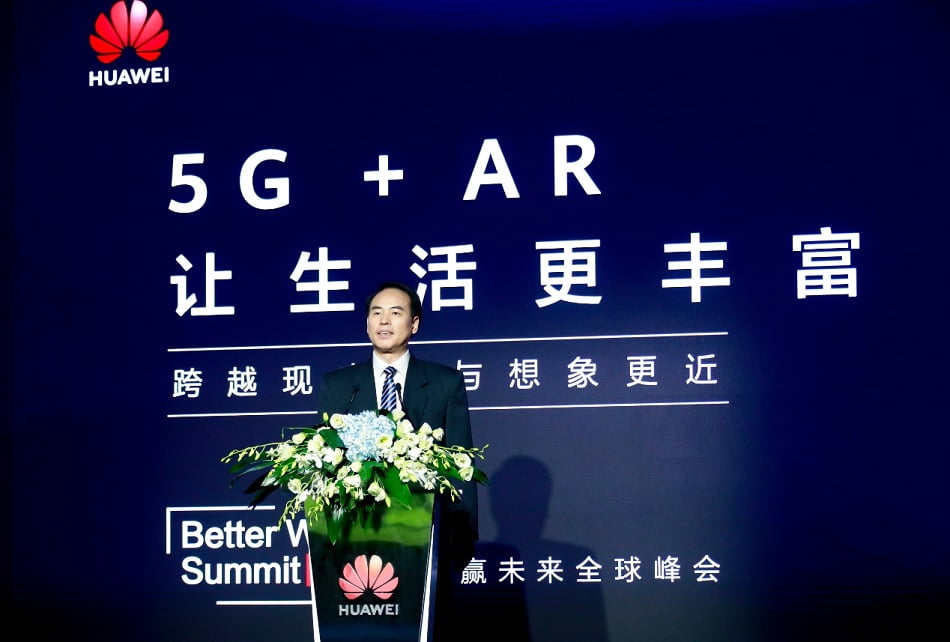 He Chengjian stated that Shenzhen is the first city in the world with full 5G SA coverage. He opined that AR can exponentially improve ICT services with applications in a wide range of areas including industrial production, e-commerce, real estate, home decor, culture, sport, tourism, healthcare, and education. AR applications have become a key engine for digital transformation and will profoundly change production methods and how we live. Here are all of the applications of the 5G network.
In conclusion, Cai said, "If you want to go fast, go alone; if you want to go far, go together. The development of AR requires the entire industry to work together and create a prosperous 5G + AR value chain. AR and 5G are combining at the right time. 5G switches on AR, and AR lights up 5G.
Huawei's Mighty Clout In ICT
Huawei is everywhere in ICT. It is a key 5G gear vendor for the world while it is also taking leaps in AR/VR technology. Its unique AR structure is very time-friendly for developers while it is a leading powerhouse in the 5G race. Its calls for the 5G and AR technology ecosystem will open up its untouched potential in China and beyond. The combination of 5G and AR could herald a further digital transformation in modern households to industries in near future.
Check out: Top 10 Megatrends in Telecom for 2025, According to Huawei
What do you think of Huawei's growing lead in the ICT, Telecom sector? With its smartphones coming on HarmonyOS and lead in the 5G race, could it become an overpowering tech firm warding off the US companies? Let us know what you think of Huawei's ever-increasing flexes in the comments below.