There is a good prospect of 6G arriving by 2028. The South Korean government has formulated a five-year strategy to invest in core R&D research for 6G and expects the trial by 2028. While 5G has not hit the mainstream, but multiple states have already switched on the 6G race.
The South Korean government has recently announced a five-year plan with investments of $193 million (220 billion won) to develop core infrastructures for 6G (Sixth generation network). Their plan is to implement R&D for the sixth-generation network by 2025 in six key areas. Prominent media have reported the government will head its 6G project in cooperation with the United States.
South Korea's Ministry of Science and ICT (KMSIT) will lay its prime focus on performance, Terahertz bands, space communications, ultra-precision, artificial intelligence, and reliability to develop an efficient and functional 6G network.
No Complacency In The 6G Goal
Korea's MSIT has outlined that there aim to build infrastructure to achieve a theoretical speed of 1 Tbps. They are planning on using terahertz RF components and spectrum for bands between 100-300 GHz. Additionally, achieving a latency of 1/10 compared to 5G and a focus on AI is in their focus too.
There is no complacency in Korea's 6G ambition. Their government will headstart the project by forming the groundwork for technologies and identifying technical requirements for vital areas. It is also establishing 6G research centers at 3 universities by 2021.
"As the next-generation mobile network is the foundation of digital innovation, we should play a bold and challenging role together to lead the international market in the 6G era based on our experience and know-how in the network field," Science and ICT Minister Lim Hye-sook said.
The World Gearing Up For 6G
Technology doesn't wait for tomorrow. While countries are yet to launch 5G in large parts of the world, tech firms have already hit top gears for the 6G network. China has stepped up for 6G with a plan to launch the next-gen network by 2030.
Meanwhile, closest allies US and UK have also joined hands to develop strategies for 6G. Samsung recently tested 6G successfully in the terahertz spectrum achieving a throughput of 6.2 Gbps. Japan has also partnered with the US in a 4.5 billion deal to begin its six-generation network plan.
5G's Global Expansion
While we are stuck by 6G's surreal talks, let's not forget that the current norm is to talk about 5G and its expansion is taking a rapid pace. India recently had the first phase of 5G trials where both Jio and Airtel achieved a download speed of over 1 Gbps. Similarly, Vodaphone Idea (VI) has also launched its 5G trial in Pune and Gandhinagar. India expects its 5G to arrive commercially in six months. Telecom gears vendor, Ericsson predicts India will have 330 million 5G subscribers by 2030.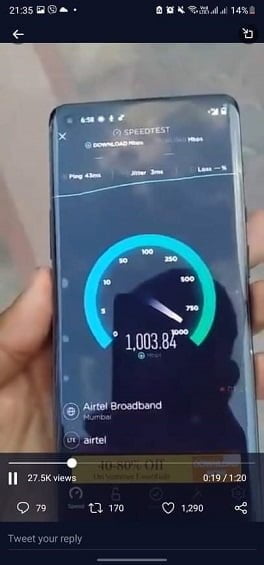 Statistica estimates that 2.7 billion mobile phone users will have access to 5G. The first-world countries are accelerating their 5G penetrations and gearing up for the 6G already. It was a general consensus that 6G wouldn't arrive before 2030 but now the stakes are high that we may indeed see the phase of trails around 2028.
5G can peak 10 Gbps in suitable conditions and 6G will reach surreal speeds 1000 Gbps, which is ten times higher than 5G. While the numbers are hyperbolic to us, our real-life bandwidth speed would be lower. But still, we can keep our fingers crossed as the world is turning up the heat for 6G.
Normally a new G of the mobile standard arrives in a decade. It is widely speculated that 6G will begin around 2030, as per the name IMT2030. But with South Korea going explicit about its 6G investments, we may indeed see the sixth-generation network ravaging all the talks of 5G in few years.
Check out: 2G, 3G, 4G and 5G explained in simple words
Let us know what you think about the growing 6G discourse in the comments below.