5G begins in India with Airtel and Jio kicking off their fifth-gen trials demonstrating a blazing 1 Gbps throughput.
India is on the brink of the 5G revolution. On its remarkable day for the mobile network leaps, the country's two telcos; Bharti Airtel and Reliance Jio kicked off their 5G trials in which each carrier demoed an epic 1 Gbps download speed.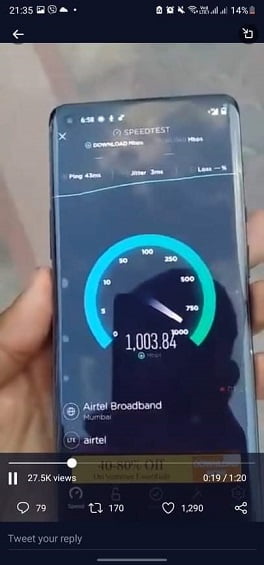 The years of talks and months of preparation for 5G have finally culminated in Bharati Airtel and Jio's 5G trials. Earlier, Airtel became the first telco to demonstrate a live 5G Network in India. The Delhi-based Airtel kicked off the fifth-gen network test at Gurgaon Cyber Hub. While a few hours later, the Mumbai-based Reliance Jio commenced their own in four different circles around the country.
Along with its own 5G architecture, Reliance Jio is also working closely with foreign 5G equipment vendors in part. It is field-testing its own fifth-gen network in Mumbai using its own technology, while in Delhi it is conducting the test with Ericsson, in Pune with Nokia, and in Gujarat with Samsung.
5G Spectrum In India
A month ago, India's DoT had allocated spectrum in the 700 MHz, 3.3-3.6 GHz, and 24.25-28.5 GHz bands to telcos such as Reliance Jio, Bharti Airtel, and Vodafone Idea. Bharti Airtel commenced the 5G trial, is operating its 5G in the C-band 3500 MHz bands. Likewise, Jio is running its tests in both 3500 MHz Mid-band and 26 GHz mmWave using its own 5G architecture and various sources have reported that it delivered above 1 Gbps throughput just like Airtel.
Reliance and Bharti could also use another 700 MHz spectrum band for the 5G test in rural settings. Jio is also using its own indigenous technology for the trials that includes testing of its core and radio network for peak speed, latency, and data loads.

Note: Indian public won't take the joy of the current 5G trials in India because the government rules restrict them from public access. However, the trials will set the groundworks for the stakeholders and it is expected that the commercial rollout will begin after six months.
How Fast Is 1 Gbps?
Indian 5G speed of 1 Gbps is blazing fast. To compare, the current fourth-generation network can peak a theoretical 300Mbps speed in the most suitable environment. However, consumers can expect around 42 Mbps in real life. Meanwhile, the third-gen network delivers 42 Mbps broadband speed on paper, and in real life, it can clock around 6Mbps. Check out 3G vs 4G; Which network is better?
| | | |
| --- | --- | --- |
| Mobile network | Theoretical speed | Real-life speed |
| 3G | 42Mbps | 6Mbps |
| 4G | 300Mbps | 42Mbps |
Download speed comparison between 3G and 4G
Putting into perspective, the 5G broadband can go above 20 times faster than 4G if compared to its real-life performance. Meanwhile, 5G absolutely dwarfs that of 3G going as fast as 166 times. To add further, If you were to download a 4K movie at 1Gbps speed, it will complete within a minute.
Check out: 5G Network and Applications
Eyes On Reliance Jio
All major telecom operators in India will conduct their trials within the next few days. But speculations are set on how Jio will march along with the 5G milestone.
Mukesh Ambani-led Reliance Jio Infocomm completely transformed India's internet scene with unbelievably cheap mobile data in 2016. Now, as it has switched on the 5G network, it is expecting to lead another broadband revolution.
Last year, the telecom operator signed a partnership with the US-based 5G gear maker Qualcomm to develop an open and interoperable interface-compliant architecture with virtualized RAN. This will rid the largest telecom operator in India of dependency on foreign 5G gear vendors and rely on its own home-grown tech. Besides, using its own indigenous infrastructures mean it will be able to accelerate the 5G rollout when the trial concludes.
5G Trial In Nepal By Poush!
With India finally beginning its 5G revolution, we also cannot resist having a go at its behemoth broadband potential and it may as well come true in a few months.

The state-owned telco Nepal Telecom will be the first to lit up Nepal's mobile broadband scene with the fifth-gen network. Recently, it submitted work plans to the telecommunications governing body NTA calling for 5G spectrum. If everything works as planned, NTC says its 5G ambitions will materialize by Poush with the tests planned in select areas.
Check out: Nepal's 5G development roadmap as per NTA
What is your reaction to the ongoing 5G tests in India? Are you also excited about the idea of testing the sensational 5G speed once it begins in Nepal? Let us know in the comments below.