China claims 1 Tbps 6G speed in a test at Olympics venue
The test was performed in a custom vortex millimeter wave
This speed can allow 10,000 HD videos streaming simultaneously
It far exceeds the previous 6G speed record by China, 206.25 Gbps speed
If you think 5G still deserves the most headlines, you may have to rethink now as its successor gathers more momentum. Researchers in China say they have realized a new 6G speed record, this time topping 1 Tbps. This benchmark achievement follows the country's previous record in 6G and sets the country atop in the next-gen cellular technology development.
The record data transmission was achieved using vortex millimeter waves, an extremely high-frequency radio wave that rapidly changes its spins. The researchers say they draw the 1Tbps transmission across 1 km (3,300 feet). This speed is fast enough to allow 10,000 high-definition videos streaming simultaneously, Professor Zhang Chao enthused in a statement on Thursday, 10th February.
Professor Zhang calls vortex waves, "a new dimension to wireless transmission". The research team added that it will help China lead "the world in research on potential key technologies for 6G".
Also read: NTC's 5G Trial Could Begin June 2022: Reports
China's 1 Tbps 6G speed down to "Vortex waves"
Electromagnetic waves spread in ripples. The frequencies transmit in an "up and down" shape. It has in a way two dimensions.
Vortex electromagnetic wave meanwhile, is three-dimensional and they transmit data like a tornado, in a whirl. This enables developers to add extra data in it, or orbital angular momentum (OAM) to inflate bandwidth capacity.
It is noteworthy that vortex waves are not new to wireless communications. Rather it has the contribution of man European scholars over the past decades. Professor Zhang acknowledged the hard work of past researchers towards the development of this wave.
Researchers developed a transmitter to address its wave signal drawback
But this waveform has its own drawback. The waves increase as it spreads farther. This weakens the signal and results in poor data transmission. To address this, the Chinese research team developed a transmitter that generates three different modes of wave spins. This allows a more focused wave transmission and thus can carry a huge amount of data.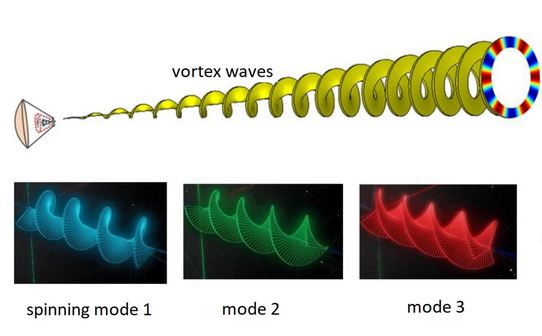 "The most exciting thing is not just about the speed. It is about introducing a new physical dimension, which can lead to a whole new world with almost unlimited possibilities," said one researcher to SCMP.
The commercial roll-out of 6G is widely expected by 2030. So far, LG, and Samsung, have made strides in this cellular network standard. Meanwhile, Japan and the US have also signed a pact to step up their 6G research.  
China is taking every step seriously as it wants to become the global leader in telecommunications. Having built the world's largest number of 5G base stations, it wants to take lead in the 6G race too.
The world is yet to realize the true benefits of 5G let alone have access to it, but the 6G hype is already taking pace. What is your opinion on the growing development of 6G? Do share your opinion in the comments below.