Samsung has launched its latest smartphone OS One UI 4.0. The Android 12-based OS brings more customizations and security that elevates Samsung's smartphone experience. Learn about its features in detail, and availability below.
The latest OS has made its arrival with the first phase roll out to the Galaxy S21 series including Galaxy S21, Galaxy S21+, and Galaxy S21 Ultra smartphones.
Samsung has released its Android 12 based skin slightly later among its competing smartphone vendors. Users of OnePlus, ASUS, OPPO have already received their treat of Android 12 on their flagship devices.
Samsung's One UI 4.0 brings new customizations options, privacy features, and access to Samsung's ever-expanding ecosystem that will put users in control.
Check out: All the Samsung Mobiles available in Nepal with its price.
"…seamless experience across our entire ecosystem"
"We are committed to giving everyone access to the best mobile experiences possible, as soon as possible," said Pranaya Ratna Sthapit, Director, Samsung Nepal.
"One UI 4 delivers on that promise, equipping Galaxy smartphone users with the latest customization and privacy features. But we won't stop there. Soon, other smartphone and tablet users will also be able to benefit from this software update, enabling a more seamless experience across our entire ecosystem," he added.
Customize Your Galaxy, Your Way
One UI 4.0 allows you to create a customized mobile experience to meet their unique needs and express their taste. A whole new host of Color Palettes allows you to change everything on your smartphone from icons, menu, buttons, and background.
The revamped set of widgets on One UI 4.0 offers even deeper customizations for users. Samsung says putting a "personal stamp on your smartphone has never been easier" before.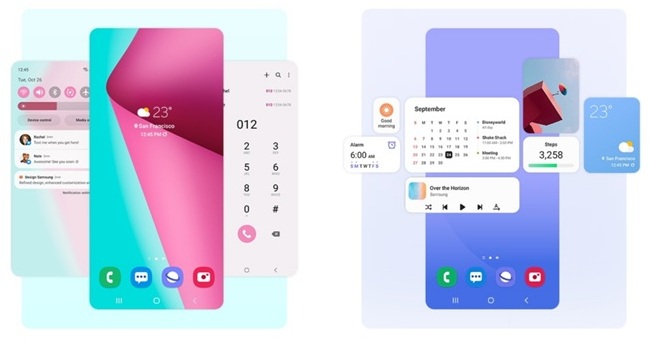 Samsung's One UI 4.0 comes with a variety of emojis, GIFs, and stickers directly from the keyboard. This means you can express yourself more effortlessly.
More Private, More Secure
Privacy is one of the most desired aspects of smartphones and phone makers have steadily upgraded their security features. Samsung's One UI 4.0 is no exception. Samsung's latest comes with the most secure privacy features which allow you to choose what you want to share and keep private.
The OS alerts you when an app is attempting access to your camera or microphone. It keeps all the data on a privacy dashboard that brings all the settings and controls into one convenient place. One UI 4.0 makes all your device monitoring and privacy setting as simple as they could.
Connecting To An Eco System
Another key highlight of Samsung's One UI 4.0 is its ability to connect across Samsung's extended ecosystem.
The OS allows you to connect with Samsung's ecosystem of devices and third-party apps unlocking a next-level smartphone experience.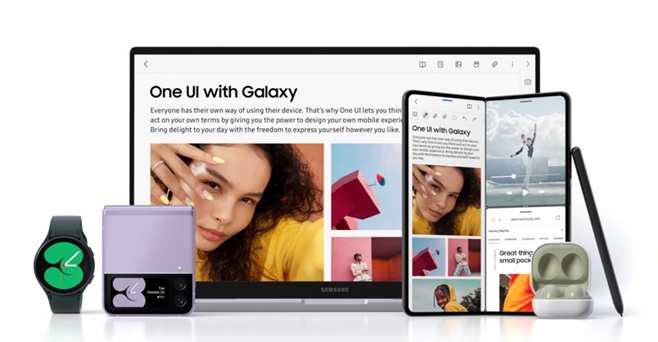 Whether you are on the Galaxy Z series, Galaxy Watch, or Galaxy Tab, One UI 4.0 brings a uniform look and feel. What's more, you will also be able to sync your files seamlessly between them.
One UI 4.0 Availability
One UI 4.0 is currently available for update on Galaxy S21 series starting November 15th. Samsung says, Galaxy S, Note, as well as Galaxy Z series, A, and tablets, will be in line for their own in the next rollout.
It is safe to assume that besides, the Galaxy S21 series, Galaxy Note 10 series, Galaxy Note 20 series, Galaxy Z fold 3, Z flip 3, other fold models, and Galaxy A series such as Galaxy A52, Galaxy A71, and others may be eligible for the One Ui 4.0 update.
Samsung's One UI 4.0 announcement comes along with a new software update for the Galaxy Watch series. This enables wearable users to enjoy better health features and new watch faces.
How do you rate your experience on Samsung's One UI skin? What changes or improvements would you prefer on the One UI 4.0 update? Do share your suggestions in the comments.