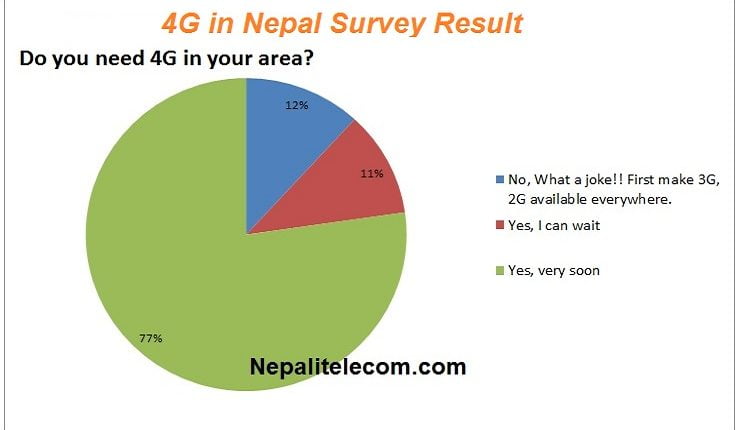 4G Survey result 1: 80 percent people want 4G in their place.
Its around 3 months of the Nepal Telecom's 4G service launch in Nepal. We had performed a survey regarding the 4G service in Nepal at the time of launch. As it is only available in Kathmandu and Pokhara, several people from all parts of the country asked us about the availability of 4G in their place. We don't know if all of those people have made it to the survey. Around 500 people from mostly city areas have contributed to the survey by filling up the questionnaire from our website. Areas include Kathmandu, Pokhara, Chitwan, Nawalparasi, Makwanpur, Janakpur, Sunsari, Gorkha, Udaypur, Jhapa, Sarlahi, Dang, Kalaiya and more. Here is the result of the survey.
30% among the surveyed personnel do not have 4G handset. But almost all are likely to look for 4G when they are going to buy a new smartphone later, if 4G is available at their place. Among them, 77 percent of people want 4G service to be available in their area very soon. 11 percent people said they can wait for the service whereas 12 percent said straight No as they asked to make 2G and 3G available everywhere first rather than bringing 4G.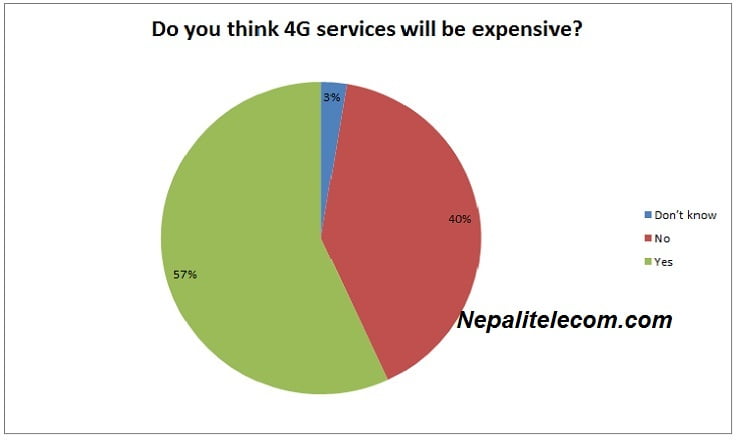 Regarding the affordability of 4G, around 57 percent of the people feel 4G service is expensive. 3% are not sure about it and 40% do not think it to be expensive. About the voice service in LTE with the service called VoLTE, 90 percent people said they want it. Among the 10 percent, some said the voice is ok now and some doubted about the high price of the VoLTE handsets.
For the question regarding the use of 4G only if its available everywhere, 73 percent people said they wont use 2G, 3G if its available everywhere. Battery drain issue and the tariff seems to trouble some for using 4G only, all the time.
For the data speed that people want with 4G:
42 percent want 30 Mbps or more,
18 percent want around 10 Mbps,
20 percent want 20 Mbps,
13 percent want 5 Mbps,
4  percent want 1 to 2 Mbps,
with exception of some higher speeds up to 1 Gbps.
For the price of the 4G handset, 43 percent people can afford more than Rs 25,000, 26 percent can afford Rs 15,000. 19 % people can afford Rs 35,000 and 12 percent can afford Rs 50,000 or more.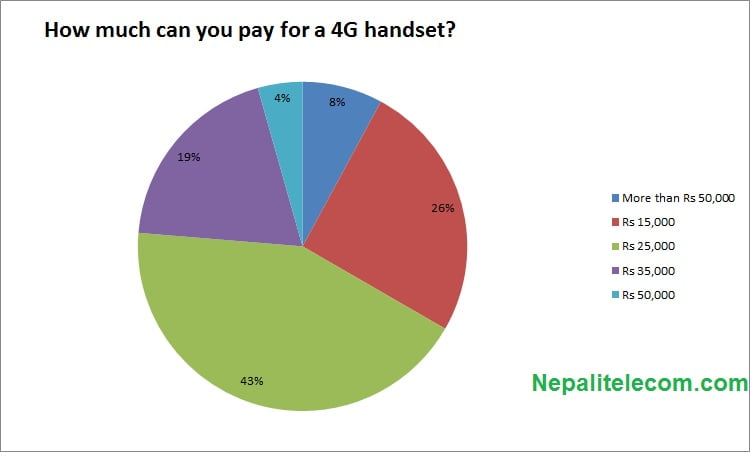 Preference for any operator?
We queried about the subscriber preference for any operator, if Ntc, Ncell or smart have 4G available there.  50 percent prefer NT whereas only 10 percent prefer Ncell for 4G. Remaining 40 percent said they will choose the operator either based on speed or tariff of the services.
Read here for the second part of the survey result.