All Government transactions to be digital or online now!
Starts Rajaswa Payment System portal
Nepal Government has started the digitization of all the transaction at government offices. Onlinekhabar reports the news today that a new campaign or project has begun which enables the payment of taxes by their mobile phones online. Government also starts a new Rajaswa payment system with online portal.
Minister for Finance, Mr. Yubaraj Khatiwoda inaugurates the digital payment in a function held at Ministry on April 25, 2018. The digital payment solution goes live in Tax payers office in Thamel in the first phase.
On the occasion, Khatiwada opined that electronic or digital transactions would make the transactions easy and enable  government to be taxpayer-friendly. After this, he stressed the revenue system would also migrate to the digital means soon. Ultimately that will make online payment of any taxes directly from their bank accounts using mobile phones.
He also directed his staff to properly manage the system. The Minister said the government would formulate and implement all necessary laws and regulations for electronic transactions very soon. As known, users will be able to pay their taxes and utility bills not exceeding 1 lakh (Rs 100,000), Khalti blog adds in their post quoting Spokesperson of Ministry of Finance. Mr. Arjun Prasad Pokharel.
The Ministry of Finance believes that the project would reduce cost of doing business, cost of collection, improve efficiency and increase transparency. It will also reduce workload from government staffers while saving time of consumers.
Revenue Secretary Shishir Kumar Dhungana says that they will expand the system throughout the country within next fiscal year (by 2019 mid-July). Source.
How to use Government portal for online payment?
Nepal Government has started an portal called Rajaswa Service portal to make the government tax payment from there.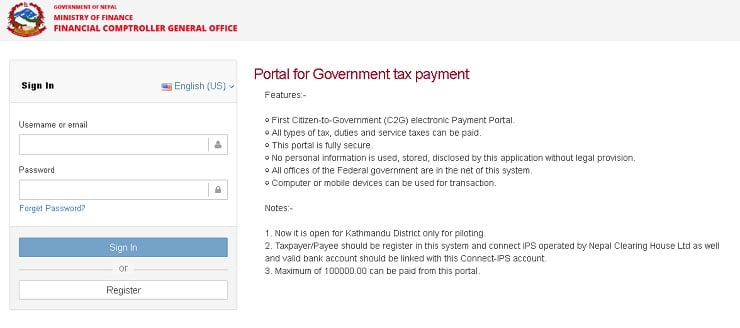 Please visit the portal at https://rajaswa.fcgo.gov.np.
Either select English or Nepali language in the right hand side of Sign in.
Click register with your email address and get a verification code in your email to confirm it in the Rajaswa Service portal.
You need to fill more details to make your profile like PAN number, Mobile number.
The features of the Government portal are:
First Citizen-to-Government (C2G) electronic Payment Portal.
Use to pay all types of tax, duties and service taxes.
This portal is fully secure.
No personal information is used, stored, disclosed by this application without legal provision.
All offices of the Federal government are in the net of this system.
Computer or mobile devices can be used for transaction.
In the first phase, the portal for government tax payment is available for Kathmandu District only. Taxpayer/Payee should register in this system. After which, they should connect IPS operated by Nepal Clearing House Ltd as well. And ultimately valid bank account should link with this Connect-IPS account.  The maximum amount that be paid from this portal is Rs 100,000 (1 lakh).