Nepal Telecom (NTC) users have identified a distinct issue where mobile data is used on its own. With automatic data usage, they have found their balance to have deducted regularly. As per the snapshot of the data usage in their mobile, the 9 paisa amount is reduced regularly.
A lot of people took it to Facebook especially Fb groups to share their issues. They posted a snapshot of the automatic balance deduction from their account due to the small data usage.
After finding a tiny balance cut daily, they explored the data usage in the Nepal Telecom mobile app and spotted this. Nepal Telecom has this feature in its mobile app to check the usage history aka call details of your mobile for up to 5 days.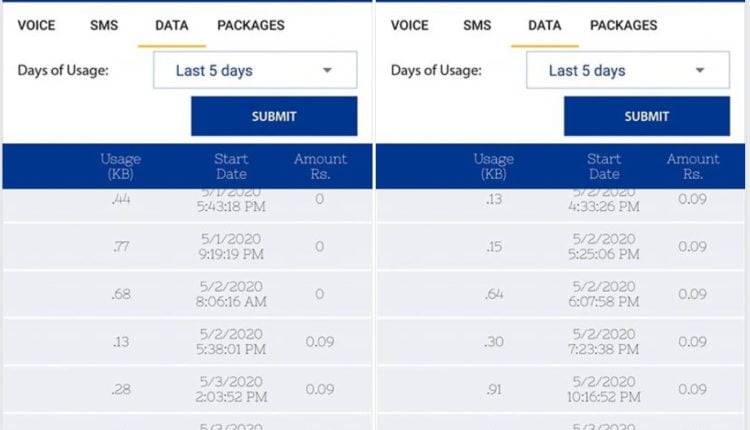 There, the comments are also flooded with similar snapshots of their balance cut without the actual use. They claim that even after turning off their mobile data and correctly configuring all the settings, they find this 9 paisa data deduction. As the balance deduction due to the mobile data usage is in a small amount, more users seem to miss this.
Some people even complain of the balance cut on their mobile number with which they never use the data service (like keypad phones, feature phones). They say they find mobile data usage despite always being on home Wifi.
Mr. Bibek Silwal complained in another Facebook group as below.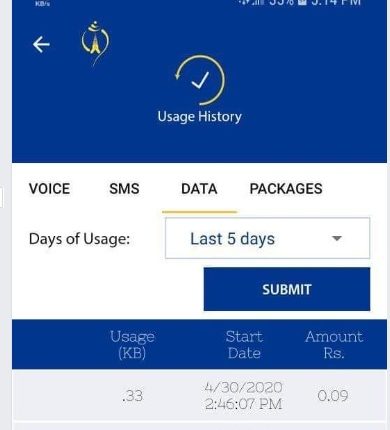 He mentions that he has been facing this issue for more than a week. While others found the problem after this came to surface on social networking sites. Earlier there was some misunderstanding among people for the postpaid billing. For which, Nepal Telecom tried to clear out with an explanation of the postpaid billing process.
What could be the issue?
As we find all of them complaining about 9 paise cut off on its own, there could be some glitch in the system. But as the mobile device can take data without the user's notice, there are chances for the issue for some due to the default settings on their mobile.
Some default settings like background apps usage, Wifi assist, or Intelligent switch to data, and more could take up mobile data without the notice. For handset issues, we suggest you check the detailed procedure to save mobile data on your phone.
Chinese handset issue?
Earlier Nepal Telecom discovered such automatic data usage issue on some low-grade Chinese handsets. Some people also link this earlier Chinese handset problem with this issue. But as the problems are there for all kinds of smartphones like Samsung, iPhone, Nokia, we can rule out this general suspicion.
4G issue?
As per some people, the tiny data usage or balance cut mainly happens when their mobile is on 4G. Mr. Anil Bir Bajracharya (in FB comment) recommends a complainer to put their mobile on 3G or 2G if they do not use data on it, to avoid such a problem.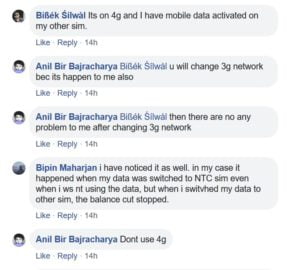 Till now, what we are told is that the technical team is working on it to identify the issue. We now await the official reply of Nepal Telecom for this matter and will update as soon as it arrives.
Please comment below (along with the mobile phone model) if you have witnessed such a balance cut issue.
Update on May 14 with the resolution of the auto data usage issue by NTC.
Update on May 6 with the Chinese handset issue.