Just in, International Data Corporation (IDC) released reports related to smartphone shipments in the third quarter of this year's IDC Q3 2020 Report. The report clearly reveals that Xiaomi beats Apple to gain the third position of the Biggest Smartphone manufacturer while Samsung regains the top Spot. The South Korean giant smartphone manufacturer has successfully reclaims its position and becomes the World's biggest smartphone firm.
Covid-19 pandemic affected the whole smartphone market worldwide. Before, there was another IDC report suggesting Global Smartphone Comeback by 2022. Right now it seems as if the comeback is already on its way. It is because the effect of the pandemic is decreasing day by day for businesses.
IDC Q3 2020 Report
Q3 2020 IDC reports show the expected decline in smartphone shipments by 1.3 percent year-on-year. However, the results are below the expected 1.3 percent year-on-year and are going better. The reports indicate 353.6 million smartphone shipments in the third quarter of this year alone. This number is calculated from July 2020 to September 2020.
Among all of the phone vendors, Samsung stands at the top with a 22.7 percent market share. The company shipped over 80.4 million smartphone units in Q3 2020. This indicates a 2.9 percent growth for the South Korean giants year-on-year. This includes their new phones such as Galaxy Note 20 Ultra, as well as Galaxy S20 Series. While the major contribution for the top position was due to the Midranging "A" series phones which sold like hotcakes.
Huawei slips to the second spot with shipping of 51.9 million smartphone units. Earlier Huawei gained the Top Smartphone manufactuer for Q2 2020. The Chinese company captures 14.7 percent of the worldwide market. Not to mention, they have declined shipments by a whopping 22 percent year-on-year. This may be because of the U.S.A restrictions which also inspired them to develop their Operating System called HarmonyOS.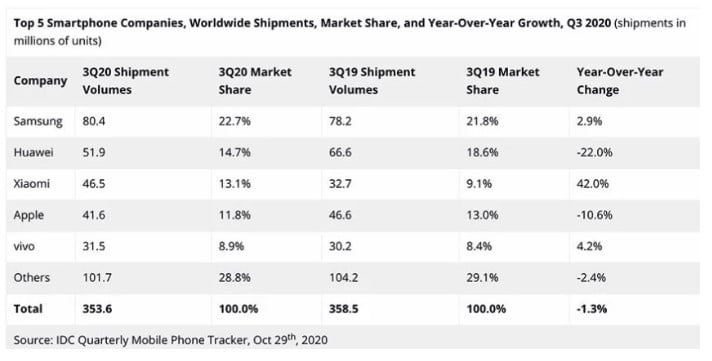 While Huawei faced declined, on the other hand, Xiaomi gained mouth-watering growth of 42 percent. Xiaomi has even surpassed Apple now and became the third-largest smartphone manufacturer in the world. It holds 13.1 percent of the world-wide smartphone market share and shipped 46.5 million smartphone units. The growth of Xiaomi is because of its budget and mid-range phones such as Redmi 9. While they also grabbed much attention with their flagship Redmi K30 Ultra and Mi 10 Ultra.
Apple fell to the fourth position of Top Smartphone Manufacturer even it launched iPhone SE 2020 and the recent iPhone 12 Series which is known to be going good now. Similarly, the iPhone 11 Series was even hailed as one of the best-selling smartphone series. The company shipped 41.6 million units in Q3 2020 and holds an 11.8 percent market in the worldwide smartphone market. The company faced a 7 percent decline year-on-year.
Vivo emerges in the fifth position leaving Oppo behind. Vivo currently holds an 8.9 percent market share as well as shipped 31.5 million smartphone units. The company just stepped above Oppo because of its 1 percent year-on-year decline while Oppo faced a 4 percent year-on-year decline.
Top 5 Smartphone manufacturer as per IDC Q3 2020 Report
To look at and understand the IDC results more easily, we have prepared a table for the Top 5 Largest Smartphone Manufactuerer in the Q3 of 2020. This table will provide the information you need to know for the Smartphone Market Globally.
| | | | | |
| --- | --- | --- | --- | --- |
| Position | Company | Phone Shipments | Market Share | Growth (Year-on-Year) |
| 1. | Samsung | 80.4 Million | 22.7% | 2.9% |
| 2. | Huawei | 51.9 Million | 14.7% | -22% |
| 3. | Xiaomi | 46.5 Million | 13.1% | 42% |
| 4. | Apple | 41.6 Million | 11.8% | -7% |
| 5. | Vivo | 31.5 Million | 8.9% | -1% |
Personally seeing this large quantity of smartphone units feels really satisfying to me. Every tech enthusiast would feel the same and these kinds of IDC reports are like icing on the cake. It would have been much better if IDC regularly publishes reports regarding the smartphone market and its scenario in Nepal. The last time when they published such a report, Xiaomi Topped the Nepalese Smartphone Market. People would be keen to know who sits on the first position throne currently in Nepal. Samsung or Xiaomi, One of them, may be!!!
What do you think of Xiaomi's position in the Global Smartphone Market, after beating Apple, please comment below?