The Chinese company is ready to compete with Android OS after announcing the date for the Huawei HarmonyOS release for mobile platforms. The announcement was done at Huawei Developer Conference 2020 in which they also shared updates on Huawei Mobile Services (HMS) Ecosystem. As per them, December 2020 is the month of release of Huawei's own Operating system. HongmengOS is the Chinese name of the OS whereas HarmonyOS is its global name.
The announcement of HarmonyOS was done by the company back in 2019. Now the good news is that the Official website of Huawei HarmonyOS has already gone live and the source code is available to download for developers. The company has launched Hongmeng OS 2.0 Beta system at the HDC Developers Conference. The Beta system is for devices such as large screens, watches, and cars. Whereas for mobile devices, the company targets December 2020 date for the release.
Checkout Huawei ranks 49th on the Global Fortune 500 company list.

Huawei is trying hard to combat the U.S restrictions and this has driven them to develop their own OS to support their future Ecosystem. We can say that they are working to turn their current disadvantage to future advantages. They are motivated to keep developing their OS in the future. The company even have made public of its OS development timeline.
Huawei Development Conference 2020
"Together, Let's Play with HMS", in this title, the President of Consumer Cloud Service, Huawei Consumer Business Group, Zhang Pig'an delivered a keynote speech. He stated in his speech that there are 1.8 million developers registered with HMS which doubled from last year.
He further stated "HMS Ecosystem is now the third-largest in the world. HMS core has achieved an astonishing improvement. Together with many Huawei teams, we made the impossible within a year".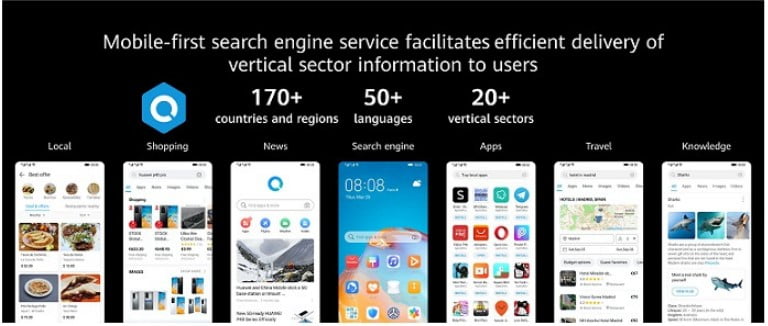 AppGallery now contains 73,000 local apps and reached 700 million users worldwide. Not just this but the company has also introduced new five basic service engines. Search, Map, Payment, Browser, and Ads are all included. HMS search engine is currently enrolled in more than 170 countries and regions. It features more than 50 languages.
Huawei HarmonyOS Development Plan Timeline
The Huawei HarmonyOS was firstly used in smart products. After this in the next three years, they will optimize the Operating System over time to support the vast majority of smart devices like Wearable, Huawei Vision, and even Cars.
2019 (For Large Screen Products) – Huawei HongmengOS 1.0
2020 (For Mobile, PCs, Wearable, Vehicles) – Huawei HongmengOS 2.0
2021 (For Smart Audio Devices) – Huawei HongmengOS 3.0
2022 (For VR Glasses and more) – Huawei HongmengOS 4.0
Looking at the timeline and supporting devices, the company is clearly trying to create its own new Ecosystem. Huawei's plan seems similar to Google. They are also developing their own OS named Google Fuchsia.
It's said that Fuchsia will replace Android and support multiple smart devices across different platforms. Observing both sides, we can find the rivalry for creating a new Operating system for a whole range of devices. Looking at the progress, some people say Huawei HarmonyOS could be taking the lead in this race.
Technical Features of Huawei HarmonyOS
Huawei has focused on four main things while developing HarmonyOS. The Four things are Seamless Experience, Smooth Experience, More Secure, and All in One.
Seamless Experience:
Huawei has integrated virtual bus technology. This enables the OS to share communication and data with various devices. Apps and software built on the Huawei HarmonyOS platform will be able to run on all different devices running on HarmonyOS. This will deliver a seamless and collaborative experience to the user.
Smooth Performance:
The company claims that the user will have a smooth performance in their OS. Huawei HarmonyOS features a Deterministic Latency Engine which sets task execution priorities. It also time limits for scheduling in advance. Another feature is high-performance Inter-Process Communication (IPC). It reduces the response latency of apps and software by 25.7%. This will ensure the smoothness in the performance of HarmonyOS.
More Secure:
It is no secret that Huawei HarmonyOS is a microkernel designed. These features enhance security and low latency. They have added mutual security protection also. HarmonyOS is the first OS to use a Trusted Execution Environment (TEE) feature which significantly improves security. Because of the microkernel design of the OS, it has less code which minimizes the probability of attack.
All in one:
We all know about the Eco-system that Huawei is trying to accomplish. To achieve this they have powered their OS by a multi-device IDE, multi-language unified compilation, and a distributed architecture kit. This helps the OS to adapt to different screen layout and interactions across different devices. This means one App or software build on Huawei HarmonyOS can operate on all different devices running on the same OS.
Conclusion
The idea and motive behind the project are unreal. We hope Huawei overcomes this challenge and achieves its goal to standout in the world. This will help them to uplift themselves and make themselves more independent. Being unable to use Google Play Services and Qualcomm's chipsets have hampered them. Therefore they are slowly developing everything of their own from chipset to Operating system. We can't wait to see how will Huawei HarmonyOS comes in future smartphones.
Suggested read: Huawei gains top position in the smartphone market.
Let us know your thoughts about Harmony OS in Smartphone and its future??