Apple has become the second-biggest smartphone brand for Q3 2021 after a few months' plunge, Canalys reports. With the launch of the iPhone 13, the US phone brand has reclaimed its top second rank pushing Xiaomi off its perch.
In the previous quarter, (Q2 2021), Xiaomi was at the second with a 17% market share. Apple at the time had reclined to the fourth position as Android phones gained incredible momentum. However, the US phone maker has now achieved a rebound in fashion.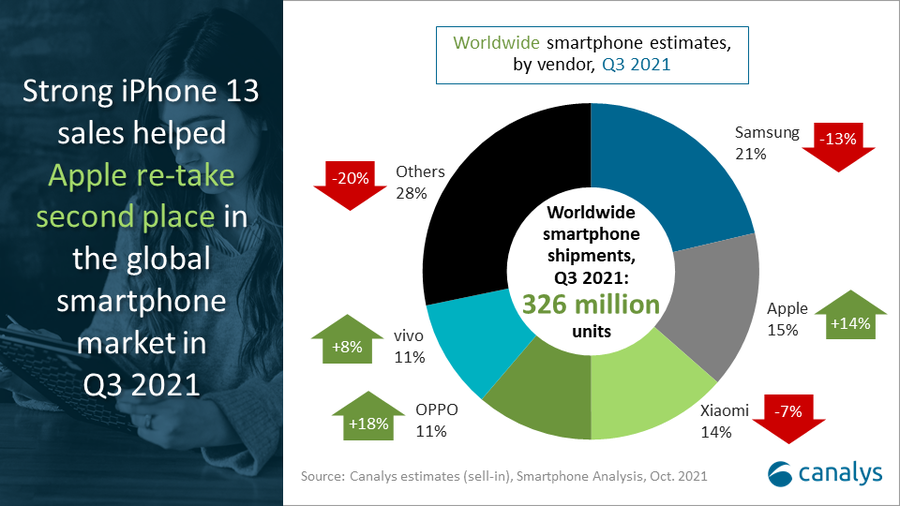 US brand Apple rose in its position thanks to its latest crown jewel iPhone 13. The top second position was claimed by Xiaomi in July with a strong showing of its smartphones all across the globe. Now, Apple has regained the position with the envious numbers pertaining to the shipment of the market steal iPhone 13.
Apple's latest hit iPhone 13 comes in 4 different variants. They include iPhone 13, iPhone 13 Mini, iPhone 13 Pro, and iPhone 13 Pro Max. These latest lineups come with better cameras, hardware, and a new iOS 15 version.
Smartphone Shipment Q3 2021
Meanwhile, Samsung has once again stood atop as the leading mobile phone vendor. The South Korean giant boasted a bumper shipping of 69.4 million units while occupying a 21% share. Apple has once again climbed through the ranks to the second with iPhone 13.
The California-based company shipped a mammoth 49.2 million units and claimed a 14% market share. Xiaomi, which has been pushed to the third shipped 44 million devices and took a 14% market share.
| | | |
| --- | --- | --- |
| Smartphone brands | Q3 shipment (million) | Q3 Market share |
| Samsung  | 69.4 | 21% |
| Apple | 49.2 | 15% |
| Xiaomi | 44.0 | 14% |
| OPPO | 36.7 | 11% |
| vivo | 34.2 | 11% |
| Others | 91.9 | 28% |
| Total  | 325.5 | 100% |
Apple at second in global smartphone shipment | Q3 2021
Meanwhile, OPPO and Vivo claimed fourth and fifth positions. They both shipped 36.7 million and 34.2 million units respectively.
Apple Boosted By iPhone 13 Shipment
Canalys Research Analyst Le Xuan Chiew says Apple's recent surge in the ranks is attributable t iPhone 13's strong numbers. "The iPhone 13 had a strong start," he says. "Pre-orders were high and, unlike last year, Apple could use the full might of its retail stores to drive sales. For customers with a two- or three-year-old iPhone, the devices have proved a compelling upgrade, with better cameras, battery life, and, of course, 5G.
However, he also says Apple's current revival goes beyond the iPhone 13's figures. The company has continued the momentum with iPhone 12 sales on the back of the wholesale discount. Besides, its growing success with B2B channel projects has added to its value across the world. These two factors have played into Apple's favor to come back to its stronghold on the leader board.
Do read: NTC iPhone Bundling Offer: Buy iPhone 13, Get Free 5GB Data Each Month
The report claims that Apple should be aiming for the pole position next quarter Q4 as its outsourcing business makes it less exposed to "supply pressures".
Android Phones Shipment Struggles Q3 2021
The report also shows a dim picture for Android this term around. The overall shipment for the Google-based platform declined by 9%. Samsung struggled with supply for its Galaxy A series. At the same time, Xiaomi ran short of supply after its brilliant performance in the previous months.
Meanwhile, Vivo and OPPO both are coming off stronger past COVID-19 and will maintain their solid figures in Asian and domestic markets mostly.
With Apple rising back to the second rank among smartphone OEMs, Android could be in for a struggle in the next quarters. iPhone 13 sales could set Apple's fortune running well into the next quarters as the competitors wait for iPhone 13's luster to thaw.
Check out: iPhone Price in Nepal | Detailed Specs
How do you differentiate Apple from Android? Which one is your preferred choice & why? Do lets us know in the comments below.