NTC's newly appointed brand ambassadors Maha Jodi will promote the company's upcoming offers among the customers.
Nepal's legendary acting duo Haribansha Acharya and Madan Krishna Shrestha, collectively known as Maha Jodi have been appointed brand ambassadors by NTC (Nepal Telecom), Nepal's largest telecom operator.
NTC and the acting greats signed the agreement papers at the company's head office today in Kathmandu.
NTC's MD Dilliram Adhikari, the actors, and Saroj Oli, the Chairperson of the duo's media coordinator Subha Media Home Private Limited penned the agreement papers.
NTC's MD, Director, Manager, and other high-ranking officials were present at the signing ceremony. The company's Chief Commercial Officer Sangita Pahadi delivered the welcome speech at the occasion.  
Do read: NTC Continues 4G Dominance With Lead Over Ncell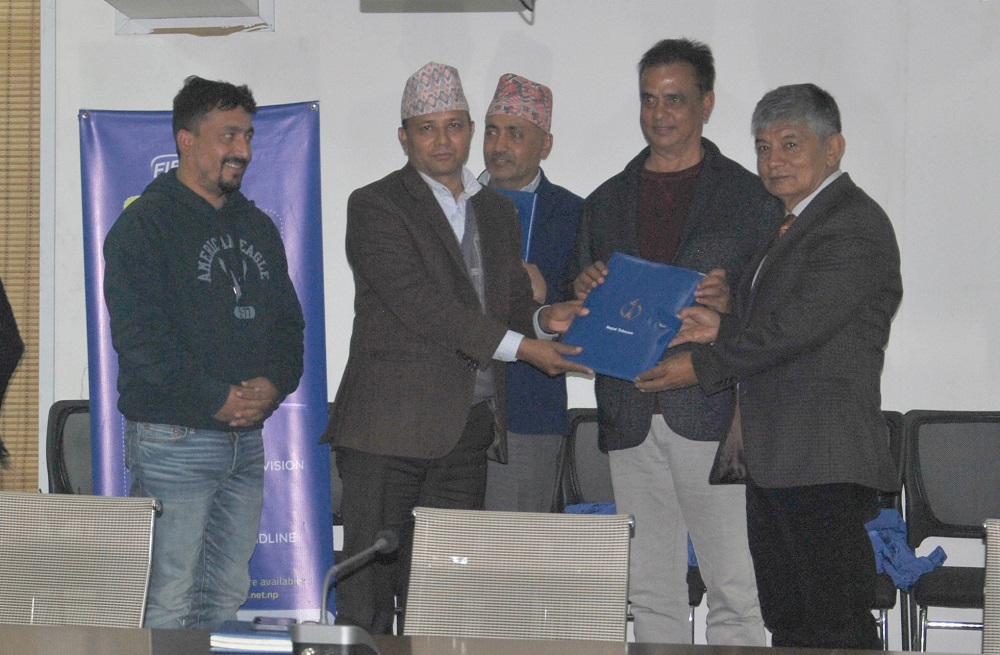 'Maha Jodi' To Promote NTC Services
NTC Managing Director Dilliram Adhikar expressed his delight at tying the country's most prominent artist into the company. He said the duo will play an important role in keeping its customers updated with its upcoming attractive offers in the coming days.
Likewise, the Maha Duo also shared their delight over their new role to promote the country's largest telecom operator. They said that being a part of a company that runs on domestic investment is a matter of pride.
The duo will take up roles to promote and protect NTC's services. The duo's contract as NTC's brand ambassadors runs for 1 year with the possibility of extension.
Check out: Ntc data packs | Price, Volume and Validity
Maha Jodi is one of the country's greatest acting talents. The duo has decades of contribution to the Nepali entertainment scene. This has brought to them a canonical position as Nepal's great actors/comedians for both small and large screens. Their role as NTC's brand ambassadors will help the telco attract more customers towards its products and services.
What do you make of Maha Jodi's role as the brand ambassador of NTC? Will you be more eager to listen to the telco's offers with the duo promoting them? Do share with us in the comments.