Ncell has conferred Ncell Scholarships and Excellence Awards 2021 to the students of five different faculties of the IoE (Institute of Engineering) Pulchowk Campus on Wednesday, (May 25th). The scholarship was part of the company's CSR policy.
The students received scholarships and awards at a ceremony organized at Ncell ICON, the headquarter of the company in Kathmandu. The faculty of IoE and family members of the students were also present.
The scholarship and excellence awards program was instituted in 2014. This aims at encouraging technical education and honors young talents who have demonstrated their excellent academic credentials. The program honored students of five faculties -Civil, Electrical, Electronics and Communication, Computer, and Mechanical Engineering.
From the year 2021, Ncell has conferred a total of 18 scholarships to the top-performing students. Likewise, 6 students who have graduated from these five faculties with the highest scores have received NCell Excellence Awards.
Awards conferred jointly by Ncell CEO and IoC Dean
Dean of IoE Prof. Dr. Shashidhar Ram Joshi and CEO of Ncell, Andy Chong jointly honored the students with Ncell Excellence Awards. Similarly, Ncell's Executive Committee Members – Chief Human Resources & Administration Officer Yuvraj Shrivastava, Chief Information Officer Vishal Mani Upadhyay, Chief Legal, Regulatory & Corporate Services Officer Ramesh Ghimire, and Chief Finance Officer (Designate) conferred the Ncell Scholarships 2022.
Covid-19 barred the program from taking over physically last year. So 18 winners of Ncell Scholarships and 6 winners of NCell Excellence Awards 2020 were due for handover. The students received their certificates this time around. Even though the physical program wasn't possible physically last year, the winning students did receive their cash prize of recognition. IoE, Pulchowk Campus had provided the students with their due cash prize last year.
Also read: Ncell Wins Telecom Company of The Year Award at Asian Telecom Awards
What was said about Ncell Scholarships and Excellence Awards?
Dean of IOE Prof. Dr. Shashidhar Ram Joshi said, "We are glad to have this wonderful partnership with Ncell for Ncell Scholarships and Excellence Awards. This has been instrumental in enhancing the knowledge of budding young talents and it contributes to knowledge development. We are thankful to Ncell for giving continuity to this program since 2014."
LIkewise, Andy Chong, CEO of Ncell, shared similar delight. He said, "This program has been one of the widely appreciated CSR initiatives of Ncell. With this program, we aim to promote an intelligent pool of young talents in the field of engineering in Nepal, encouraging technical education and recognizing talents who have demonstrated academic excellence. Education is one of our top priority sectors under our CSR and we will continue to accord it a high priority."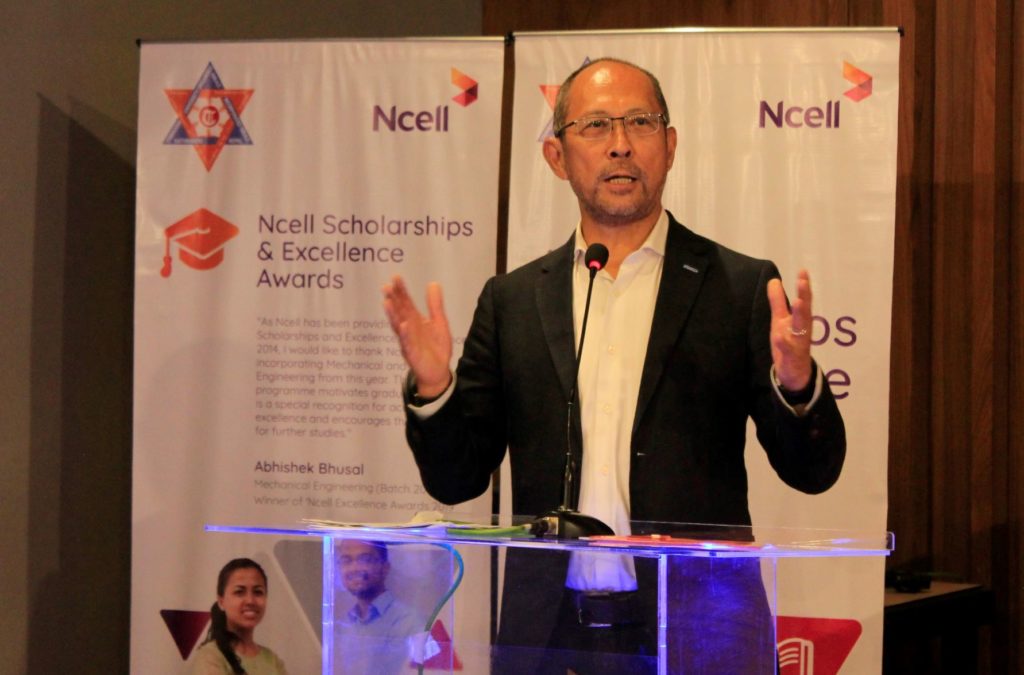 Ncell Scholarships are provided on the basis of annual scores of 1st, 2nd, and 3rd year. The 18 scholarship receivers include 3 toppers of 1st year, 2nd year, and 3rd year from Civil, Electrical, Electronics, and Communication, Computer, and Mechanical Engineering faculty and 3 female toppers from 1st year, 2nd year, and 3rd year among all female students of these five faculties. Don't miss: Ncell Rebuilds Lainchaur Ground With Multiple Facilities
Similarly, the students graduating with top scores from each of these five faculties and also a female student graduating with top scores among all female students of the five faculties received the Ncell Excellence Awards. Both scholarships and excellence awards are worth Rs. 100,000 each.
What do you think of Ncell Scholarships and Excellence Awards and its CSR approach in Nepal? You can offer your input in the comments below.