GSMA in its Mobile Economy Report has predicted that 5G connections will reach 5 billion in 2030 from 1.5 billion in 2023 at the same time, 4G subscriptions will have plunged to below 40 percent.
The report expects 5G adoption to reach 17 percent in 2023 and add $1 trillion to the global economy in 2030 with benefits spread across all industries.
Markets with low fixed broadband penetration but rising incomes will also see faster-than-average growth.
30 countries to launch 5G in 2023
GSMA reports that around 30 countries will launch 5G, most of which will be developing markets from Africa and Asia, stirring 5G into a truly global trend. And while operators will heavily start monetizing their services, they will start expanding their 5G fixed wireless access (FWA). It's expected that areas with low wired internet access, but growing incomes will get higher 5G development.
Nepal should also be among the 30 countries as the state-backed Nepal Telecom (NTC) is well-placed to launch its 5G trial for the public at some point in the first half of 2023.
Similarly, by 2030, the number of licensed cellular Internet of Things (IoT) connections will double to 5.3 billion. In 2022, China recorded 1.84 billion cellular IoT connections being the first to record more cellular IoT connections than mobile phone users. Europe and the US jointly will represent the fifth of the total connections by 2030. China will be dominant in this industry with two-thirds of its share of its name.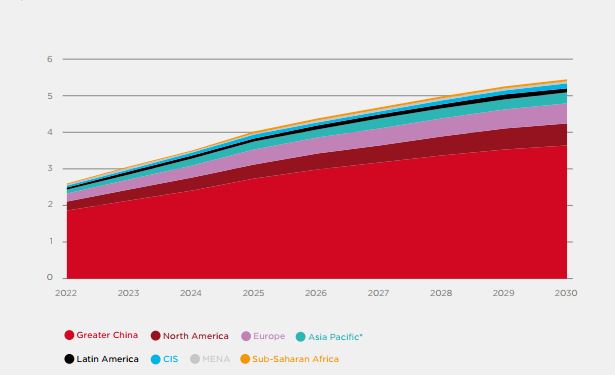 Don't miss: IoT (Internet of things) in Nepal: Explained
5G subscription to reach 5 billion in 2030– GSMA 5G report
By the end of 2023, the report says, 5G subscriptions will reach 1.5 billion globally and 5 billion at the end of the decade. The fifth-generation network is in a place to overtake 4G in 2029 to lead the mobile technology as 5G adoption accelerates with cheaper devices. As of January 2023, GSMA has recorded 229 commercial 5G networks around the world with over 700 5G smartphone models launched. More than 200 5G model smartphones were launched in 2022.
In key markets, the 5G adoption rate will reach over 85% with operators' focus shifting to next-generation technology. The technology is already dominant in South Korea and the US where 5G represents over 40 percent of total connections.
5G growth means a gradual 4G decline
The use of 4G will continue to decrease as 5G usage scales upwards. 4G will lose its ground from 60 percent in 2022 to 36 percent globally by the end of 2030. The continued 5G growth means legacy networks will fall further behind. Both 2G and 3G will steadily become irrelevant over the years. So far, 96 2G networks and 107 3G networks have been announced to be shut down.
Check out: Which mobile network will shut down first in Nepal; 2G or 3G?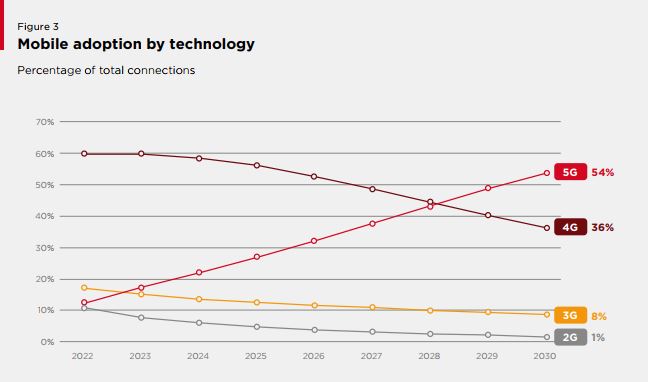 However, in less affluent markets such as in Sub-Saharan Africa, 4G will continue to be critical and also see growth as 5G will only be rolled out in phases.
Do read: 5G in Nepal | Use cases, Spectrum, Availability
The number of mobile subscribers is to grow to 6.3 billion subscription
Likewise, unique mobile subscribers will rise from 5.4 billion (68 percent of the total population) in 2022 to 6.3 billion (73 percent of the total population) in 2030. The report says the new mobile service users will comprise young customers and rural dwellers.
But despite the mobile coverage reaching 'saturation', there are many underpenetrated areas across the world. For example, large parts of India and Sub-Saharan Africa will represent half of the new mobile subscribers globally in the next 8 years. Also read: 5G begins in India with PM's inauguration.
Mobile internet will also see incremental growth in the next 8 years. There were 4.4 billion mobile internet users in 2022 which is 56 percent of the total population. In 2030, this number will increase to 5.5 billion representing 64 percent of the total population. SIM connections will increase from 8.4 billion to 9.8 billion in 2030.  Among all mobile phones, there is 76 percent of smartphones in 2022 which will grow to 92 percent in 2030.
In the meantime, operators' revenue and investment will grow to $1.20 trillion from $1.07 trillion during the same period. While the mobile industry's contribution to GDP will increase to $6 trillion from $5.2 trillion. The mobile industry has directly provided 16 million jobs and supported 12 million jobs indirectly in 2022.
9 billion smartphone connections by 2030
Smartphone connection will see its biggest increase in the emerging markets in Asia Pacific (APAC), and Sub-Saharan Africa. The decrease in smartphone prices will continue to generate positive numbers for smartphone sales. GSMA predicts that there will be 9 billion smartphones in use by 2030.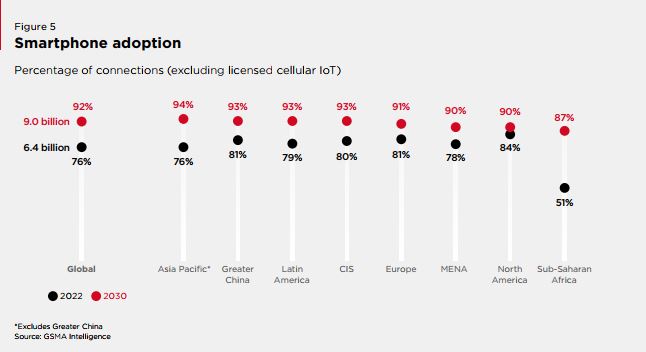 As new users will use phones for more than voice and SMS, the smartphone market will maintain its growth "for the foreseeable future."
Check out: China shipped 19 million 5G phones in October 2022
Mobile data is the next big thing
As users' internet use grows, so will the data traffic. As per the report, the data traffic is set to rise threefold by 2028 with North America and Northeast Asia dominating the mobile internet segment. Video streaming and online gaming will contribute to the growth in data traffic. Video traffic will account for 70 percent of all mobile data traffic which will rise to 80 percent in 2028.
5G will also spurn the growth of mobile data growth. As per the Intelligence Survey by GSMA, 5G users are more willing to add services and content to their phone contracts than 4G subscribers.
Check out: What is a 5G network along with services and applications?
Operators to spend $1.5 trillion
As operators worldwide increase their investment in 5G infra and other new solutions, spending will touch new milestones. Between 2023 and 2030, mobile network operators will spend $1.5 trillion on their mobile networks with a large portion going for the 5G technologies.
Overall, 92% of capex (investment) will go into 5G deployment between 2023 and 2030.