Nepal Telecom (Ntc) has launched a chatbot service on February 4, 2021, that also marks its 17th anniversary. The managing director of Nepal Telecom, Mr. Dilliram Adhikari, announced the official inauguration of the service in an official meet. Similarly, the Minister of communication and information technology, Mr. Parbat Gurung, did a soft launch of the NT chatbot service through the computer.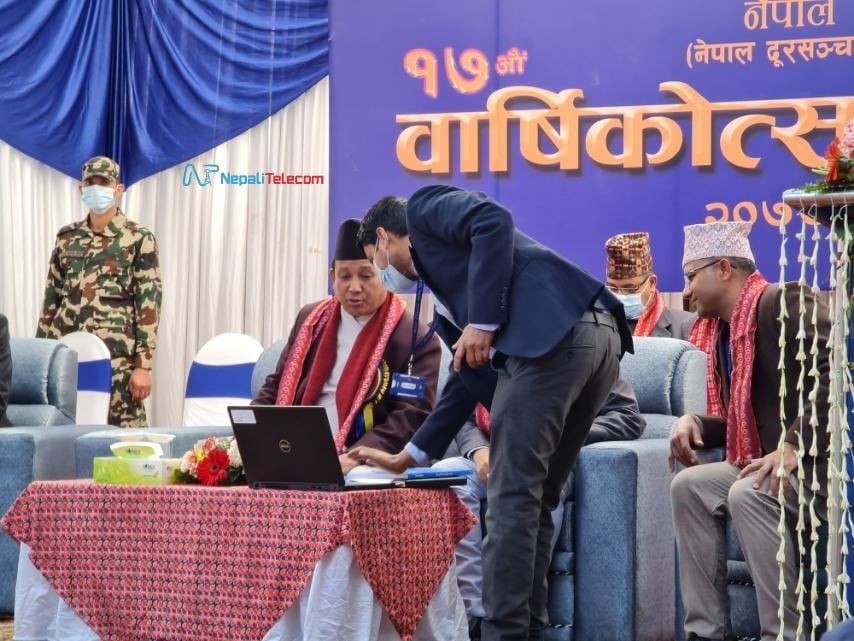 The NT chatbot service is an Artificial Intelligence (AI) based service operated by a bot. It is a customer-friendly automatic service that makes resolving queries easy and quick. You can ask questions on the chatbot, and the bot will answer them for you. 
Ncell has also launched its chatbot service recently. Now, both Nepal Telecom and Ncell has their own chatbot service. 
Features of NT Chabot Service
A rectangular NT chatbot appears at the bottom right corner of the web portal when you open the official website. It looks like a regular chatbox with several features. You can either type your questions or select an option related to your queries. Here are the options it provides: 
Queries 
4G 
FTTH 
GSM Prepaid 
GSM Postpaid 
Services 
NT App 
Online Recharge 
Feedback 
Complain 
Offers 
About us 
As you can see, with the help of the chatbot, you can recharge your phone, give feedback, register complaint, learn about offers, and more. For now, the service is available only in the web portal. As known the chatbot service will be available soon in Facebook messenger too. 
Why use the NT chatbot service? 
Though there are other options to recharge your NTC sim like, the USSD service, the NT chatbot service is more favorable for these reasons. 
You can choose the language of your convenience. If someone is rather comfortable with Nepali than the English language, then the chatbot has that option. 
Similarly, it gives instant service with a single touch. With a single click, you can resolve your queries. You don't have to keep dialing Ntc customer care numbers. 
The chatbot service is online for 24 hours. It means you can use this service any time of the day.
This service transforms our traditional way of customer care service into digital. It reduces the chance of our queries not being heard or solved. The customers will no longer have to face unpleasant experiences with the customer care service. This new chatbot service aims to enhance the user experience. 
Lastly, the launch of the chatbot service by Nepal Telecom is proof that the telecom operator has been focusing on the digitalization process. The service will help the customers to resolve small queries instantly. Moreover, the launch of the chatbot service also marks the 17th anniversary of Nepal Telecom. The 17 years of remarkable service of Nepal Telecom to the telecommunication sector has seen several ups and downs. It has transformed the face of the telecommunication sector in Nepal in several ways.
We congratulate Nepal Telecom on achieving this milestone and hope the company keeps bringing us innovative solutions to digitalize our lifestyle.